Nicki Minaj'sTattoos With Their Meaning and Photos
Published Mon Jul 22 2019 By DGM
The 'Starships' singer, Nicki Minaj has inked a total of two visible tattoos inked on her body. Both of the tattoos on her body have a different meaning.
The two beautiful tattoos on Nicki's flawless body are something all her fans desire to have. Here are the two tattoos that Nicki has on her body:
Barbie on Left Wrist
The 36 years old (as of July 2019) rapper has a writing 'Barbie' inked on her left wrist. He has associated herself with the Barbies throughout her career as they represent female power.
Minaj says the line of dolls represent that perfection can come in many forms. In an interview with Wonderland Magazine, Nicki feels Barbie is great as it focuses on both beauty and work and it inspires her to not be a traditional woman but a hard-working woman.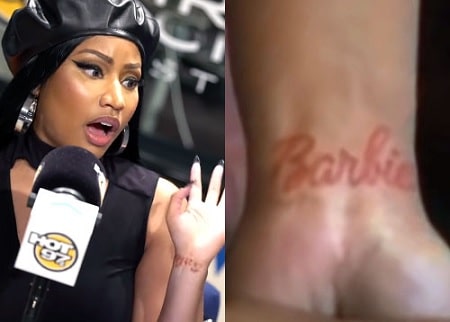 Nicki Minaj who holds an impressive net worth of $75 million has called herself a Barbie so many times that it has also been a nickname of her. She even calls her fan-base 'Barbz' which is a wonderful thing. She says that people has really started identifying her with that name and thinks that the name 'Barbie' no longer represents a little plastic doll with the blond hair.
The rap queen Nicki got the tattoo back in June 2018 at the time when she was recording her album 'Queen'. She wanted to commemorate her album for the rest of her life because she thought that it was the best era that she had made an album. Her tattoo session was even filmed for an episode of "Black Ink Crew Chicago" show of VH1.
Chinese Writing on Upper Arm
The first ever tattoo that the African-American artist had was of a Chinese writing when she was 16. Yes, she a Chinese writing on her left upper arm which reads "上帝與你常在". The writing is pronounced as "shàngdì yŭ nĭ cháng zài" and translates to "God is Always With Me".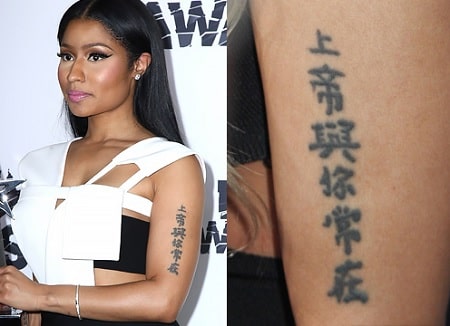 Though the tattoo is very beautiful, Nicki Minaj regrets having it on her arm because she originally was planning to have it on the back of her neck. She says that she doesn't like the tatt much when she wants to wear a beautiful evening gown and go out. She thought to not have it on the neck because she guessed that it would be more painful and risky. So, she eventually ended up having it on her left upper arm.
The 'Anaconda' singer who has also had different plastic surgery allegations, said that her mother didn't like the fact that she had a tattoo on her body with a tongue ring. She was mad at her and even said that she wanted to disown her because of her choice. It was pretty hard for her to explain it to her mother and sort out the things between them. So, it is fair to say that this tattoo nearly got the Grammy Award winning rapper homeless in her teens.
Visit Glamour Path for more information of Celebrity tattoos.