Nicki Minaj Buttocks Implants Are Real – Before and After Pictures
Published Thu Jun 20 2019 By DGM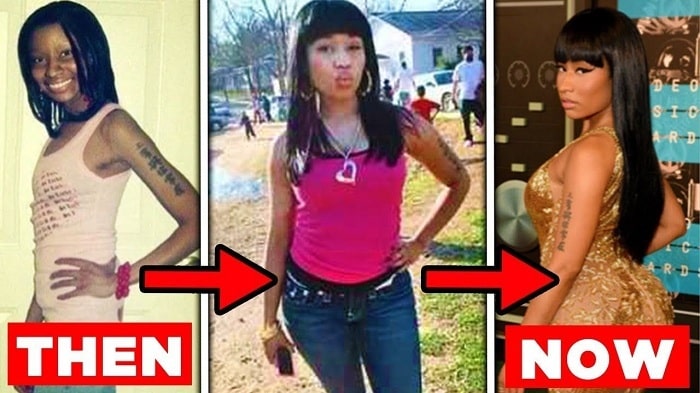 The famous American rapper and songwriter, Nicki Minaj has been the topic of many plastic surgery rumors. One of the major rumors is of her buttocks implants, people claim and believe that the implants are real.
As for Nicki, she has clearly refused to all rumors of going under the knife and somehow seems to be reluctant regarding her surgery whether she has done it or not.
Before Plastic Surgery
There have been strong rumors of Nicki Minaj getting buttocks implants and working on her shape artificially. While she has refused to the fact, her pictures of before and after give a clue that the rumors might be true. Take a look at the picture below and decide for yourself: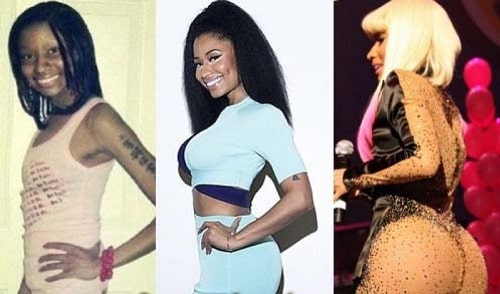 From the above picture, you can easily differentiate the size and structure of the "Beez In The Trap" rapper. Before the buttocks seemed to be a bit big but natural looking and after, it looks way bigger and a little unnatural. However, it seems to have attracted her fans and people a lot.
The picture also clearly suggests that Nicki whose real name is Onika Tanya Maraj has done breast implants too. We get to witness Nicki Minaj in three different parts of her life.
In the first picture, her chest and buttocks area is completely flat. And in the second one, we can see that her boobs' size has increased but her buttock has not increased. Lastly, the third picture shows that the grammy award winner's buttocks look curvy and attractive than before and breasts are enormously big.
Nicki's Reaction to Buttock Implants Rumors
While media and critics continue to claim that Nicki has had buttock implants, the Trinidadian-born singer and rapper are stubborn regarding her opinion claiming that she has not any sort of plastic surgeries on her body. Her attractive and gorgeous body is an outcome of her exercise and endeavor of making her body sexy and glamorous.
Refusing to buttock implants rumors, Nicki also added that as long as people talk about her and her buttock, she is okay with that and she doesn't care about such fake claims. She just minds on being more glossy and the center of attraction and wants people to talk about Nicki Minaj only.
Nicki's Buttock Exploded At an Event
Rumors once circulated that Nicki Minaj's buttock which is supposed fake actually exploded at an event in Brooklyn. The event was "Fashion Rocks" back in 2014 where she was performing and it seemed like her buttock exploded which was later reported as a "buttock injury".
People who were present at the concert stated that Nicki stretched her legs out while performing and they heard a pop-like sound and since everyone claim that her buttock is fake, they thought her so-called natural buttock may have burst.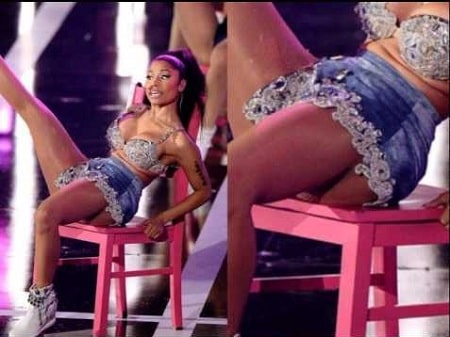 Nicki Minaj's Other Plastic Surgeries
As people insinuate that the 36 years old (as of June 2019) songwriter has done buttock implants, they also claim that she has done a nose job and modified her nose layout.
But as always, the 'Love & Hip Hop: New York' star claims that makeup is the cause of her beautiful looks. But there's no chance that makeup can change the way your nose looks, does it? Minaj insists that her body is plastic-free, do you think so?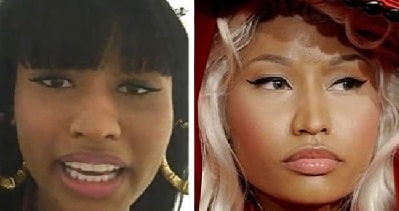 Nicki Minaj who has an estimated net worth of $85 million has also inked two known tattoos on her body. One is of Chinese writing on her left upper arm that reads "上帝與你常在" and is pronounced as "shàngdì yŭ nĭ cháng zài". The meaning of the tattoo is "God Is With Me Always".
And the second tattoo is of 'Barbie' which is located on the inside of her right wrist. She has been associating herself with Barbie as a symbol of female power all her career.
Visit Glamour Path for more Celebrity Plastic Surgeries and Their Information.
-->