Leah Remini Denies All Plastic Surgery But Let's Compare Before and After Pictures
Published Fri Jul 12 2019 By DGM
The American actress and author Leah Remini has been rumored to have gone under the knife and getting surgeries done. The accusations that she is linked with include Breast Augmentation, Lip Fillers, Face Lift, and Botox.
Leah has denied all the plastic surgery rumors but openly admits to using Botox and says she will Botox the hell out of it until her face needs a real face lift.
Leah Remini Before & After
Throughout these years, the face and body of the 49 years old (as of July 2019) have changed a lot. From her facial traits to the body, every part has seemingly gone through a noticeable difference. Take a look at the picture given below: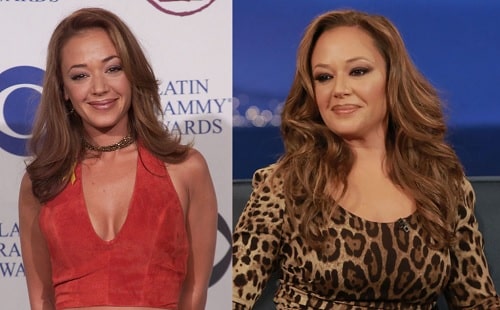 From the picture above, you can easily differentiate the changes in the breasts and face portion of the "The King of Queens" star. Her face seems more toned and the fine lines are reduced.
As for her breasts, they appear to be larger in the right picture which is of her present days if you compare it with the picture of her in the past. This strongly hints us to think that she may have gone under the knife to maintain her beauty.
Botox
Botox is something that the married mother of one openly admits. It exactly isn't the fact that she admits to having Botox injection, she jokingly admitted the fact via her tweet.
As people doubted how her face is still so stunning though she is in her late 40s, they started thinking that the eminent star underwent a surgeon' knife to get her job done. And reacting to those rumors, she stated that it isn't plastic surgery, but she is going to Botox the hell out of it until she really needed a face lift. This clearly proves that she has been very familiar with the cosmetic procedure.
Face Lift
Face Lift is a kind of cosmetic surgery that is done to give a more youthful appearance to the face of a person. In most cases, people over 40 and 50 do this procedure to enhance their face look and gain their young face.
And as the wife of Angelo Pagan has the face of a 25 years old despite being 49 years old (as of July 2019), critics believe that she probably had done this plastic surgery. Here is a picture that gives us a strong hint regarding this fact: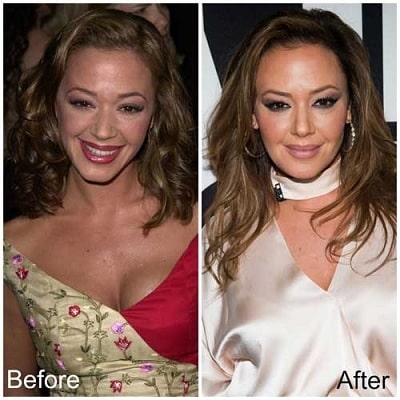 Lip Fillers
Leah Remini who has a net worth of $20 million is also linked with speculation of her having used lip fillers to increase her lips' size. Just because she had lips thinner before and a bit thicker now, people claim that she used injections to fill her lips up.
As the age of a person increases by, it is obvious to notice natural changes in their facial characteristics, so this rumor should be taken with a pinch of salt.
Breast Augmentation
Breast Augmentation has become very common for celebrities these days. Because of their stardom pressure, they need to make sure that they are always picture-ready and their body should also be flawless. And for this, they enhance their breasts' size and make them larger and attractive. This is exactly what the former Scientologist is accused to have done.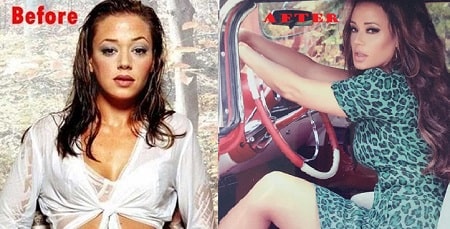 The picture given above has strong evidence in concluding that the "Troublemaker: Surviving Hollywood and Scientology" author's breasts have increased for sure. Her breasts were considerably fine before but now, they have become enormously large. While some think that it is due to breast implants, it can also be the result of her post-pregnancy because she has a child.
You may also want to know that LAHH star Mariahlynn has done breast implants.
Visit Glamour Path for more celebrity plastic surgeries and their rumors.