LAHH Star Mariahlynn's Plastic Surgery and Tattoos - Before and After Pictures
Published Wed May 22 2019 By DGM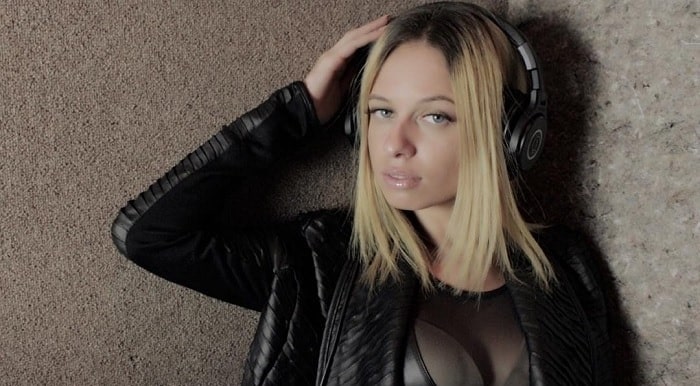 The famous American hip hop artist and reality television star Mariahlynn has under the knife and had two plastic surgeries throughout her career and also has inked seven tattoos on her body that carry different meanings.
The New Jersey-born rapper is very frank about the changes that she made going under the knife. Here is detailed information regarding her plastic surgery and tattoos.
Before and After Plastic Surgery
Here is a picture of Mariahlynn before and after plastic surgery.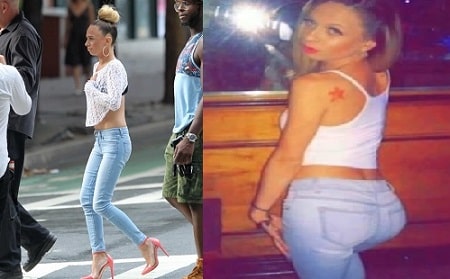 As we can clearly differentiate from the picture, Mariahlynn's breasts' size has noticeably changed. Not to miss mentioning, the size of her buttocks; which also has seemingly increased.
Buttocks Implantation
The 'Love & Hip Hop: New York (LHHNY)' star had a buttocks augmentation in 2019 which has boosted her buttocks' size.
In the past, she had a very flat rear end but now, she has a noticeably bigger buttocks.
Thanks to the implant, of course! Most of Mariahlynn's fans seem to admire her new figure, whereas some seem disappointed with her surgery.
In October 2019, she hinted that she might be having a Brazilian Buttocks Lift from her favorite place Goals Plastic Surgery to have some additional enhancements. Her fellow LAHH star Hazel-E also had her buttocks augmented.
Breast Augmentation
Mariahlynn with an estimated net worth of $1 million, had a breast augmentation/implant which has made her breasts look bigger.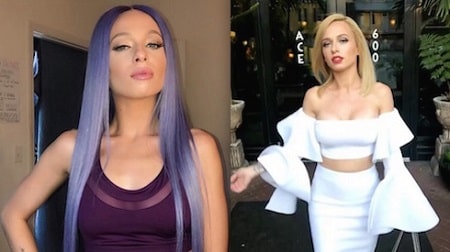 According to her, she wanted to increase the size of her breasts so that she would never have to wear a bra again. Her dreams of having a bigger breasts came true after she visited a Miami based doctor and increased and lifted her breasts a bit. Another former LHHNY star Cardi B has also had her breasts done.
Tattoos and Their Meaning
Talking about tattoos, the New Jersey native has inked a total of 7 tattoos on her body. Each of her tattoos carry a different meaning.
Stars on Right Forearm
The American songwriter has tattooed several stars on her right forearm. The stars on her hand may symbolize the fight against darkness or truth and spirituality.
Bow and Skull on Left Forearm
Mariahlynn has a tattoo of a pink bow with a skull in the middle of it in her left arm. The tattoo may represent power, protection, strength or a significant change in life.
Writings on Ankles
The famous TV personality also has the names 'Daniel' and 'Damien' tattooed on both of her ankles.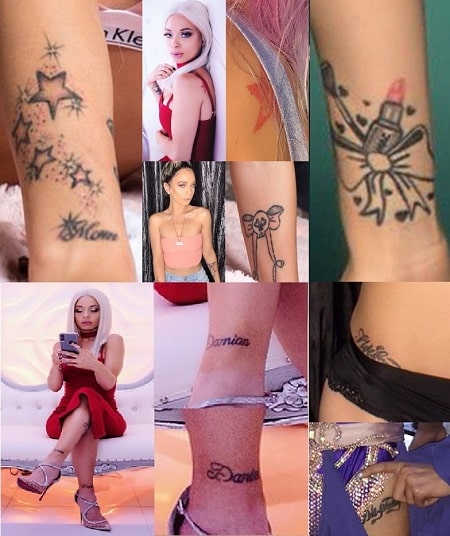 Writing on Right Wrist
Mariahlynn also has the word 'mom' inked on the back of her right wrist which symbolizes her enormous love for her mother.
Bow and Lipstick on Right Wrist
A lipstick tube and martini glass are also tattooed on the right wrist of the LAHHNY star. The lipstick on the tattoo symbolizes love, relationship, and romance.
Star on Left Shoulder Blade
Rich Dollaz's ex-girlfriend has tattooed her left shoulder blade with a red star. The red star represents the passionate nature being guided by inner thoughts and feelings.
Writings on Thighs
Not to miss, the American TV star has also tattooed both of her thighs with writings. One writing says 'live fast' whereas the other says 'die pretty'.
Visit Glamour Path for more celebrities' plastic surgeries and tattoos.
-->