Who Has Kliff Kingsbury Dated? An In-Depth Look at His Girlfriends and Wife!
Published Mon Aug 07 2023 By prazu
Kliff Kingsbury, a former quarterback, and American football coach, presently serves as an assistant coach at USC. He held leadership positions as head coach at Texas Tech (2013-2018) and with the Arizona Cardinals (2019-2022).
Kingsbury gained recognition for nurturing quarterback talents such as Case Keenum, Johnny Manziel, Baker Mayfield, Patrick Mahomes, and Kyler Murray.
Who is Kliff Kingsbury Wife?
Kliff Kingsbury is not married so he doesn't have a wife. As per Legit, since 2021, Kingsbury has been dating his girlfriend, Veronica Bielik. Bielik, a Polish supermodel, floral designer, and entrepreneur, co-owns Agency Spotlight, a Polish-based influencer management company.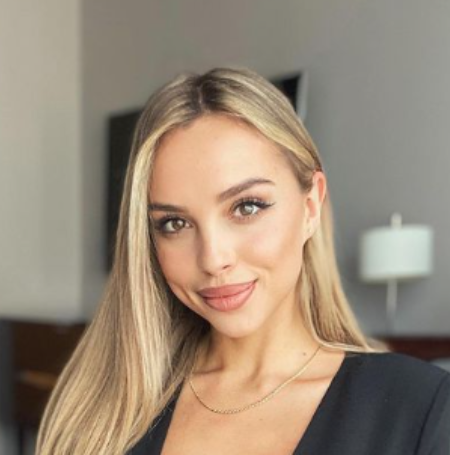 Despite their several-year-long relationship, Kingsbury and Bielik have chosen to keep their connection relatively private. They have been together for approximately three years.
Kliff Kingsbury's Past Relationship
In January 2019, Holly Sonders, formerly a Golf Channel host for Fox Sports, became notable as Kliff Kingsbury's reported girlfriend. Their relationship was confirmed when Sonders congratulated Kingsbury on becoming the head coach of the Arizona Cardinals. Responding to a comment on her tweet, Holly revealed that their connection had evolved beyond mere admiration, indicating that they were already a couple.
Their connection was believed to have blossomed from their encounters during Big 12 games, where Sonders reported and Kingsbury coached the Red Raiders. Their relationship eventually ended, and Sonders is presently dating former professional boxer, Oscar De La Hoya.
In 2020, there were rumors of Kliff was romantically linked with Renee Estella, an American fashion model, and social media personality. However, their relationship was short-lived, reportedly ending before the close of the year.
Kliff Kingsbury Early Life
Kliff Kingsbury was born in San Antonio, Texas. Kingsbury's parents are Tim and Sally Kingsbury. He went to New Braunfels High School in Texas. His dad, Tim, was the coach there. At school, he played football and was also on the baseball, basketball, and track teams.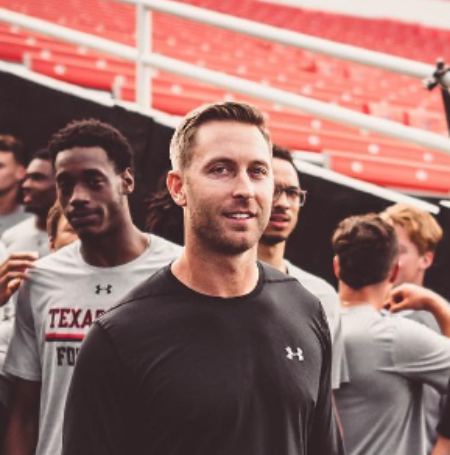 Kingsbury was the quarterback for his football team, and during that time, he threw the ball for 3,009 yards and 34 touchdowns. He helped his team get to the semifinals and had a record of 13 wins and 2 losses.
Kliff did really well and was even chosen as the best offensive player in the Texas High School Coaches All-Star Game. He was good in academics too and ranked third among 450 students in his class. Kingsbury was also selected as an Academic All-State student. In May 2018, Kingsbury was put into the Texas High School Football Hall of Fame.
Kliff Kingsbury Impressive Net Worth
Kliff Kingsbury used to play in the NFL as a quarterback and was the head coach of the Arizona Cardinals. However, he recently left the team after a tough season. Kingsbury has been working for a long time and has earned a lot of money. As of 2023, Kingsbury is believed to have around $15 million net worth.
Throughout his coaching career, Kingsbury signed a number of contracts. When he worked at Texas Tech, he had an agreement for a basic salary of $10.5 million spread over five years. In August 2014, he and the organization made a new deal, starting at $3.1 million in 2015 and increasing by $200,000 every year until 2020.
In January 2019, Kliff signed a contract with the Cardinals that lasted four years. Although the exact amount isn't disclosed, he was set to receive several million dollars. Right now, his deal with the Cardinals pays him about $5.5 million annually.
Kliff Kingsbury Promising Career
Kliff Kingsbury is a former football player turned coach, with a lengthy and prosperous journey. Kingsbury played high school football at New Braunfels High School, where his dad was the head coach. He was also recognized for his academic achievements and later earned a place in the Texas High School Football Hall of Fame.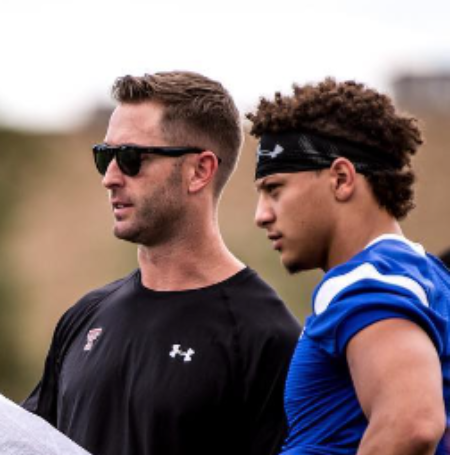 During his college years, Kingsbury served as the quarterback for the Texas Tech Red Raiders from 1998 to 2002. He managed to complete 17 passing yards during his time, although he didn't score any touchdowns. His playing career came to an end in 2005.
However, Kliff's true claim to fame lies in his coaching endeavors. He led Texas Tech as head coach from 2013 to 2018 and then took charge of the Arizona Cardinals from 2019 to 2022. Throughout his coaching stint, he played a pivotal role in developing quarterback talents such as Case Keenum, Johnny Manziel, Baker Mayfield, Patrick Mahomes, and Kyler Murray.
While Kingsbury achieved some success with the Cardinals, overseeing improved win records in his initial three seasons, his time there was also marked by periods of decline, unmet expectations, and four years of inconsistent performance. This culminated in the 2021 season, when the Cardinals struggled with a 4-13 record, leading to Kingsbury's dismissal.
Despite facing challenges along the way, Kliff's journey has been characterized by achievements. He has been recognized for nurturing some of the finest young quarterback talents in recent times, and his teams have enjoyed a fair degree of success. Ultimately, Kingsbury's legacy will be one of accomplishments and setbacks, shaping an overall successful career.
Stay updated in Glamour Path for more celebrity updates.
-->