Tori Spelling's Many Plastic Surgeries and Tattoo That Matches With Her Husband
Published Sat Jan 25 2020 By DGM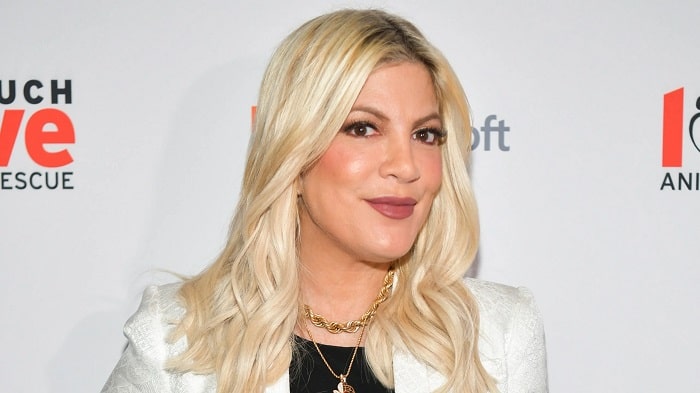 The famous American actress, television personality, and socialite Tori Spelling has gone under the knife and had two changes done to her body. But she is also rumored to have gone under the many other times. She also has inked a lovely tattoo on her body.
Spelling has admitted that she has had indeed opted for two plastic surgeries. Here are the surgeries and tattoo she has on her body:
Tori Spelling Before & After
Tori, who holds an estimated net worth of $500,000, has went through a drastic transformation throughout her professional years. If we do comparison of her facial feature from the past and present, we can find that she has changed a lot. Here is a picture to clarify: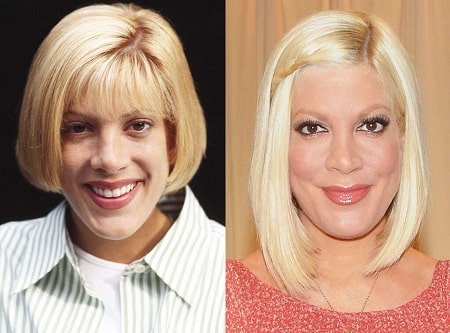 From the above picture, we can clearly notice that the actress' nose layout looks different in past and at present. Not only the nose, but her face appears more tight than she used to have in the 90s.
Nose Job
Stella Doreen McDermott's mother underwent a nose job or rhinoplasty a long time back because she didn't always like the nose she used to have. Her nose used to be thicker and broader when she she was in her teens which is why she thought of refining her nose. After the successful surgery, her nose now appears a bit smaller and slimmer than before. She has been impressed by the result and admires her nose dearly.
Breasts Implants
The 'Beverly Hills, 90210' star Tori Spelling also had her breasts done by visiting a plastic surgeon. She had her breasts implanted in her early 20s because of her desire for a bigger pair of breasts. Being a female, she might have felt the lack of confidence having small sized breasts.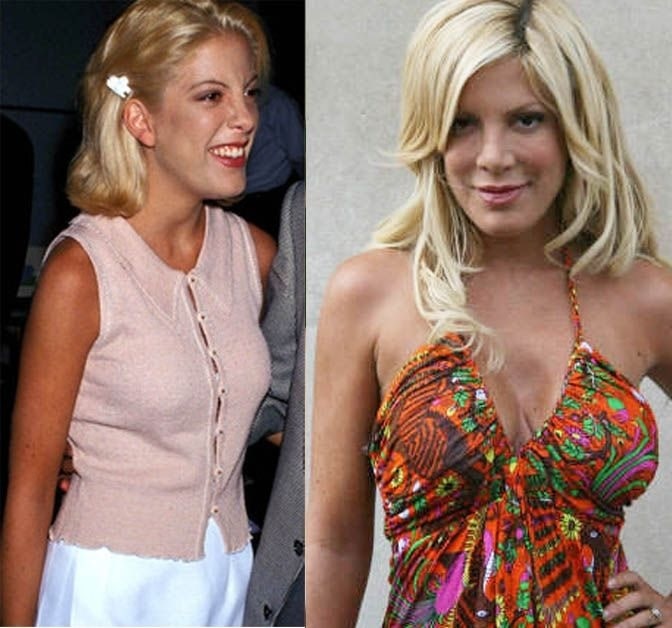 Though Tori admired her breasts implants at first, she regretted her decision of going under the knife. It is because it caused her a lot of problems while breastfeeding her kids because it has caused direct impact to the production of milk from her body. As she stated that she loves being a mother and taking care of her kids, she definitely felt bad that the implants on her breasts affected her milk production. She continued saying if she had known about the consequences, she would have never opted for the surgery.
Also Tried Botox and Fillers
In an interview where Spelling opened that she had only two plastic surgeries done, she also opened up that she had tried Botox and facial fillers during her career. She said that she surely tried the cosmetic injections to defeat aging off her skin but doesn't consider them plastic surgeries. She thinks they are not surgeries but are cosmetic procedures every one of two woman undergo these days.
Matching Tattoo With Husband
Tori, who real name is Victoria Davey Spelling, has inked a matching adorable tattoo with her hubby, Dean McDermott. The two got the tattoo back in 2016 at the occasion of their 10 year marriage anniversary. For this, the couple visited Tin Tin Tatouages, a tattoo parlor located in Paris. The lovebirds inked the popular French romantic saying 'Tout mon coeur, Tout ma vie' which translates to 'My whole heart, my whole life' on the inner biceps of their left arms.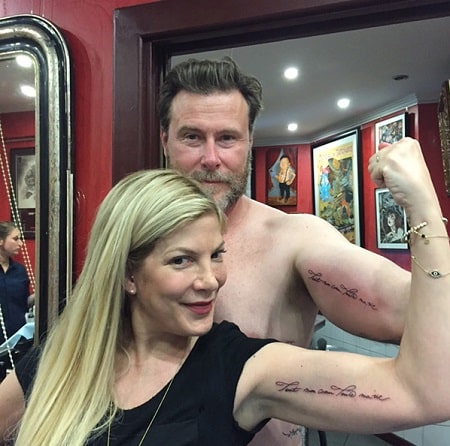 Check out Glamour Path if you like to see more of the daily and updated information about other celebrities' surgeries and tattoos.
-->