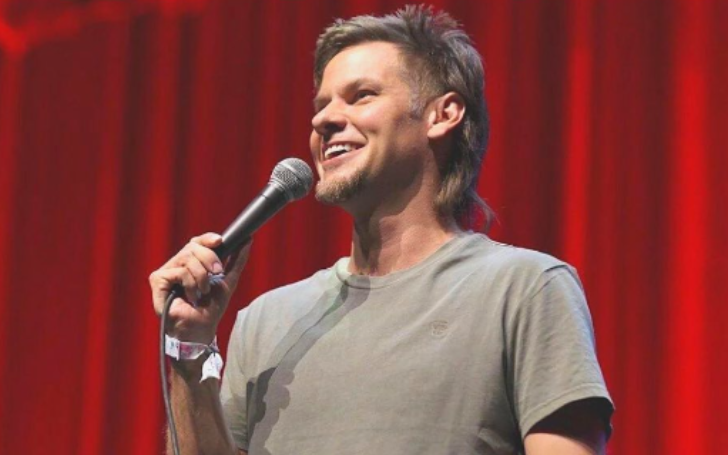 Theo Von is an American entertainer known for his skills in stand-up comedy, podcasting, television hosting, and acting. Von is recognized as the host of the popular podcast This Past Weekend and was previously a co-host on The King and the Sting podcast.
In the year 2000, Von gained prominence through his participation in MTV's Road Rules: Maximum Velocity Tour. Since then, he has been featured in various television shows and podcasts.
Theo Von Early Life
Theo Von was born on March 19, 1980, in Covington, Louisiana, USA. His mother is Gina Capitani and his father is Roland Theodor Achilles von Kurnatowski. Von's dad was quite old when he was born, around 67 years old.
Sadly, Von's dad passed away from cancer when Von was 16 years old. He grew up in Covington, Louisiana, with his siblings named Zefferino VonKurnatowski, Rolanda Vonkurnatowski, and Whitter Vonkurnatowski. At the age of 14, he became legally independent.
Theo finished high school at Mandeville High School in Mandeville, Louisiana. He attended different universities including Louisiana State University, Loyola University New Orleans, University of Arizona, College of Charleston, and Santa Monica College. Finally, in 2011, he earned his bachelor's degree from the University of New Orleans.
How Wealthy is Theo Von?
Theo Von has a net worth of $2.5 million, which he has earned from his successful career in the entertainment industry as per Celebrity Net Worth. He has been part of various television shows and movies and has even released two comedy specials on Netflix, as well as a comedy album.
In addition, Von has hosted multiple podcasts and TV shows, and he is often invited as a guest on The Joe Rogan Experience podcast.
Theo Von's House in Nashville, Tennessee
In March 2021, Theo Von bought a big house in Nashville, Tennessee for $1.645 million. The house is 4,918 square feet in size.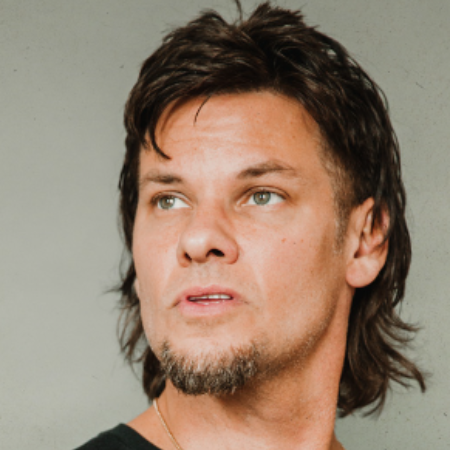 Von bought it from Derek Mason, who used to be the head coach of Vanderbilt. Mason bought the house for $1.095 million in 2014.
Theo Von's Career in Television and Film
Theo Von started his career in entertainment when he was nineteen years old. He got his big break by appearing on MTV's Road Rules: Maximum Velocity Tour in 2000.
After that, Von appeared on different shows like Inside Amy Schumer, Why? with Hannibal Buress, Arsenio, Last Comic Standing, and Comedy Central's Reality Bites Back. Theo also hosted a hidden camera show called Deal With It on TBS for three seasons, and he was the host of Yahoo's popular daily recap show called Primetime in No Time.
You can also catch Theo on season 4 of Comedy Central's This Is Not Happening. He is a co-host of The King and the Sting podcast, which he does with his friend, comedian Brendan Schaub.
Theo Von's Stand-Up Comedy Journey: From Early Performances to Headlining Shows
Theo Von has established himself as a prominent figure in the realm of stand-up comedy and podcasting. He has gained recognition through his appearances on renowned podcasts such as The Joe Rogan Experience hosted by Joe Rogan, The Church of What's Happening Now hosted by Joey Diaz, and The Fighter and The Kid.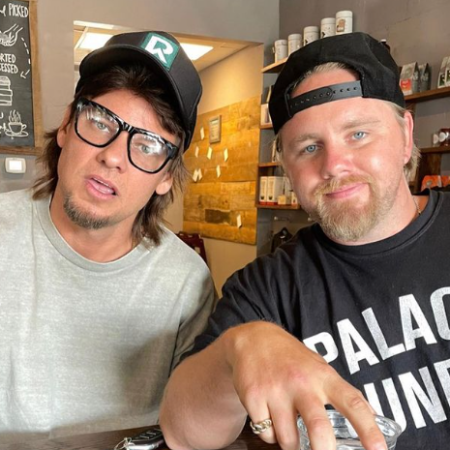 Von's own podcast, This Past Weekend, has become immensely popular, with a monthly listenership of 5 million on audio alone. Furthermore, he has showcased his talent with a Netflix special called No Offense, released in 2015.
When it comes to his favorite entertainers, Theo admires Joe Rogan, Tom Segura, Chris D'elia, Bill Burr, Jerry Clower, and Richard Pryor. His role models include Joe Rogan, Jocko Willink, Maurice Clarett, Dustin Poirier, and his brother Zefferino VonKurnatowski.
Who Is Theo Von's Girlfriend
Theo Von keeps his personal life relatively low-profile so it's unclear whether he has a girlfriend or not. But there have been some rumored relationships associated with him. Let's explore Von's relationship history, including his reported romance.
Was romantically involved with Brandi Glanville:
In 2016, there were reports that Theo Von and Brandi Glanville were dating. Their connection began when Brandi appeared as a guest on Theo's podcast after they met. Apparently, they hit it off right away.
Their interaction continued on social media, with Theo referring to Brandi as "mi amore" and expressing his interest. Later, he appeared on Brandi's podcast, and they decided to give dating a try.
According to a source, they seemed really into each other, but unfortunately, their romance didn't last long. In an interview, Brandi revealed that things between them became intense quickly, leading them to cool off the relationship.
Rumored Relationship with Coral Smith:
Before his short-lived romance with Brandi Glanville, Theo Von was rumored to be dating Coral Smith, known for her appearance on MTV's The Challenge, where they initially met. The rumors sparked when pictures surfaced of Theo and Coral walking together on a beach.
However, neither Theo nor Coral addressed the rumors, and eventually, they faded away. Despite the speculation, Theo and Coral have maintained a strong friendship and often engage in playful banter on Twitter.
Stay updated in Glamour Path for more exciting celebrity gossip.
-->