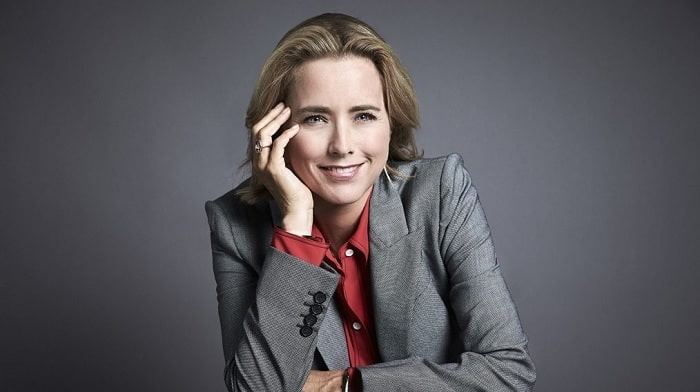 Téa Leoni, whose full name is Elizabeth Téa Pantaleoni, is a famous American actress and producer who is best known for appearing in the hit television sitcoms 'The Naked Truth' and 'Flying Blind'.
Leoni was born on the 25th of February, 1966, in New York, New York of the United States. Here are some facts about her:
What's her Net Worth?
Leoni holds a whopping net worth of $20 million which she amassed from her professional career in Hollywood. Her work as an actress and producer in television series and movies has greatly helped her in accumulating such a massive fortune.
Previously Married to David Duchovny
Tea Leoni was previously married to a famous actor, the 'Evolution' star, David Duchovny for nearly about two decades. The two actors walked down the aisle and exchanged vows back in 6 May 1997 and had two children from their marriage.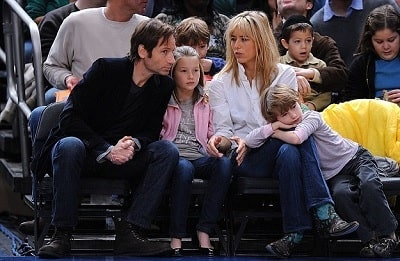 Though the two were very happy throughout their marriage, they started having misunderstandings and conflicts in 2008 and the reason behind it was considered to be David's sexual addiction. After that, they started living separately and in 14 June, 2014 they announced that they ended their marital relationship of 17 years.
Duchovny wasn't the only man that Tea splitted with, she was already divorced with her ex-husband, television producer Neil Joseph Tardio Jr. as their marriage lasted only four years from 1991 to 1995.
Children
As we mentioned earlier, the UNICEF goodwill ambassador has two children from her previous marriage with David. She has a daughter Madelaine West Duchovny and a son named Kyd Miller Duchovny. Among the two kids of the actress, her daughter is the elder one born on April 24, 1999 whereas her son is the younger one born on June 15, 2002. Her kids are called by their first name because it is a tradition in her family to use their middle name as first name. Because of the tradition, Tea also uses her middle name as first one though her first name is Elizabeth.
Dating Tim Daly
After splitting with David back in 2014, Leoni has been dating her co-star from 'Madam Secretary', Tim Daly. The two started dating back in September of 2014 when they began working together in the series which ended last year. Though the series has already aired its finale, the two have grown very close to each other and love each other very much. They are often seen hanging out and traveling together but at the same time maintain a low-key relationship.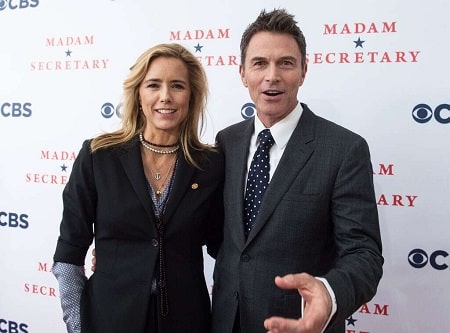 Parents & Sibling
Tea was born to parents: father Anthony Pantaleoni and mother Emily Patterson. Her father was a corporate lawyer who worked with the Houston based company Fulbright & Jaworski whereas her mother was a nutritionist and dietitian.
Leoni has a brother named Thomas Tom Pantaleoni from her parents. Like everyone in the family, Thomas is also known by his middle name Tom. He very often appears with her sister at premieres and events.
Name Pronunciation Is Different
We might pronounce the actress's name as Tea which usually means our morning drink to start the day. Though her name may spell that way but its pronunciation is totally different. Her name is pronounced 'TAY-uh' which is quite fascinating as well as interesting at the same time. She has had experienced a lot of difficulties as most people don't pronounce her name perfectly and she has had to explain them the correct pronunciation.
Was Considered For 'FRIENDS'
Most people may not know this but it was Tea Leoni who was considered for the role of Rachel in the hugely successful sitcom series 'Friends'. The character Rachel, which was played by Jennifer Aniston was one of the lead characters of the series. But if Leoni would have played the role, it would have been totally different seeing her portraying Rachel Green. If she had starred in the comedy series, we guess we would have known her more than Aniston.
An Asteroid is Named After Tea
You'd be surprised to know that there is an asteroid which is named after the 'Madam Secretary' star. Yes, the asteroid, 8299 Téaleoni, which was discovered by a Belgian astronomer, Eric Walter Elst, is named after the gorgeous actress. She is one of the few lucky celebrities who have their names named on asteroids..
Father Suffered From Skin Cancer
Leoni's late father, Anthony, suffered from skin cancer throughout his life. Though he battled the skin disease throughout his life, he got to live a long and healthy life.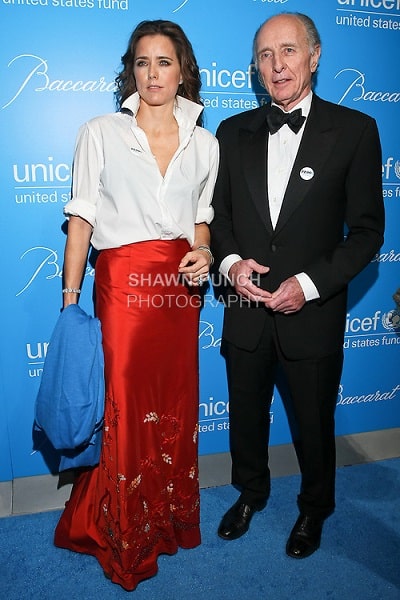 Alma Mater
Talking about the education, Tea Leoni attended two private schools from where she completed her school level. She went to Brearley School which is an all-girls school located in New York. Not only that, she also studied in The Putney School, Vermont. After getting into college level, she went on to attend Sarah Lawrence College but dropped out very soon in order to pursue modeling.
Check out Glamour Path for more latest and updated information about other celebrities.
-->