Taylor Hing aka Chinese Kitty Plastic Surgeries and Tattoos - Before and After Pictures
Published Mon Jun 17 2019 By DGM
Taylor Hing aka Chinese Kitty is a Reality Television star, Rapper and an Instagram model who has done two plastic surgeries on her body. Also, she has inked four tattoos on her body with each holding a different meaning.
Taylor has been very open about her plastic surgeries and doesn't feel shy talking about them. According to Kitty, it matters a lot having the right doctor and taking good care of yourself. She thinks that not worrying about what other people think is most important in the process.
Before and After Plastic Surgery
Chinese Kitty who has an estimated net worth of $350,000 has transformed a lot, thanks to the plastic surgeries that she had on her body. As most of her fans know that Kitty had done two major plastic surgeries on her body which are Breast Implants and Liposuction.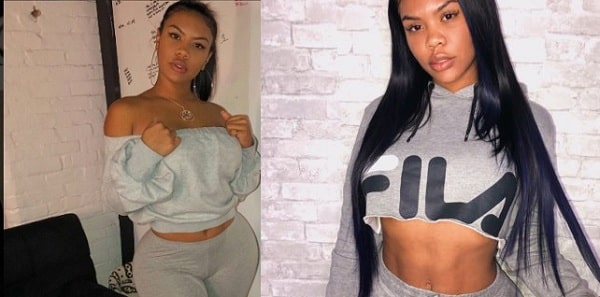 From the above picture, we can easily notice the difference between her breasts and belly portion. It is outcome of the surgeries that the 24 years Instagram model has done. We, her fans, are very happy and admire the new looks of her. She has become a beautiful beast through modification.
Breast Job
The Love & Hip Hop: Miami (LHHH) star has had her breast job done at the age of 19. The reason behind it was she was flat chested before and was made fun of regarding the matter from people. So, she had to take the big step of implanting her breasts and enhancing the size of it. As a result, she is now blessed with gorgeous and attractive breasts and is no longer made fun of.
Other Love & Hip Hop stars such as Nikki Baby, Cardi B and Lyrica Anderson have also done this surgery to increase the size of their breasts.
Liposuction
The "On Me" singer also got a liposuction because she gained a lot of weight or simply became fat after giving birth to her son, back in 2017. Her body figure didn't compare to the other girls as she gained weight and looked fat. And it is obvious to feel insecure if when you cannot yourself with others. Hence, Chinese Kitty went under the knife and had the work of removing the excess fat done.
Well, we adore the choice of the mother of one and praise her looks at present. She has become a sexy and glamorous personality.
Tattoos and Their Meaning
One of the eight children of Chinese Nicky, Kitty has also inked a total of four noticeable tattoos on her body which are as follows:

Foreign Writing on the Left Hand
The Instagram Model has inked the upper part of her land with a foreign writing. It looks like some sort of a foreign proverb or something like that.
Rose on the Back Wrist of Right Hand
Chinese Kitty has a rose tattooed on the back wrist of her right hand. The rose tattoo symbolizes new beginnings, hope and promise of whoever has it.
Flower on the Front Wrist of Right Hand
Alongside the rose tattoo, the Black-American rapper has a big flower drawn on the front wrist of her right hand. The flower is a symbol of purity and truth of anyone who holds it.
Writing on the Left Shoulder
There is a some kind of writing in either Korean, Chinese or Japanese language on the back of the gorgeous model's left shoulder. We don't if it is some sort of proverb or just a lining.
Visit Glamour Path for more Celebrity Plastic Surgeries and Tattoos Information.