Get to Know Story Annabelle Paul – Actor Aaron Paul & Director Lauren Parsekian's Only Daughter
Published Wed Mar 11 2020 By aisha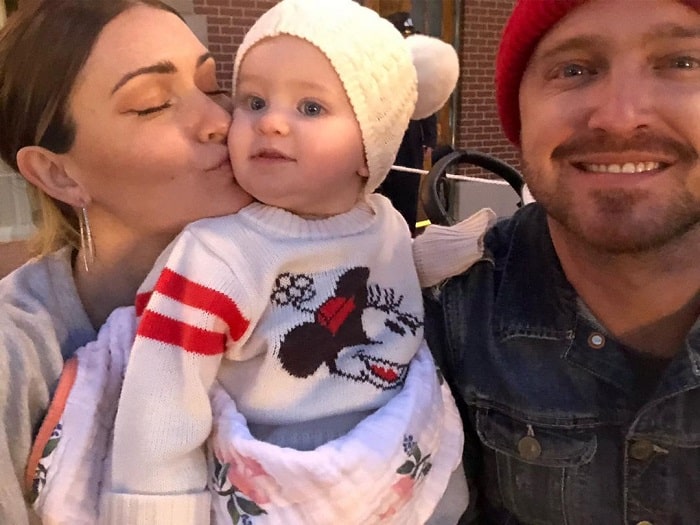 Story Annabelle Paul is the only child of Aaron Paul and Lauren Parsekian. Paul is an American actor best known as Jesse Pinkman from Breaking Bad while Parsekian is a film director. The actor-director pair's only daughter Annabelle was born on February 9, 2018.
Annabelle is an American origin name that means "Tale"; Further, her name Annabelle is a combined name where Anna means "grace" in Hebrew and Belle means "beauty" in French word.
Let's find some more things about Story Annabelle Paul:
How Was She Named "Story"?
It's very hard to find the one perfect name for your coming child, many celebrities name their children after their parents whereas some search for a unique name as well.
In Paul and Parsekian's case, there is an interesting Story behind naming their daughter story. Aaron Paul in The Tonight Show Starring Jimmy Fallon on Friday, March 16th shared why did they pick the name "story" for their daughter.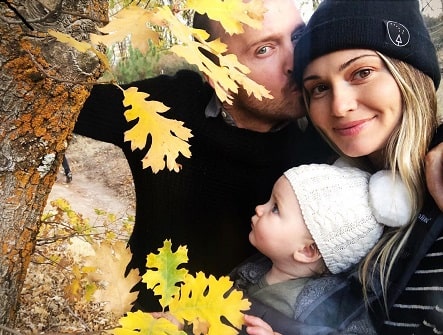 Back in the days, when Paul and Parsekian were dating, they had a romantic dinner at Las Vegas and drove back to the car which he bought in Vegas.
That day the pair bought a baby leather jacket for their unborn child and went to a chapel to get married. Well, like Phobe in 'F.R.I.E.N.D.S' says: "If you marry in Vegas, you're only married in Vegas" but it seems like they were pretty serious about their marriage.
Unfortunately, the Chapel was closed and the pair took it as a sign and they went to play blackjack where they took $200 and won 16 grand. As per the pair, It is a funny story and when they had decided that they would name their daughter "Story", if they get pregnant.
Paul Was Afraid that Annanelle's first word would be 'Bi***'
Every parent wants their babies' first word to be "dad" or "mom" but here Paul is afraid that the word Bi*** maybe his daughter's first word.
In an interview with Conan O'Brien, the Need For Speed actor said he gets called Bi*** every day by his wife that he is used to it now and added she uses that word many times in a day but it's like three to five times now."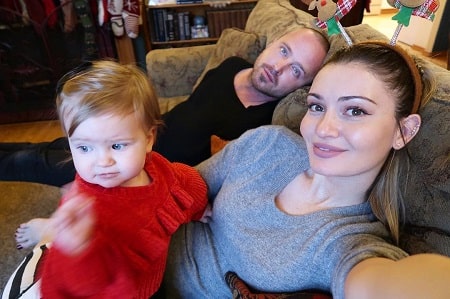 Parent's Relationship
Annabelle's parents met each other at Coachella where they bonded over the same taste of music. Then they met in Las Vegas for an official first date and it was all romantic, said Todd Chavez from BoJack Horseman. On May 26, 2013, the pair tied their knot and now are blessed with their adorable daughter.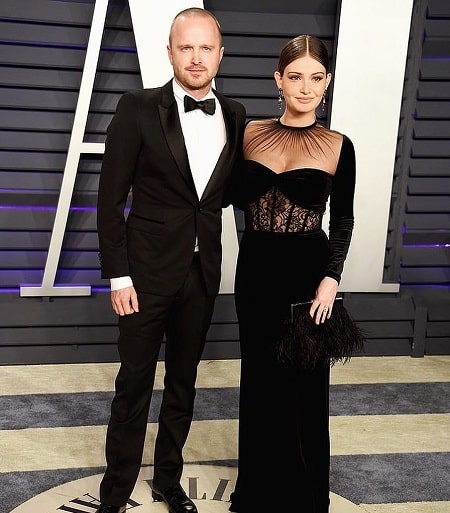 Her Parent's Holds A Combined Worth Of $24 million
Annabelle is living her luxurious life as she was born into a wealthy family. Her father Paul has a whopping net worth of $16 million from his career as an actor. Paul earns $150,000 per episode from his series Breaking Bad. While her mother has accumulated worth of $8 million from her career as a film director.
Visit Glamour Path for the latest celebrity information.
-->