LAHH's Shekinah Anderson Admitted Plastic Surgeries and Tattoos
Published Fri Sep 06 2019 By DGM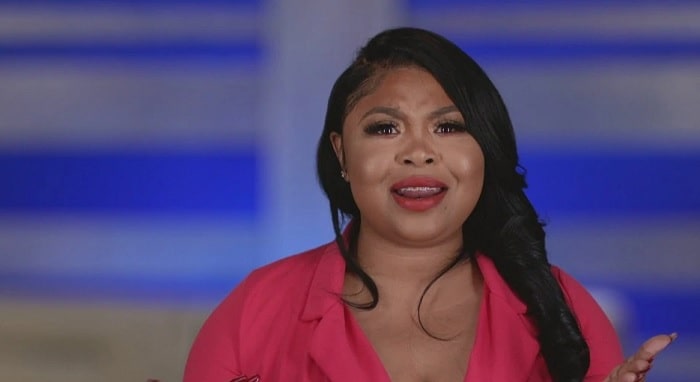 Shekinah Anderson whose is also known as Shekinah Jo or Shekinah Jones has gone under the knife several times and had three major plastic surgeries done till date. She has also inked more than 10 tattoos on her body.
Anderson has been very open about herself and admitted that she indeed had the changes in her body. Here is everything you need to know about the surgeries and tattoos of her:
Shekinah Jo Before & After Surgery
The 'T.I. & Tiny: The Family Hustle' star has transformed a lot throughout her days when she first appeared in the 'Love & Hip Hop: Atlanta (LHHATL)' in season 8 and today where she is still in the show and works as a hair stylist and entrepreneur.
Take a look at the unbelievable transformation that she has gone through: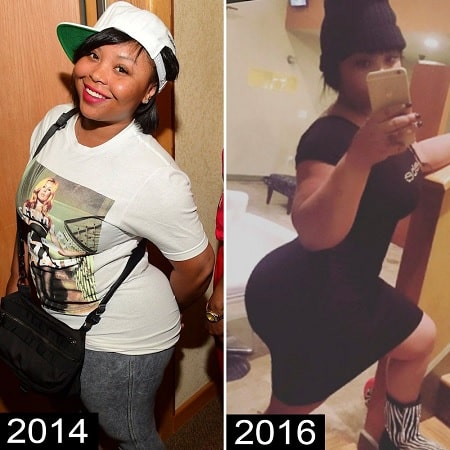 You surely got the knowledge what sort of changes the magic of cosmetic surgeries has brought to the body of the reality star. From her breasts to her buttocks, everything has altered quite a bit.
Breast Implants
Shekinah Jones has admitted that she had her breasts implanted after having a successful surgery. She said that she always wanted them bigger so she had to go under the surgeon's magical knife to get them in the size as she desired.
Her incredibly attractive and bigger breasts have been seeking a lot of attention and making her fans go crazy. However, she once stated that she also planned to have her breasts reduced a little manner.
Liposuction
Professional make up artist Anderson has also admitted that she underwent the knife and had liposuction procedure done three times in her life. She also added that she opted for them because she's too lazy to hit the gym and get herself slimmer.
So, she leaped for the shortcut and gained her slimmer and gorgeous body through liposuction procedure.
Buttocks Implants
The hair stylist for 'T.I. & Tiny: The Family Hustle' revealed that she also had buttocks implants. And the implants that she on her buttocks were the same fact which eradicated from her stomach via liposuction.
Basically, she transferred her belly fat to her rear end which eventually gifted her the buttocks she was desiring for so long. You can easily get to know the difference that she has on her buttocks at present.
Plastic Surgeries Gone Wrong?
Despite the fact that the Atlantan adores the plastic surgeries, Shekinah Anderson has done on her body, she also regrets getting them by some manner. It is because she is an avid junk food lover and eats junk foods most of the time. This negatively affected her body as the fat that she terminated from her body started appearing on the other parts of her body.
The Hip-Hop Star started gaining fat on her neck, chest and jowls. Hence, her surgeries and eating habit seem to dislike each other.
Tattoos & Their Meaning
The 35 years old artist has inked numerous tattoos, counting more than 10 in her body till date. Her tattoos hold different meaning each which are given below: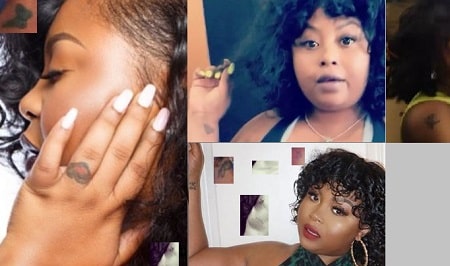 Butterfly on Left Thigh
Shekinah who was beaten up her ex-boyfriend has a butterfly drawn with ink on her left thigh. A butterfly tattoo symbolizes hope, life, and change.
Drawings on Right Thigh
Opposite to her butterfly tattoo, she has two different tattoos drawn on her right thigh. The two inks moreover appear to flowers which are the symbolism of purity.
Writing on Back
At the center of lower back, the star has a some type of undefined writing written. The writing can be either someone's name or a proverb.
Animal on Right Arm
Anderson has a kind of animal inked on the upper part of her arm. The creature seems to be a reptile, moreover a snake or dragon. They represent healing, rebirth, and transformation in life.
Volcano on Left Ring Finger
Tiny Harris' best friend has a drawing of volcano inked on her ring finger of left hand
Love on Left Wrist
On the left wrist, the hair stylist has a symbol of love which represents believes in love.
Symbol on Right Wrist
The LHHATL star has some sort of symbol drawn on her right wrist which more like appears to be the symbol of music.
Drawing on Upper Back
Shekinah has a big floral design inked on her upper back which contains some flowers in it. The flowers are often symbol of love, faith, and freedom.
Flower on Right Breast
Jones has a small flower inked on her right breast which represents love and femininity.
Drawing on Left Back
The beauty entrepreneur has inked a beautiful tattoo of a flower on the upper left part of her back. It is located near the tattoo of her left arm.
Treble Clef on Left Arm
Shekinah Jo has some type of symbol which very much resembles to a treble clef symbol that symbolizes love and passion for music.
Follow Glamour Path for more updates about celebrities.
-->