Shauna Sand Regretted her Plastic Surgery Which Was a Disaster
Published Fri Oct 18 2019 By DGM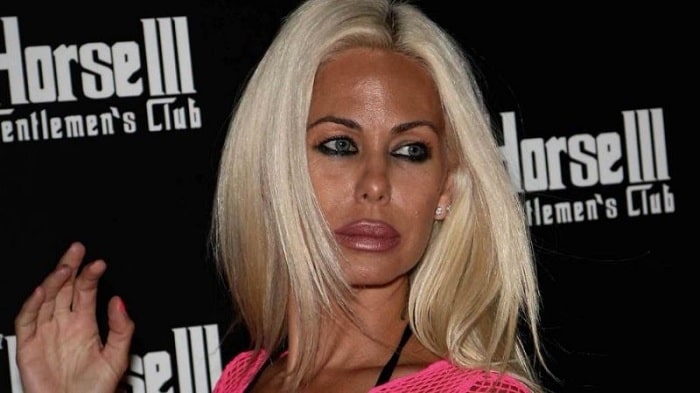 The famous American actress Shauna Sand has gone under the knife and had plastic surgeries multiple times. She has had different surgeries done on her face as well as the body which includes breast augmentation and lip job.
Sand has regretted getting her breasts done by going under the knife. Have a look at the surgeries that she has had below:
Shauna Sand Before & After
Stevie Simpson's wife Shauna Sand has altered so shockingly because her face and body has been through a series of changes. Take a look at the picture given below where you can see the actress's body from the past and present: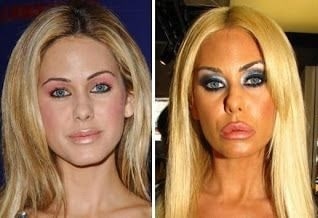 Therefore, from the above picture, there isn't much to say than the plastic surgery of the 'Air America' star has resulted in bad manner more than making her perfect and beautiful.
Lip Job Disaster
It is quite obvious that the injections which Shauna injected on her lips have become a disaster for her. It is because her lips have become so puffy and unattractive at all. Her fans have been saying that she was far better in the past before she had lip injections. It is true as a matter of fact because her lips's size has increased and given her lips an unnatural and mismatching appearance.
As you have already witnessed in the above picture, Sand's absurd lips at present are one of those examples for people who want to enhance the size of their lips. Her plastic surgery failure has been conveying people message it is extremely necessary to reconsider our choice before going under the knife.
Nose Job Rumor
Back in 2008, the 'Hollywood Girls' star Shauna Sand was spotted coming out from a plastic surgeon's office. When asked, she stated that she had a nerve block and visited the surgeon to correct that. She was covering her mouth and nose the whole time she was being interviewed. It appeared as if she was trying to cover her nose with two covers, most probably as she revealed she had problem on her nose.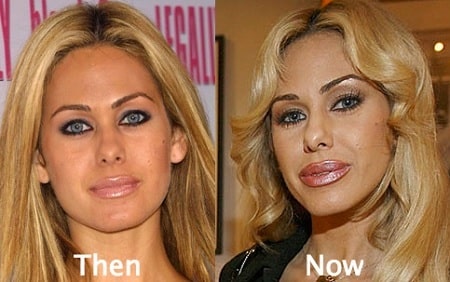 Shauna also said that she was at the surgeon's office to cure deviated septum that happened in her nose. Therefore, it is very possible that she indeed had her nose done with the help of her surgeon.
Breast Augmentation
It was in 2015 when the 48 years old Shauna Sand revealed that she had her breasts done several years ago. However, she re-visited the plastic surgeon because she faced scarring around the nipple of her breasts. She said she wouldn't have regretted getting her breasts done if she wouldn't experienced rope-like feel round her nipples.
Sand also opened that it would change her life if she would become topless again in her life once again. She fixed the rope-like structure around her nipples and also reduced some of her breasts after nine months of visiting her surgeon she was pregnant with a child from Stevie. Therefore, she corrected her nipples' rope-like structure after regretting the surgery she had a long time ago.
Follow Glamour Path for more latest updates about celebrity plastic surgeries and their tattoos.
-->