Shannon Sharpe's All Relationship and Baby Mamas
Published Sun Jan 22 2023 By sush
Out of Shannon Sharpe's amazing NFL career, he is also well known for having different relationships and baby mamas. Moreover, he is known as the loudest tight end for his ranting stories. So his funny relationship stories and advice on his show, Skip and Shannon: Undisputed, are quite popular among his viewers and fans.
However, the infamous tight end, Shannon Sharpe, known for having different relationship encounters and controversies, is currently single. In one of his interviews, he also said that he'd had enough of relationships.
But did you know that now single, Shannon was close to getting married?
Previously Engaged With Katy Kellner
Most of you might already know that previously Shannon had a fiance. He was engaged to a fitness instructor named Katy Kellner. According to sources, Shannon met her back in 2013 while working out at the "Thousand Oaks Gym."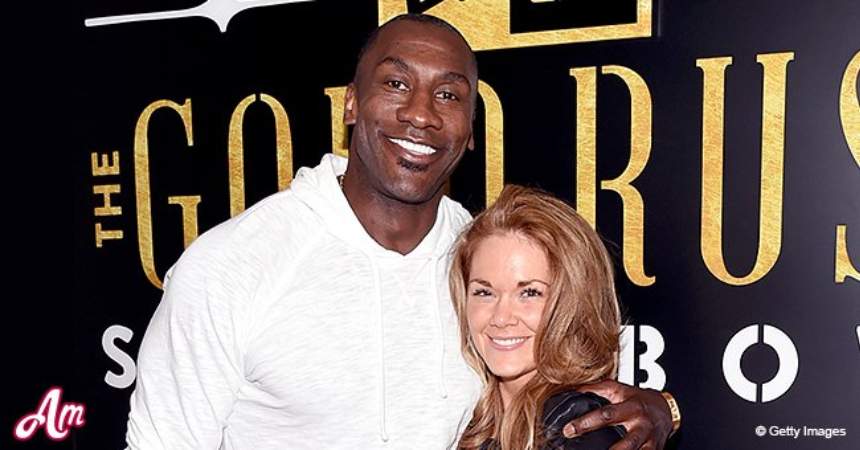 After their first encounter, Shannon and Katy's relationship reportedly grew stronger with their passion for fitness. Since Shannon never officially announced his relationship, it isn't known when they started dating exactly. However, it is believed that they started dating not long after they met.
The couple was seen together on numerous occasions. They also used to make their public appearance every now and then. So, everyone knew they were dating. And after having dated for over two and a half years, the couple eventually got engaged in 2016 and made it official.
However, as promising as it seemed, all went to waste when the couple decided to go their separate ways.
Shannon And Nicole Murphy
Finally, let's move on to Shannon's most infamous romantic encounter, Nicole Murphy. If you are a close viewer or a fan of Shannon Sharpe, you couldn't have missed his infamous crush on Eddie Murphy's ex-wife, Nicole Murphy. The tight end had always been open about his feelings toward Nicole.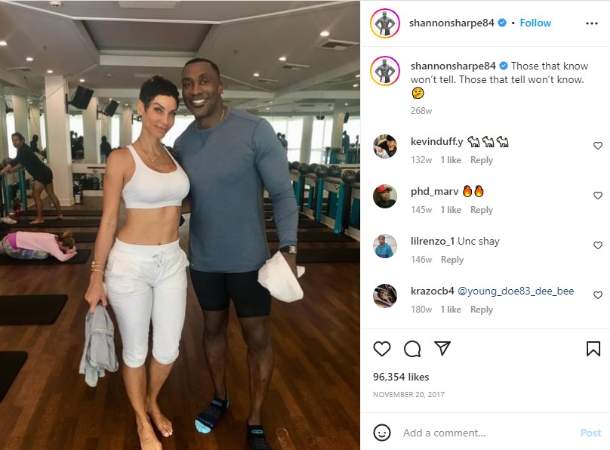 Shannon has posted about Nicole Murphy on his Twitter several times. And not to mention, he has never hidden the fact that he was charmed by her. Due to his continuous tweets about making a move on Nicole, everybody knew he had a crush on her.
After having a long fun pining over Nicole, Shannon eventually met his crush. He met her at a Flywheel class on November 20, 2017. He posted a picture of them together. Moreover, he captioned the picture with "Those that know won't tell. Those that tell won't know." However, it seems the thing with Nicole ended with just Shannon crushing on her.
Controversy With Michele Bundy: What Actually Happened?
In 2010, a controversy started about Shannon when a woman named Michele Bundy claimed to be Shannon's girlfriend. She claimed that she was Shannon's girlfriend and accused him of sexual assault and other allegations.
On September 9, 2010, Michele filed a restraining order against Shannon in Atlanta court, claiming that the three-times Super Bowl winner was sexually assaulting her. Moreover, she also said that she was being threatened and stalked by Shannon and kept under surveillance. Then a temporary restraining order was held against him; however, it was dismissed after a week.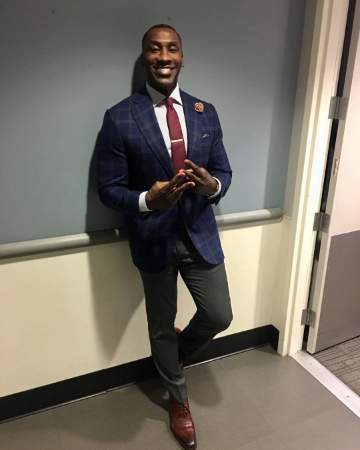 After further investigation, it was found that Shannon was not guilty and that Michele had fabricated her story. Moreover, it was revealed that the woman was the one who was stalking the NFL tight end. It was reported that she started stalking the tight end after he refused to date her.
Moreover, the NFL analyst's career was at its peak when this controversy occurred. But after Michele filed the restraining order, Shannon had to take a leave from his NFL analyst position at CBS Sports.
How Many Baby Mamas Does Shannon Have?
Shannon Sharpe has three kids, all of them having different mothers. He has two daughters named Kayla and Kaley and his son Kiari. However, only one of his baby's mamas is known, and that is his only son, Kiari's mom Erika Evans.
Moreover, if it weren't for the battery lawsuit filed by Erika against Shannon, her existence would not have been known as his other baby mama. All of his three baby mamas had been in dispute with him regarding paternity cases. They have been in and out of Fulton County civil court with Shannon since 1994 for domestic matters. However, despite all this, their information has been well hidden.
Shannon's Baby Mama Erika Evans
If you didn't know, Shannon is the father to three kids. Among them, one of his baby mamas is a woman named Erika Evans. She only came to light after filing a battery lawsuit against him in August 2004 for removing her from his home. However, he has never spoken about Erika in public.
Erika is the mother of Shannon's first child, Kiari Sharpe, and she had him in 1992. Reportedly on June 29, 2004, she went to Shannon'sShannon's Atlanta home to pick up their son. However, Shannon lifted her up and removed her from his house against her will. So, she filed a lawsuit against him two weeks later the actual incident. However, the case was eventually dropped with few negotiations.

Follow Glamour Path for more interesting celebrity biographies, relationships, and riches.
-->