Rumer Willis Plastic Surgery and Transformation – Before and After Pictures
Published Thu Aug 01 2019 By DGM
The American actress and singer Rumer Willis, who won the 20th season of the 'Dancing with the Stars', is rumored to have done two plastic surgeries going under the knife.
Willis has denied all the rumors of her having any cosmetic surgeries but says that she has planned to do it in the near future. Here is a piece of information which will help you know more about the allegations:
Rumer Willis Before and After
As we know Rumer from the days when she first started acting as a child, has been through a lot of transformation in her body as well as face these days.
People believe that she has done jaw surgery and filled her lips with lip fillers to get a nicer and beautiful body. Take a look at the picture given below: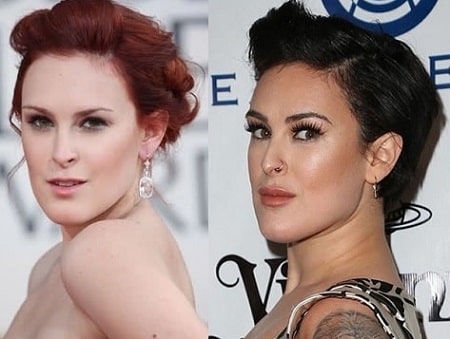 It is very obvious to guess that there have been slight noticeable changes in Willis' body. Her jaw and lips appear a lot different in both the pictures which indeed can be the results of alleged plastic surgeries which she may have done.
Jaw Surgery
The 'Once Upon a Time in Hollywood' star's face has altered a lot throughout her professional years. This is because her jawline has totally changed whether it is from a natural cause or the expected plastic surgery.
In the picture given above, we can easily notice that Willis' face used to have a wide line which made her face look different in the past. But her face appears tweaked and tightened at present. This could possibly be an outcome of a fine work of a jaw surgeon.
Lip Fillers
Bruce Willis and Demi Moore's daughter is also speculated to have used lip fillers which helps to gain larger and juicy lips.
Rumer's lip job rumor might be true because her lips weren't how they are at present. They have changed drastically and we can surely notice the outlines of her lips differ from each and other in the picture below: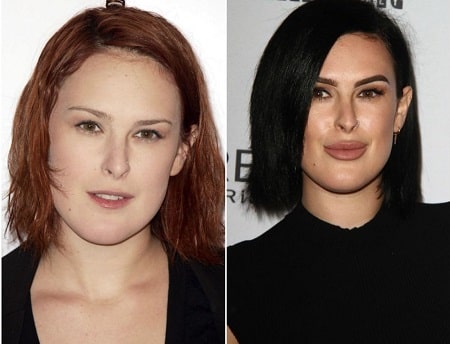 If we take a close look at the above-provided picture, we can notice her lips have become larger and appealing than from the past. Though she has refused the rumors regarding lip fillers, her pictures convey a totally different story.
Breasts Job
The Kentucky-born actress has shown some interest in having a breast job. When addressing the rumors about her plastic surgery, she said that if she wants to get a breast job or other changes about herself, she won't lie about it.
Willis further added that if she chooses to do so, it is because she has thought of doing so and won't be ashamed of her choices if that makes her feel and look better. And as her breasts have become considerably larger and bigger than before, she has somehow hinted about going under the knife and making enhancements to her breasts.
Tattoos
Rumer Willis who is worth $3 million has inked a total of 22 visible tattoos on her body. She has the majority of her body parts inked with beautiful tattoos that hold different meanings. However, she admitted that she would be removing all the tattoos via laser treatment procedure back in February 2019 due to Hollywood typecasting.
Visit Glamour Path for more plastic surgery information about celebrities.
-->