What Should You Know About Renee Bargh: Expecting Baby?
Published Mon Jan 23 2023 By sush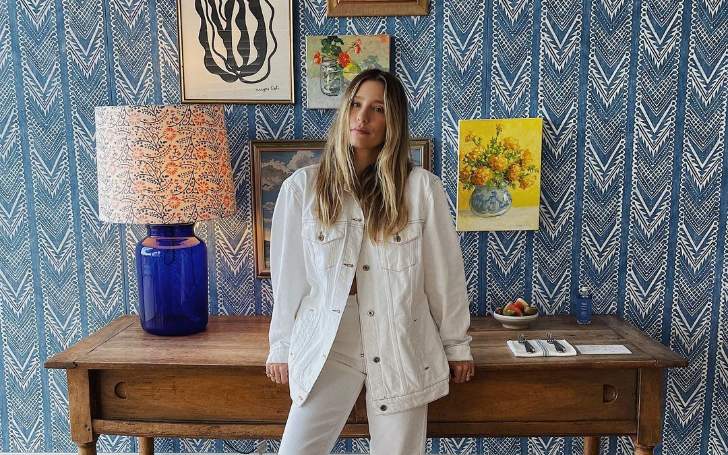 Do you remember the red-carpet host of Extra Tv, Renee Bargh? The one who always delivered the right amount of presentation and questions to our beloved celebrities on our behalf. Oh yes, how much we loved her for her hosting, right?
Well, if you didn't, Renee is an Australian entertainer and a television presenter. She is a two times Emmy-winning host known for being the red-carpet host of Extra Tv. However, the gorgeous Aussie has left Los Angeles and relocated to Sydney. And she has joined as the host of season 9 of The Voice Australia.
She is also a host known in the industry for having numerous romantic encounters with hot celebrities. She has had rumors of being romantically linked with celebrities like Tom Cruise, Brad Pitt, and Joe Jonas. So let's know about the hot television personality who has captured the attention of mass people.
Renee Is Expecting A Baby
The Voice Of Australia season 9 presenter and host, Renee Bargh, is now pregnant with her first child. The beautiful host announced her pregnancy through her official Instagram with a picture of her baby bump.
Moreover, she tagged her current partner, her baby's father, Andrew Lange, and captioned the picture with;
'Everything I ever wanted. Baby Lange on the way,'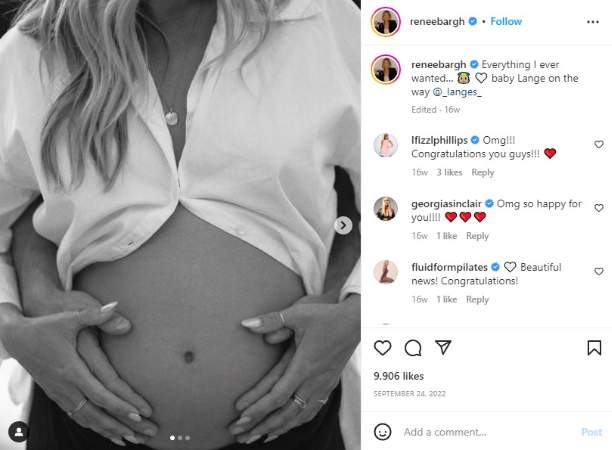 Along with her pregnancy announcement, Renee also posted a gallery of photos of the couple at the beach and photoshoots of her showing her baby bump.
Moreover, Renee mentioned a few times on her social media that she has always wanted to be a mom. She revealed that she also loves her sister's child like her own. So her fans are happy for her now that she is pregnant with her child.
Net Worth In Millions
The glamourous red carpet host of Extra, Renee, has always been living a ritzy life, interviewing the hottest stars in the industry. With her successful television career, she has been one of the hottest television hosts. So she has bagged millions throughout her career.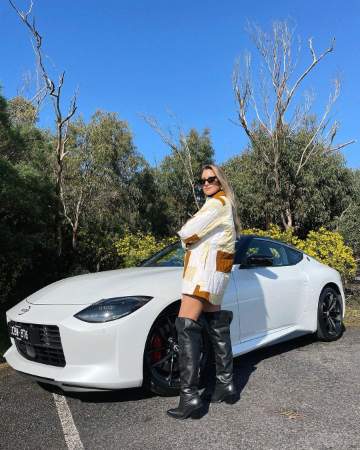 The net worth of Renee Bargh is estimated to be over $5 million. All of her fortunes are thanks to her successful television career. Moreover, Renee is also the Australian brand ambassador for Nissan Auto motors. And she also gets endorsements from various brands as its presenter, Shop LTK being one of them.
Bought A Glamorous House
Before Renee announced she was pregnant, she and her partner Andrew bought their first home together on Sydney's northern beaches. They must have prepared the home to welcome their baby and new life. Reportedly, the couple purchased their home for $2.4 million.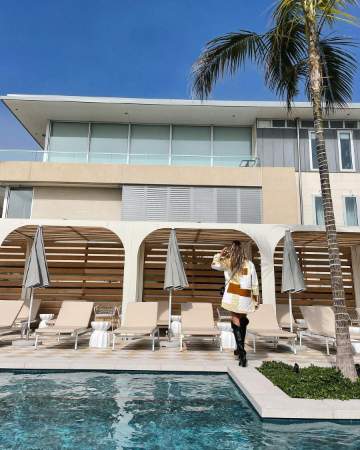 Reportedly, her 1950s home sits on a 460sqm block and has four bedrooms. The house has two bathrooms, a stone kitchen, and ­open plan living and dining space. Before purchasing this house, she lived in a luxury bohemian beachside home in Los Angeles.
Early Life And Education
As you already know, Renee is an Aussie. She was born as Renee Claire Bargh on 18 October 1985 in beautiful Southport, Queensland. Regarding her family background, there is not much information on her parents. However, according to her social media, she has a sister named Danielle.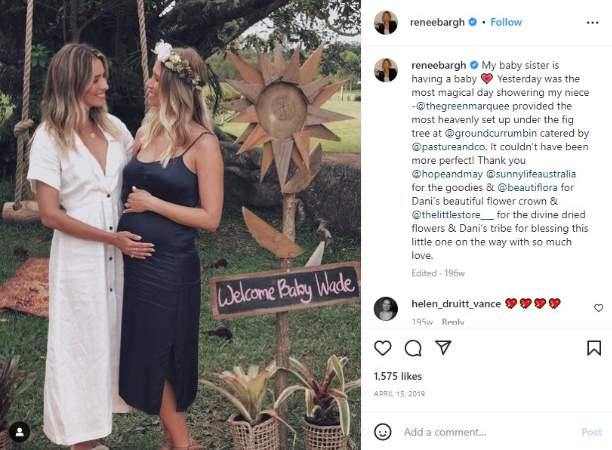 Moreover, Renee spent the first three years of her life living in Vanuatu. And then, her family decided to settle in the hills behind the beachside town of Byron Bay.
Regarding Renee's education, she went to Mullumbimby High School in New South Wales. After completing high school, she moved to Sydney and completed a Certificate IV in Performing Arts at Brent Street.
In A Relationship With Andrew Lange
Renee Bargh is currently in a relationship with a man named Andrew Lange. She made her relationship official in November 2021 on her social media. After just weeks of going official, she posted pictures of her vacation to Fiji with her boyfriend, Andrew.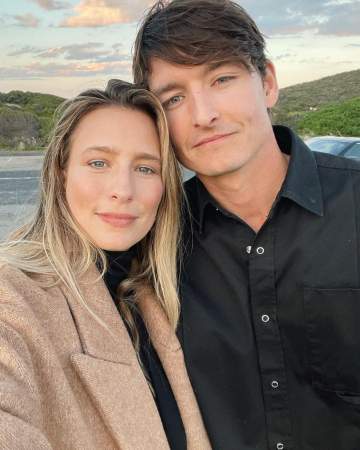 Though she hasn't been entirely secretive about her relationship, she refrains from talking about her partner in detail. And it clearly seems that Renee is totally in love with this guy. She has posted numerous pictures of them together on her Instagram, dedicating her love to him.
Moreover, it seems that Renee's partner, Andrew is a professional potter. Moreover, he is also the father of her child. Andrew is also available on Instagram as @_langes_. However, he has kept his account private.
Did Renee Really Date Brad Pitt?
Another one of Renee's most infamous celebrity encounters is with one of Hollywood's most recognized actors, Brad Pitt. The rumors of them dating started after Renee interviewed Brad on the red carpet at the SAG Awards in January 2021.
Moreover, it was also revealed that the couple had been Facetiming each other. The rumors ignited more when Renee revealed that she had "butterflies" whenever Brad was around. She said;
"I think there's always butterflies when Brad Pitt is around – I'm only human. I'm always a little nervous to speak to him; you feel his presence before you see him."
However, the actor, who has been previously linked with gorgeous women like Jennifer Aniston and Angelina Jolie, never responded to the rumors. But Renee revealed their relationship rumors are just hilarious to her. She said to Popsugar;
'It's absolutely hilarious that those even came about and that people actually believed them.'
Renee Was Involved With A Jonas Brother
Back in 2011, Renee was also romantically linked with one of the Jonas Brothers, Joe Jonas. She was rumored to have hooked up with him after she was introduced to Joe through her best friend Delta Goodrem, also The Voice judge.
The rumors of Renee and Joe hooking up flew after the couple was seen leaving a dinner date at Los Angeles hotspot Susan Feniger's Street. However, Renee denied they were an actual official couple. But she also revealed they had been going on one-on-one dates after their first meeting.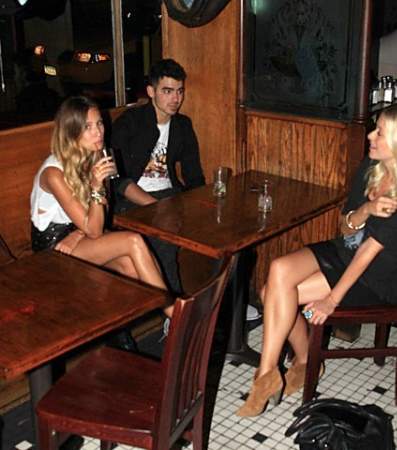 Moreover, when Renee was asked about Joe, she said, "Joe is a lovely guy. We get along great. Joe is just an awesome, awesome guy." However, the couple never became official. It ended with just rumors of them hooking up and going on dates.
Renee's Television Career
Renee got her career start in the television industry after she joined Tim Campbell as co-host of National Bingo Night on Channel Seven in 2007. Then, she hosted Surfari, Nine Network's surfing adventure series, a year later.
After that, Renee joined as a host on Channel [V] Australia. While she was on the music station, she co-hosted What You Want. She also presented two series of the studio's youth Travel show, B430, which led her to travel to places like Los Angeles, New York, Budapest, and New Zealand.
Then, Renee moved to Los Angeles and became the weekend host and correspondent of Extra in 2010. This became her career highlight and gained her much prominence in the industry. However, she left the studio after a decade-long experience and returned to Australia amidst COVID in 2020.
Then, she became the co-host of season 9 of The Voice Australia alongside Darren McMullen. Then, she competed in the dancing show, Dancing with the Stars in its 18th season along with her partner Jarryd Byrne. However, she and her partner were eliminated in the show's semi-finals.
The Extra Host Was In A Pop Band
Did you know that the Red Carpet host, Renee Bargh was in a Pop band? Guess not, right? However, indeed, Renee was in a pop band. Moreover, her career in the band was her start in the entertainment industry.
Before Renee started as a television personality, she was a part of a pop group named Girlband. It was an Australian band formed by Sony BGM, Peppermintblue Management, and Mark Byrne from Rogue Traders in 2006. Moreover, apart from Renee, the group members were Renee Armstrong, Jess Smith, and Patrice Tipoki.
The group has released 50 singles, among which their top two singles were Electric and Party Girl. However, the group didn't have much success and disbanded in April 2007.
Instagram Handles
Renee is available on Instagram as @reneebargh. She is moderately active on the platform and has a considerable social media influence, with over 109k followers. However, she isn't available on other platforms.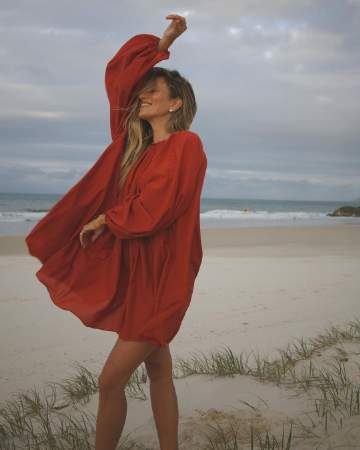 Moreover, Renee shares her everyday life and important moments on her Instagram and connects with her thousands of fans. As she has always shown a friendly gestures, her fans love her.
Follow Glamour Path for more interesting celebrity biographies, relationships, and riches.
-->