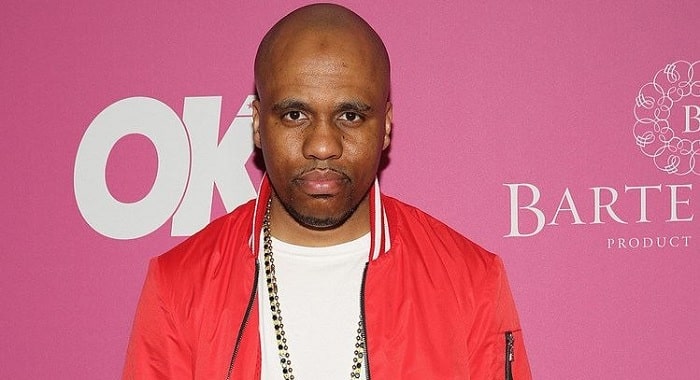 Rapper Consequence whose real name is Dexter Raymond Mills Jr. is an American hip-hop artist who is well-recognized after appearing in the 3rd season popular VH1 reality show 'Love & Hip Hop: New York (LAHHNY)'.
Consequence was born on the 17th of April, 1977 in Queens, New York City of the United States. She has been active in the hip hop music industry for over two decades. Here are 10 facts about Rapper Consequence:
What's his Net Worth?
Rapper Consequence holds an estimated net worth of $2 million and he has been able to amass such an impressive number from his successful career as a hip hop artist and a reality television star.
Rapper Consequence's girlfriend, Jen "The Pen" Bayer has a whopping fortune of $400,000. So, the couple has a great combined net worth.
Lavish Cars
The eminent rapper has spent some of his dollars to buy the finest rides that money has to offer. He owns different customized cars which are worth a lot of bucks and cost a hefty amount. We could only dream of buying such luxurious cars. But it isn't something expensive for the rapper who is a millionaire, is it?
Lives a Lavish Life
Having a net worth of $2 million, Dexter lives a very king-size life with his money. All the clothes and accessories that he wears are of expensive and high quality brands. Along with those expensive clothes, he is a vivid lover of shoes from the brand Vans and as well all know, its clothing line costs a lot than the usual amount. So, he also spends a part of his worth in buying those not so cheaper shoes.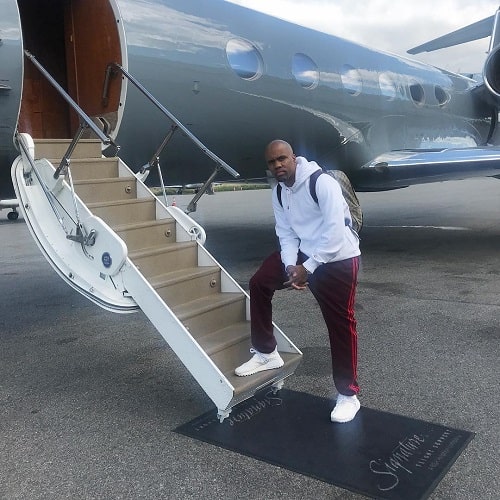 The LAHHNY star is also seen traveling to the finest places on Earth with his family. And most of the time, he travels through expensive flights to his destinations which without any doubt proves his wealth capacity. Therefore, he lives a quite lavish life for sure.
CEO of Company of Greatness
The prominent television star is the Chief Executive Officer (CEO) of 'Company of Greatness' that produces merchandises with imprinted designs and slogans. The company is the home of 'ItsTheCons' clothing line and is managed by Raymond. He bags a good deal of money from the company contributing to his worth.
Girlfriend
The "Caught Up in the Hype" singer has been in a lovely relationship with another cast member of the Love & Hip Hop: New York (LAHHNY) Jen Bayer aka Jen The Pen Bayer for over seven years now. The two met when they both debuted in the 3rd season of the VH1 show and started dating in the same season. The first interracial couple of the show even shares a 7 years old (as of July 2019) son Caiden as the symbol of their love.
Son
As we mentioned earlier, the 42 years old (as of July 2019) is a wonderful father of a son Caiden Mills. The kid is seen featuring on majority of the pictures & videos that the rapper posts on his social handles. He has been polishing his child from an early age to turn him into a rap god like him. This shows that the rapper is making his son follow his path into hip hop industry. We would really want to see the father-son duo collaborating in a song together in the near future.
Has Made an Instagram Account For His Son
Rapper Consequence loves his son very much and uploads most of the pictures on his Instagram of his son. Not only that, he has even made an Instagram account for his son by the name @caiden817 and is managed by himself. The account has gained a huge fan following of 53.8k followers and has posted about 429 posts till date. He is making it easier for his son to start a social journey in the future.
YouTube Channel
The "All Black Neighborhood" rapper has a YouTube channel of his own where he has uploaded some of the songs that he released. He has 1k subscribers and has gained a total of 573,512 views on his seven videos. His channel has not been active for 3 years and it can be because he is focusing more on developing his and his son's Instagram account.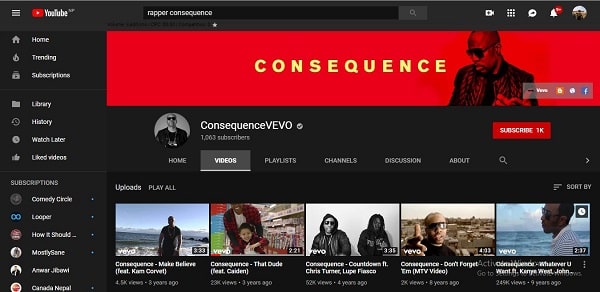 Songs
The father of Caiden has got his name Consequence because he is a hard-hitting hip hop rap artists and has given many hit rap songs. Some of them are 'Say My Name', 'Going Thru Withdrawal', 'The Good, The Bad, The Ugly', and 'Callin' Me'. He has also been featured in other famous rappers' songs such as 'Grammy Family' and 'Anything'.
Social Sites
Jen's partner is active on social sites and has accounts on both Instagram and Twitter. On Twitter, he has 60.2 k followers and has tweeted 34.2k tweets.
Moreover, he has gained a total of 39.k followers on Instagram along with 3,800+ posts. It is shocking to know that his son has got more followers on Instagram than him.
Visit Glamour Path for more celebrity facts.
-->