Phoenix Robert Lachey - Son of Vanessa Lachey and Nick Lachey
Published Thu Apr 27 2023 By sush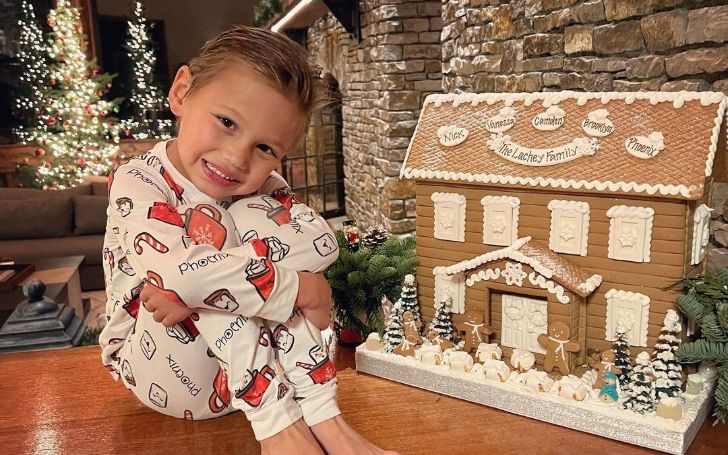 Phoenix Robert Lachey is an American celebrity kid and the youngest child of singer, Nick Lachey, and actress, Vanessa Lachey. He was born on December 24, 2016, in Los Angeles, California.
Phoenix, had a memorable birth, as Vanessa went into labor on Christmas Eve, and he arrived unexpectedly while the family was preparing to celebrate the holiday. Nick later shared the news of Phoenix's arrival on social media, writing:
"Christmas came early for us this year! We're so excited to announce the birth of our son, Phoenix Robert Lachey."
Apart from all this, not much is publicly known about Phoenix's personal life, as his parents have chosen to keep their children out of the spotlight as much as possible. However, Nick and Vanessa share some glimpses of their family life on their social media accounts from time to time. So, we have brought everything about Phoenix, that we gathered from their social media.
Phoenix's Parents Are Famous Celebrities: Also, Know Their Net Worth
Nick Lachey and Vanessa Lachey have both had successful careers in the entertainment industry, with Nick achieving fame as a member of the boy band 98 Degrees, and Vanessa establishing herself as a television host and actress. While their exact net worth is not publicly known, it is estimated that Nick Lachey's net worth is around $25 million, while Vanessa Lachey's net worth is estimated to be around $10 million.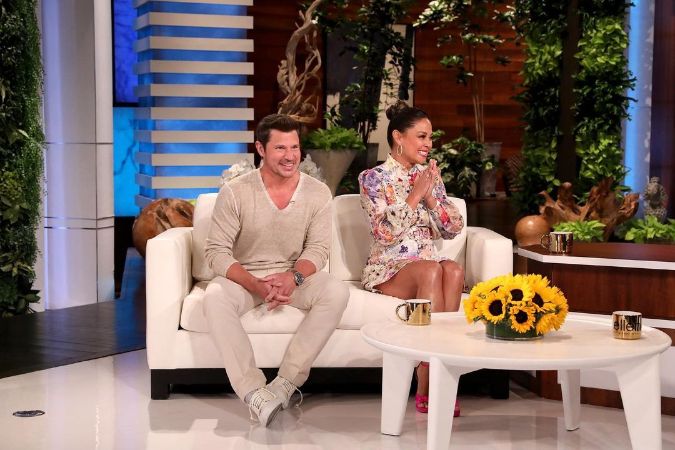 Both of Phoenix Robert's parents, Nick and Vanessa are well-loved personalities. They are pretty famous in their respective field of music and acting. And so, Nick and Vanessa are financially successful and have built a comfortable life for themselves and their family through their various endeavors in the entertainment industry.
Phoenix's Birth Details
As already mentioned, Nick and Vanessa Lachey's third and youngest child, Phoenix Robert Lachey was born on December 24, 2016. His birth was announced by the couple, two days later on December 26. They took the news to their social media, with both Nick and Vanessa posting photos of themselves holding their newborn son.
On Instagram, Vanessa posted a black and white photo of herself cradling Phoenix, along with the caption:
"It's a very Merry Christmas indeed! We had our Christmas Miracle. Phoenix Robert Lachey decided to show up early and was born on Christmas Eve. Mommy, Daddy, Camden & Brooklyn LOVE You very much! #LacheyPartyOf5."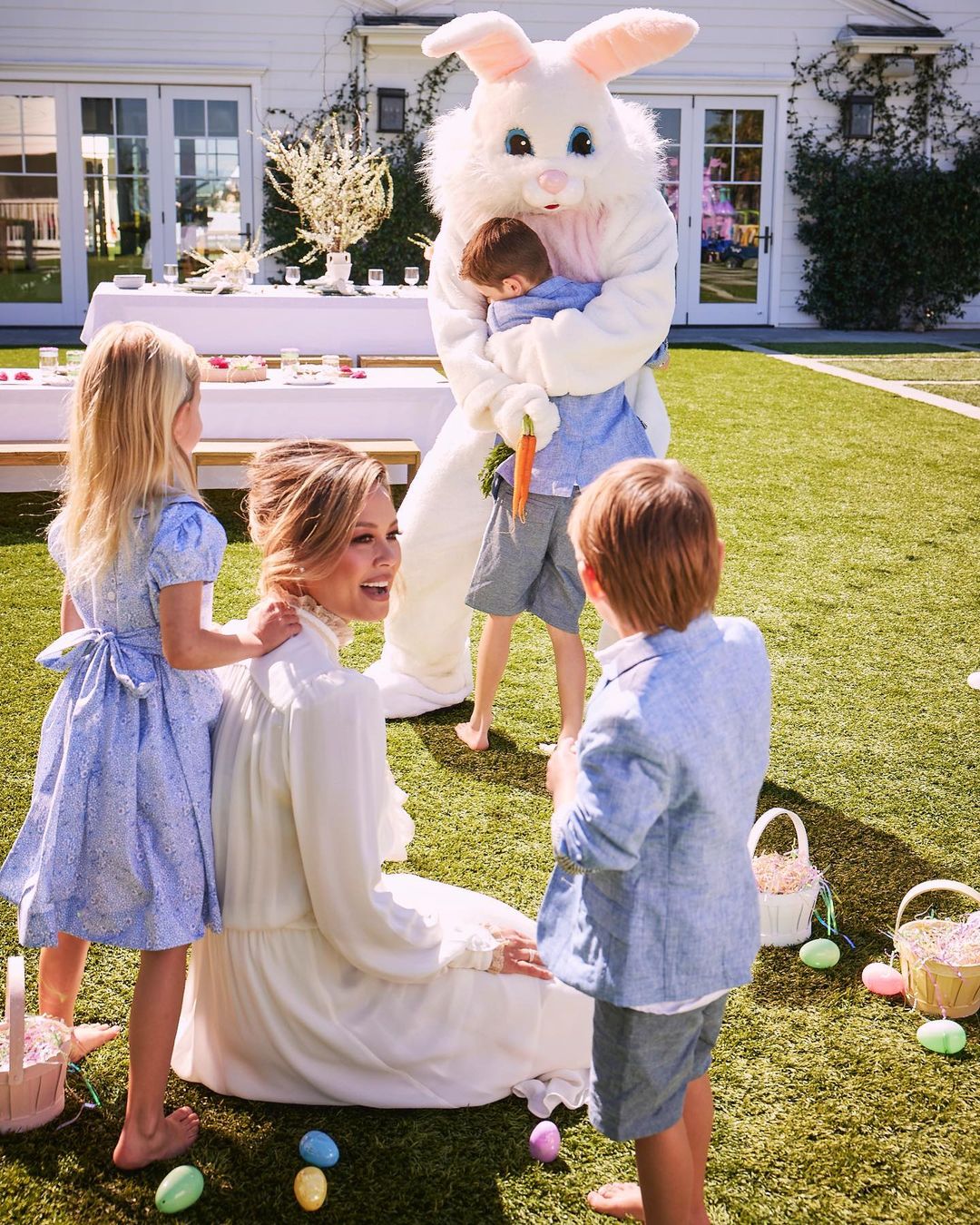 Phoenix Was Born Prematurely: Says He Came Early Because He Didn't Want To Miss Christmas
Yes, Phoenix Robert Lachey was born prematurely. Vanessa and Nick have told the story behind Phoenix's birth a few times already now. And, she once again wrote about the story on her social media last Christmas.
In her post, Vanessa wrote that when she was pregnant with Phoenix, her water broke 11 weeks early. Because of the water breaking that early, they were panicked; however, they tried all things that could keep him healthy and in her womb for a few more weeks.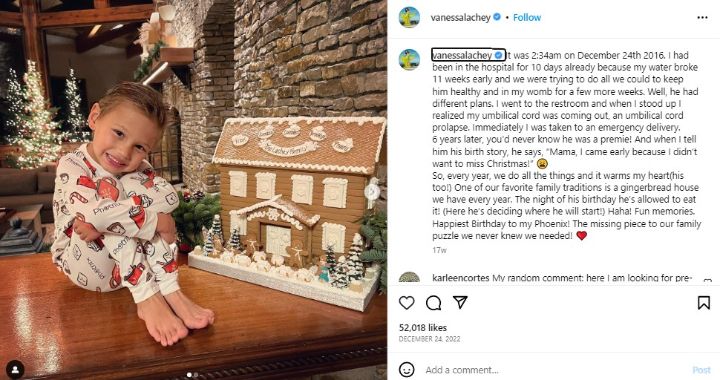 When Vanessa went to the restroom and stood up, she realized that her umbilical cord was already coming out. And so, she was immediately taken for an emergency delivery. Fortunately, the delivery was a success. And now, we have our cute little star, Phoenix.
Vanessa also says that she tells that story to Phoenix. And whenever she does, Phoenix tells her that he came early because he didn't want to miss Christmas. And to celebrate his birthday, they always have a gingerbread house.
Every year, we do all the things and it warms my heart(his too!) One of our favorite family traditions is a gingerbread house we have every year. The night of his birthday he's allowed to eat it! (Here he's deciding where he will start!) Haha! Fun memories.
Happiest Birthday to my Phoenix! The missing piece to our family puzzle we never knew we needed!

-Vanessa Lachey
Phoenix's Parents Became Collaborators To Lovers
Phoenix Robert Lachey's parents, Nick Lachey and Vanessa Lachey (née Minnillo) met in 2003 on the set of MTV's "Total Request Live" (TRL). At the time, Nick was hosting the show, while Vanessa was a correspondent. They first met when Vanessa interviewed Nick, and they hit it off immediately. However, while Vanessa was in a relationship, at the time, Nick was still together with his ex-wife, Jessica Simpson. And so, the couple didn't pursue anything further.
Then, Nick and Vanessa didn't see each other again until 2006 when they both happened to be in the Bahamas for New Year's Eve. They ran into each other at a party, and this time they were both single. They started talking and hit it off once again. Nick invited Vanessa to the premiere of his movie, "The Hard Easy," and they went on their first official date soon after.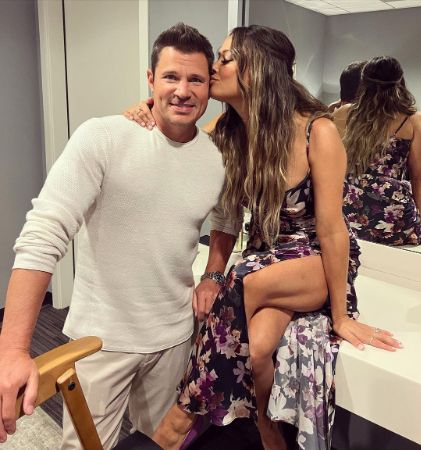 After dating for several years, Nick and Vanessa became engaged in November 2010. While on vacation in California. Nick proposed to Vanessa on a beach at sunset, with a custom-designed engagement ring. They announced their engagement on "Live! With Regis and Kelly" and Vanessa showed off her ring to the audience.
And so, Nick and Vanessa got married on July 15, 2011, in a private ceremony on Necker Island in the Caribbean. The ceremony was attended by family and close friends, and the couple's wedding photos were later published in People magazine.
How Many Siblings Does Phoenix Robert Lachey Have?
As already mentioned, Phoenix is the third and youngest kid of Nick Lachey and Vanessa Lachey. He has an older brother named Camden John Lachey and an older sister named Brooklyn Elisabeth Lachey.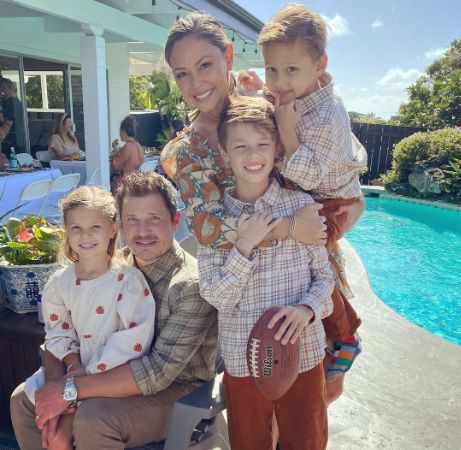 The oldest sibling of Phoenix, Camden John Lachey was born on September 12, 2012. Three years later, his parents welcomed his sister, Brooklyn Elisabeth Lachey on January 5, 2015. And then, just a year later, he was born.
Phoenix's parents, Nick and Vanessa have been very protective of their children's privacy, and have tried to keep them out of the public eye as much as possible. While we don't know much about their personal lives, it's clear that they are a loving family that prioritizes their children's well-being.
Follow Glamour Path to find out more interesting articles about celebrity biographies, relationships, and riches.
-->