Get to Know Paulo Goude – Grace Jones & Jean-Paul Goude's Sound Engineer Son
Published Sun Feb 09 2020 By Akki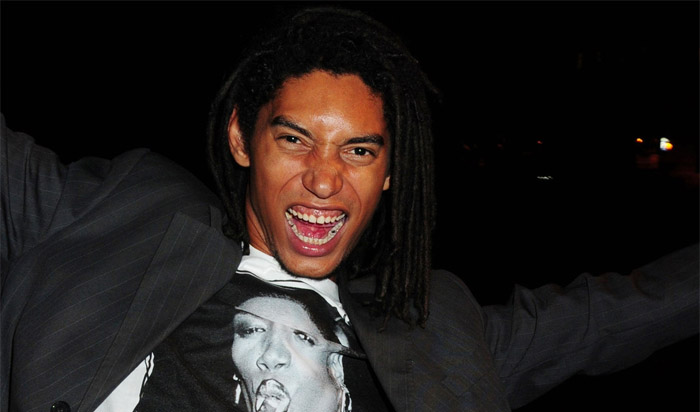 The American actor and musician, Paulo Goude is a famous celebrity kid, born to an American-Jamaican model Grace Jones and a French graphic designer Jean-Paul Goude. He was born on the 12th of November 1979, in the United States and has "Scorpio" as Zodiac.

As we dig mo in, the name "Paulo" is a Portuguese masculine name, which is a variation of "Paul". The word is borrowed from the Latin language that means Small. On the other hand, the name also has meant "Place of Rest" in African origin.
Half-Siblings
The dashing handsome, Paulo Goude has two half-siblings from his father Jean-Paul Goude and his wife Karen Park Goude.
Theo Goude is a younger half-brother of Paulo, whereas Lorelei Goude is his younger half sister. Although the siblings are from different mothers, they seem to enjoy each other's company.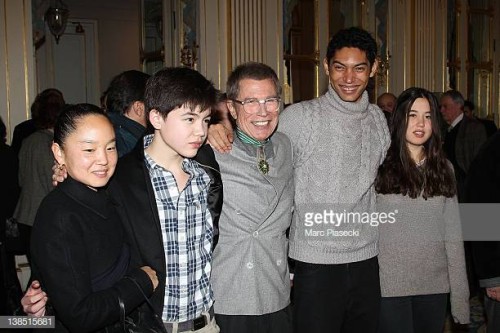 Parent's Net Worth
Paulo's father, Jean-Paul has an estimated wealth worth $3 million. He is a versatile French graphic designer, illustrator, photographer, and director.
His works in campaigns and illustrations for multi-millionaire companies like; Kodak, Chanel, and Perrier helped him to accumulate such a huge net worth.

Paulo's mother, Grace Jones is a reputed actress, model, and musician, whose unique style has been appreciated by renowned artists such as Rihanna and Lady Gaga. She has a whopping net worth of $7 million as she succeeds in piled up her earning from various careers.

Further, she has also been cast opposite Hollywood action hero, Arnold Schwarzenegger in Conan the Destroyer (1984), which had a massive box office collection of $31 million back in the 80s.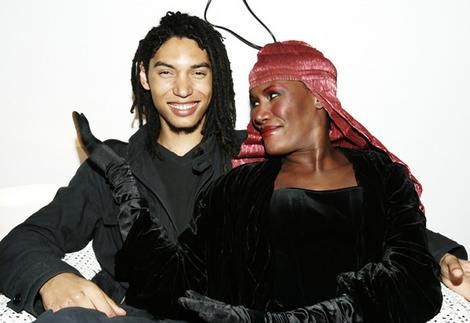 Parent's Relationship
Paulo's parents dated in the 1970s as they met in the course of their works.
Jean-Paul Goude photographed Grace Jones for her albums and magazine cover. The lover's split when Grace was pregnant with their son. Though the duos aren't together, they have maintained close relationships for the shake of their child.

Following the love life of Jones, she was once married to Atila Altaunbay from 1996 to 2004. She also hooked up with her former bodyguard and Swedish actor Dolph Lundgren in the 1980s. She also dated a Danish actor Sven-Ole Thorsen, as she opened up in 2007.
Similarly, Jean-Paul is married to Karen Park Goude and have two children together.
Fiance and Daughter
Paulo Goude has been engaged to Ezella his engagement news was well accepted by his admirers. As for now, he is enjoying his extravagant life with his fiance and their lovely daughter.
Just like Goude, she is also a musician and has shared stages a couple of times with him in Europe tour.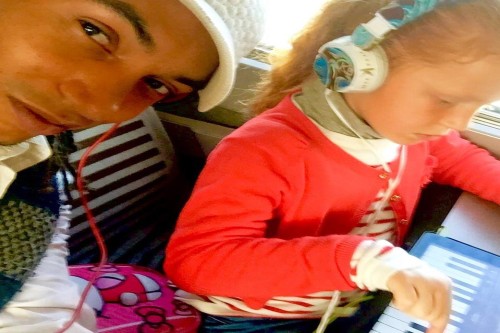 In the above picture, we can see, Paulo enjoying his time with his daughter who looks busy with piano app.
Is an Audio Engineer
Jones' son, Paulo studied at CCSS Cambridge Centre for Sixth-form Studies, Benet Place. Likely, he also attended the International School Of Paris from 1987 to 1997.
Later, he joined Alchemea College Of Audio Engineering and obtained Audio Engineering and Production degree.
Inspired By His Mother's Career
After the completion of his bachelor's, Paulo Goude got busy with his works as an actor, musician, and model. He has represented by the number of the company; "TPS Star", "Blue Mountain Music Publishing", and "Agence Dynamite".
Since 2015, he has been working as a studio musician and actor at Moksha Productions.
Additionally, Goude has also been featured in his mama's biography documentary; Grace Jones: Bloodlight and Bami in 2017.
Stay tuned to Glamour Path for more updates on Celebrity Babies.
-->