Nirmal Purja aka "Nims Dai" Biography - According to "14 Peaks" Documentary
Published Sun Dec 19 2021 By aayush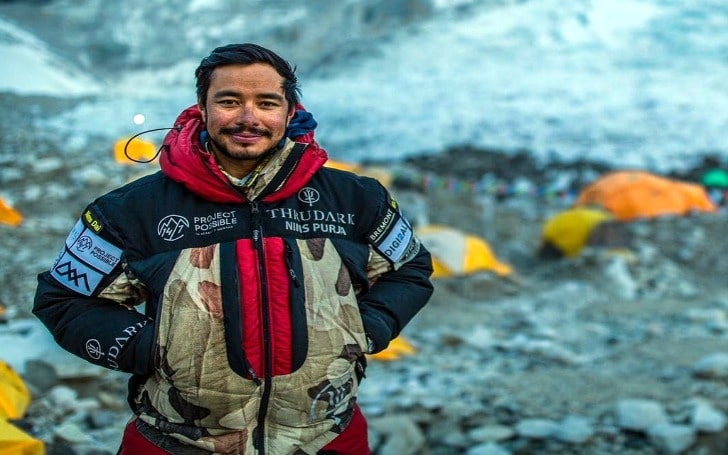 Nirmal Purja Magar, born on 25th July 1983(२०४० श्रावन ९) has become one of the internet's most-searched people in a short period of time. He was born in Dana, a small village in the Myagdi district of Nepal.
Purja has become an idol for many people with his great project "PROJECT POSSIBLE" which also set the new world record.
He is widely known as "Nims" and popular in Nepal "Nimsdai". The story of the man himself is shown in his recently released documentary "14 PEAKS" which is chilling and almost hard to believe.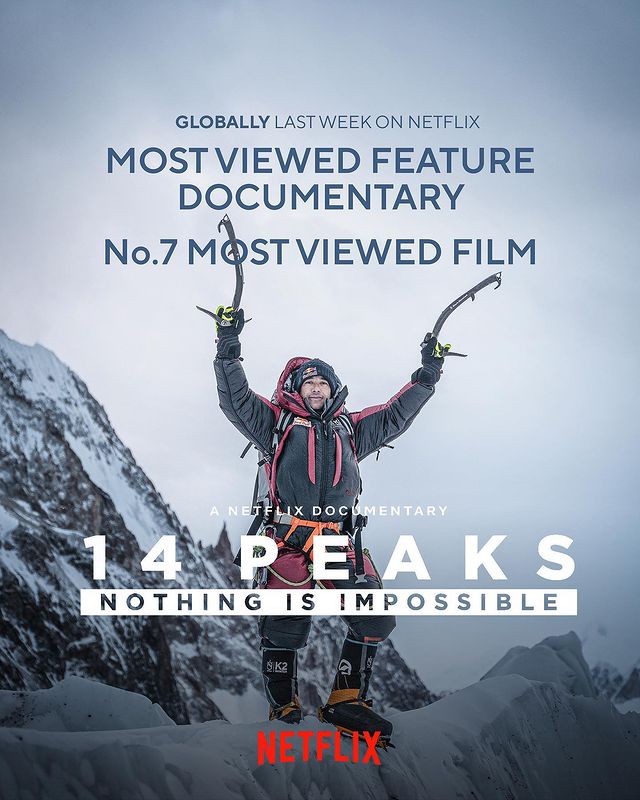 The first person to climb all the 8000-meters peaks was Italian, Reinhold Messner who is very much respected in the mountaineering community all over the globe.
The fastest climb record was set by South-Korean, Kim Chang-Ho which took him 7years and 310 days which Nims completed within 6months and 6days.
About The Hero, Niraml Purja
Nims took birth in a very poor family. He took birth as the youngest child to father Nanda Bahadur Pun and mother Purna Kumari Purja.
Purja's Harsh Childhood
The mountaineer finished his schooling (1-10th grade) from Small Heaven School, Bharatpur, Nepal, and attended Loughborough University, Loughborough, England. He is a post-graduate diploma in Security and Risk Management.
Although Purja initially was born in Dana, Myagdi he was brought up in Chitwan and he spent most of his childhood there.
Purja talked about his harsh childhood in an interview growing up in a poor family surely wasn't easy for him in his childhood years. In the interview Nirmal said
"As a kid in Nepal, I went barefoot because my family had nothing. That's how I developed the resilience I needed for joining the Gurkhas, one of the most fearless forces in the British Army. Then against all odds, I became the first-ever Gurkha soldier in more than 200 years of history to join the Special Boat Service where I served in some of the world's most dangerous warzone, kicking down doors to capture enemy gunmen and terrorist bomb makers".
Purja's Adulthood and beginning of his career as a Gurkha
The enthusiastic youngster joined the Gurkha back in 2003 and served for British Gurkha for 6 years after which he decided to apply for special force and was able to become the first Gurkha in history to be selected for Special Boat Service in 2009.
How He Cheated Death
In the battleground in 2011 Nims was providing fire support from a rooftop the man survived a bullet sniped to hit his neck just by two centimeters as the bullet hit his weapons extender and Nims was falling through the air and survived.
The Young Man Becomes The MBE
It takes lots of guts in a human to grow from a poor family to being awarded "Member of the Order of the British Empire" (MBE) by Queen Elizabeth herself. He was awarded this title back in 2018. After which the young boy now had become Nirmal Purja MBE.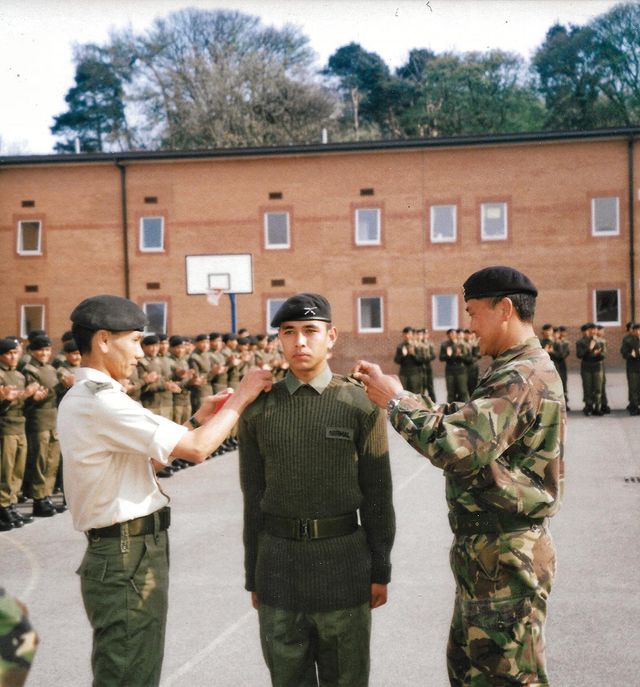 Nims Dai's dedication
Nims was one of the people who never settled for less. He used to wake up at 2:00 AM in the morning and run 20 kilometers then go to the gym and come back home at 11.
This was the dedication that Nimsdai put into anything that he did which pushed him to conqueror the eight-thousanders as well.
Leaving The Army To Visit The Mountains
Nims decided to leave his career as an army and decided to put in more work for mountaineering in 2018 October which turned out to be best for him.
But this decision was not appreciated by his eldest brother Kamal Purja as Nirmal was the greatest family asset for the Purja family. The brothers did not talk to each other for 3 months due to Nims' decision.
The Purja Family
The family comes from a very poor background as claimed by Nirmal. The family had 7 members including 3 older brothers and Nirmal as the youngest son and a Sister.
Their father Nanda Bahadur Pun had been a Gurkha and their mother Purna Kumari Purja came from a farming background.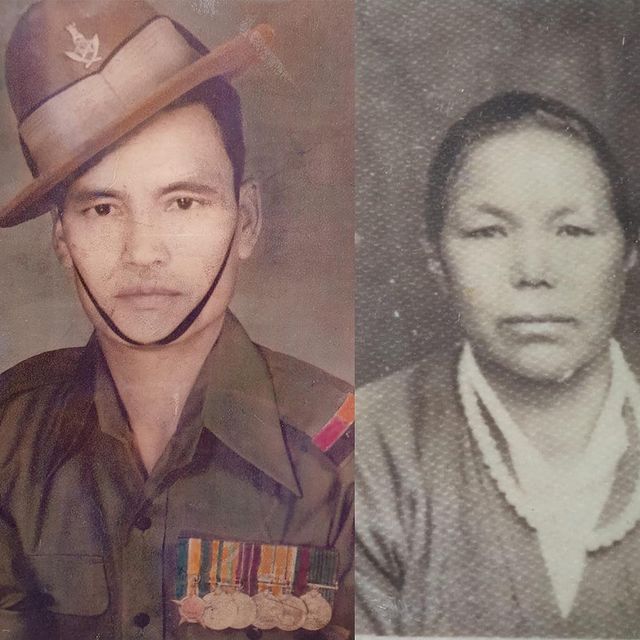 All of the brothers served as a Gurkha for the British Force as well. The oldest brother, Kamal Purja, and his sister Anita Purja can be seen in the documentary 14 Peaks as well.
Nanda Bahadur had a heart attack and became half-paralyzed. While Nims was busy climbing mountains his beloved mother was in a very ill condition but she pushed through her illness until her youngest son conquered all of the fourteen eight-thousanders.
Suchi Purja, The Woman Behind The King Of Eight-Thousander Peaks
Suchi and Nirmal got married back in 2008. When they were at a very young age. Nirmal himself was twenty-five at the time and Suchi was just twenty years old.
The mountaineer's wife works as a Dental Hygienist/Therapist at Solutions Dental Clinic in Winchester, England.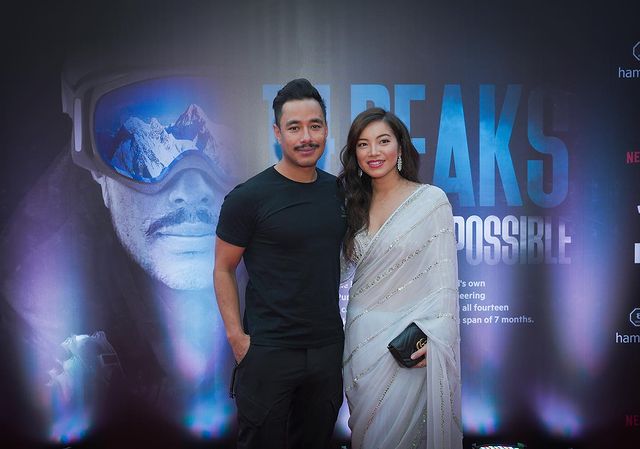 The lady is one of the major people who made the "PROJECT POSSIBLE" work out. She was with the mountaineer from the very beginning and supported him throughout every step becoming his backbone.
Beginning Of His Love For Mountains
Before starting his journey to climb all the fourteen eight-thousanders the Nepal-born mountaineer stepped into the mountains for the first time in 2012.
The first-ever mountain he climbed was the world's highest peak, Mt.Everest in 2021, then he climbed Dhaulagiri in 2014 followed by Mt.Everest again in 2016 and Lhotse in 2017.
This was when he knew that he was in love with the beautiful mountains and the physical and mental challenges which the climber had to face.
Starting The Journey To Conqueror All Fourteen Eight-Thousanders, "MISSON POSSIBLE"
Nirmal flew to Nepal from England on 15th March 2019. He knew that his mission was an expensive mission as climbing a single eight-thousander can cost from $40,000 and even up to $160,000 and he had to climb 14 of them.
A normal person can never be able to expend such a huge amount of money. He had to ask for investors and exclaims that asking for money was one of the toughest things he's ever done.
The six-different mountaineering record holder then remortgaged his house for the fund to climb mountains. And then began the "PROJECT POSSIBLE".
Nimsdai divide the entire project into three phases
Phase-I
Annapurna
Dhaulagiri
Kanchenjunga
Mt.everest
Lhotse
Makalu
Phase-II
Nanga Parbat
Gasherbrum-I
Gasherbrum-II
Mt.K2
Broad Peak
Phase-III
Cho-You
Manaslu
Sishapangma
To climb the merciless mountains Purja knew that he needed the best teams of mountain climbers. He gathered a group of five members including himself as the leader of the group. The group included four Nepali mountain climbers:
Mingma David, the strongest climber
Galjen, the best dancer on the planet
Lakpa Dendi, a man who can carry the size of a house
Gesman, willing to put everything on the line.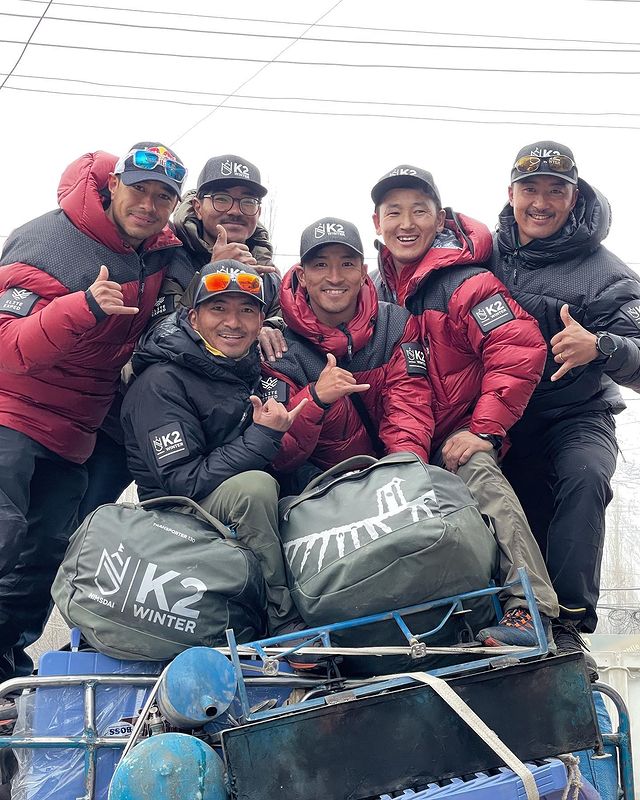 PHASE-I
1. Annapurna Summit and Rescuing The Lost Climber
Nimsdai and his team started the Annapurna expedition on 7th April 2019. The team of mountaineers reached the summit on 23 April 2019(Misson Possible: 0 month 1day). This was when the clock started ticking for Nims and his team.
Don(British mountain climber), was on Annapurna at the same time as Nims. He had tried to summit Annapurna 5 times in the past thirteen years but did not succeed. But this time it was different he summited the Annapurna.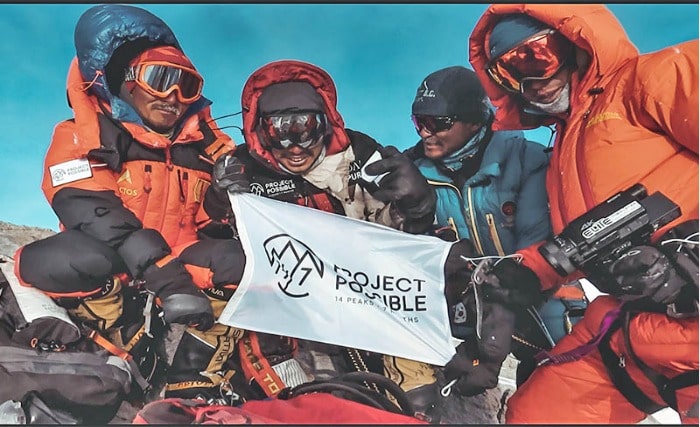 24th April 2019,(Misson Possible: 0 months 2 days) after the team was back to camp four they got the news, a climber from a different group had not come down the last night and was alive.
The courageous mountaineers hung by rope on the helicopter and flew off to rescue the left-behind climber and seceded. The rescue team included Nims, Mingma, Gesman, and Galjen.
2.The story of Dhaulagiri Climb
Purja considers this climb as one other hardest thing. They reached Dhaulagiri's summit in 21 hours on 12th May 2019(Misson Possible: o months 19 days). The hardest as the team was hit heavy wind they had to face during the climb.
3. The Thrilling Story Of Kanchenjunga
Usually, people climb this mountain in four different stages where Nims and his team were able to conqueror the mountain in a single day. While the whole team was hungover after partying in Kathmandu the night before.
The team scaled Kanchenjunga on 15 May 2019(Misson possible: 0months 22 Days). While climbing back down, just below 100meters from the summit they find a messed up climber.
The climber had run out of oxygen and could not breathe. They decided to help the climber even when they were in sort of resources themselves.
Nims took out his oxygen and gave it to the climber. It was dark and they tried to contact the base camp for help but no one came. The man on the radio even asks Nims and his team to come down or they might get killed as well to which Nims responds with
"Ragat mai chaina ni dai, manchey chodera aauni ta"

"Leaving a man behind is not in the blood brother"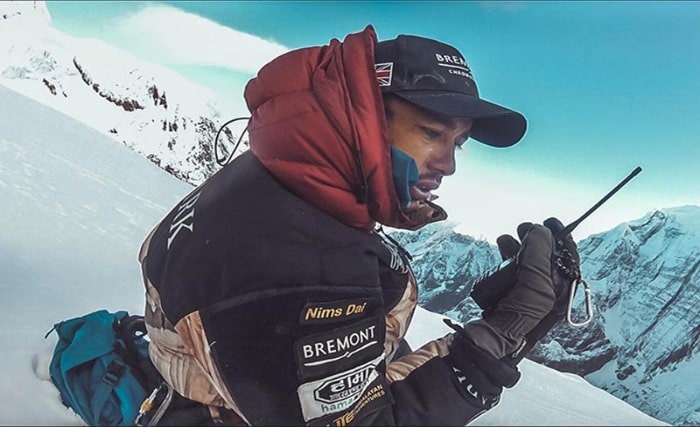 which has become one of the famous sayings in Nepal. And stays behind to help the climber but the climber breaks down in Nims' hand.
Coming back down with no oxygen it had been 11 hours that Purja was walking in that high altitude without oxygen. Due to which Purja developed HACE(High Altitude Cerebral Edema).
It is the state of mind caused due to lack of oxygen when the person who has it sees dreams with their open eyes and cannot control them.
With all these odds the team still manages to push through the summit of Kanchenjunga and get back safely.
4. Record-Breaking Climb of Mt.Everest, Lhotse, and Makalu
With this climb, Nims broke the world record of climbing three eight-thousanders in a minimum period of time which is in 48 hours.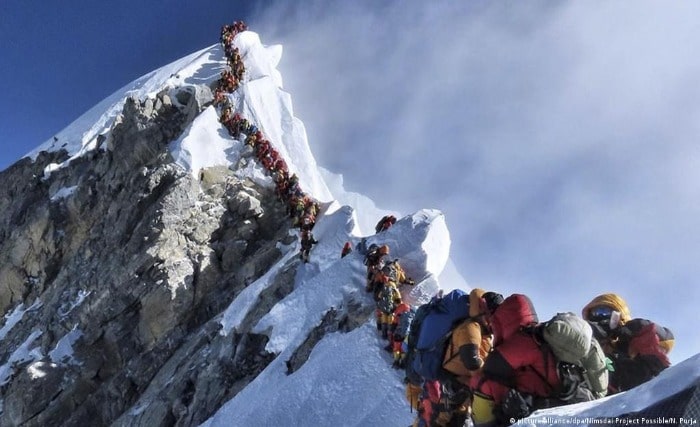 They reached the summit of Mt.Everest and Lhotse on 22 May 2019(Project Possible: 0 month 29 days) due to the weather window there were almost 400 climbers on Mt.Everest on the same day of which Nims took a picture and went viral all over the globe. Scaled Makalu on 24 May 2019(Project Possible: 1month 1day).
This is the fastest time that anyone has ever climbed three eight-thousanders and with this Purja and his team finished Phase-I of "PROJECT POSSIBLE".
PHASE-II
For Phase-II Nims and his team had to travel to Pakistan as they had to climb Nanga Parbat, Gasherbrum-I, and Gasherbrum-II.
5. Nirmal Purja Cheats Death In Nanga Parbat
The team decided to start from Nanga Parbat. They reached the summit of Nanga Parbat on 3 July 2019(Misson Possible: 2months 10days).
In the climb Nims cheated death again he had already fallen 100meters below when he lost his full control but managed to survive after grasping onto a rope right on time.
6. Gasherbrum-I
Nims and his team finished the Gasherbrum climb on 15 July 2019. The team had to hurry up as the clock was ticking non-stop.
7. Gasherbrum-II
Just after 3 days of submitting the Gasherbrum-I Nims and his team summited the Gasherbrum-II on 18 July 2019.
8. Climb of The Notorious Mountain Mt.K2
It was winter season during the climb of Mt.K2. It is notorious for a reason as one out of three climbers does not make it to the summit.
Most people do not dare to climb Mt.K2 during the winter season as the chances of dying are very high during the climb. There is no guarantee that the climber will come back down or even reach the top.
Nims and his team managed to summit the mountain on 24 July 2019. The team of Nepali mountaineers even took 24 climbers who had given up climbing K2.
Lakpa Dendi has climbed lots of mountains but considers this climb of K2 as his life's most interesting one as everyone thought they could not make it to the summit.
9. Broad Peak
Just after 36 hours of climbing K2 the team of Nepali mountaineers was placing their foot at the top of Broad Peak.
They reached the summit of Broad Peak on 26 July 2019(Misson Impossible: 3months 3days).
With this Nims and his team had finished climbing eleven of the fourteen eight-thousanders and the second phase of "PROJECT POSSIBLE".
Nirmal's mother ill health and his close relationship with his mum
During the gap between Phase-II and Phase-III Purna Kumari had a heart attack. She was very vulnerable and the doctor said the chances of her surviving are almost 0% and the doctor asked him to call his relatives.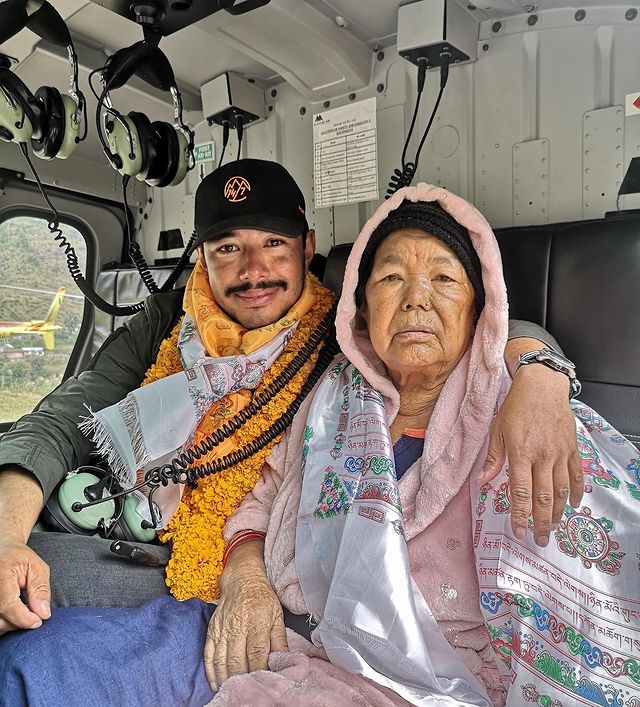 Nirmal being very close to his mum could not afford to lose her. She was admitted to Grande Hospital, Kathmandu, Nepal. If anything were to happen to his mum then Project Possible would've ended right there.
This was the time when Nims thought that he had passed as a climber but failed as a son. But by miracle, She survives which motivated him even more.
PHASE-III
For Phase-III Nims and his team were planning to climb Manaslu at first and then go to Tibet for climbing Cho-You and Sishapangma.
But things don't always go as planned.
10. Hurried Climb To Cho-You
Just when Nims and his team reach the base camp of Manaslu on 13 September 2019(Project Possible: 4months 21days) in Nepal the news comes out that Mt.Cho You will be closed next week and his permit request for Sishapangma was rejected by Tibet.
The team hurries up for the flight to Tibet leaving Manaslu and summited Cho-You on 23 September 2019(Project Possible: 5 months 0 days).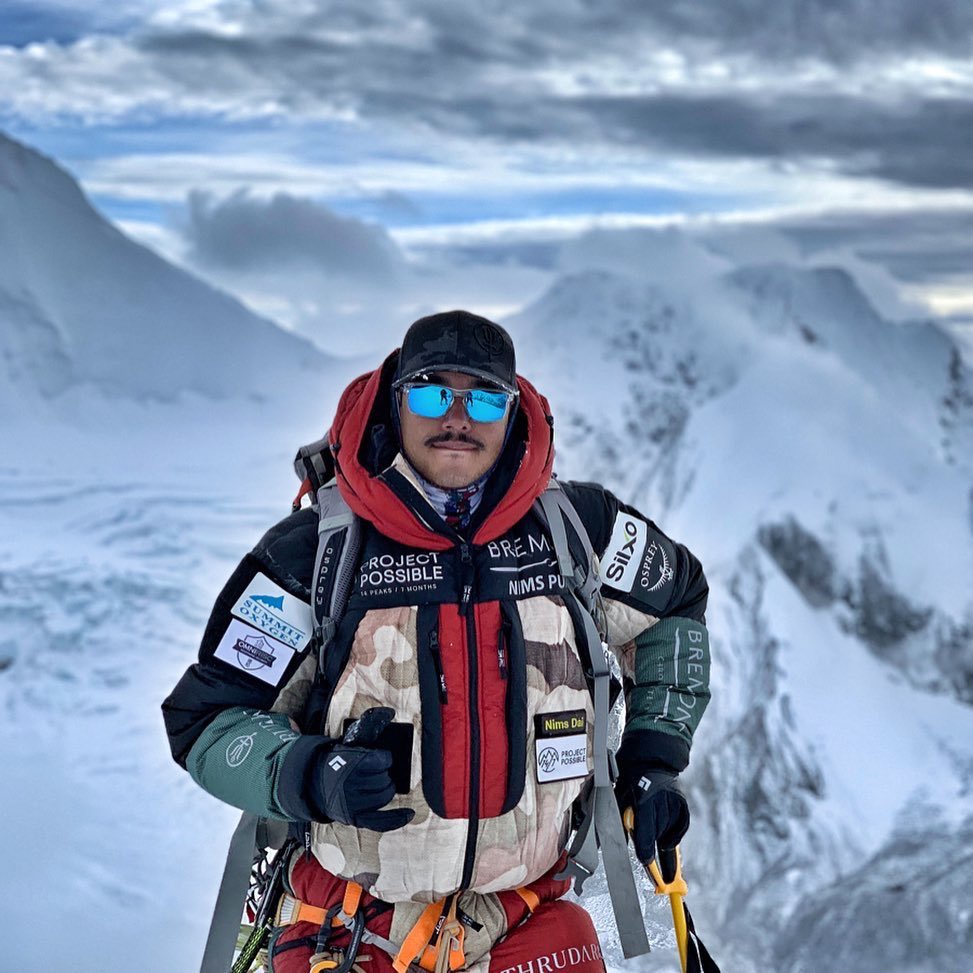 11. Back To Scaling Manaslu
After the hurried expedition to Cho-You's summit, the team of 5 Nepali climbers heads back to Nepal to scale Manaslu down.
While climbing up to Manaslu's summit Nims says that his mother was constantly on his mind as she was in bitter health at the time. But that didn't back him off as they summited Manaslu on 27 September 2019 (Misson Possible 5 months 4 days).
12. The Final Eight-Thousander, Sishapangma
After climbing thirteen eight-thousanders the last one left was Sishapangma in Tibet.
Initially, Nims felt like Manaslu might become the last eight-thousander that he would climb as the Tibet government had rejected his access permit to climb Sishapangma saying it was closed for the year.
The world-record-breaking mountaineer was facing a huge obstacle completing his project. He had to make the Tibet government grant the access as he was nothing compared to the Chinese government's power.
The Nepali-born mountaineer took help from the Nepal government. He was talking to different politicians from Nepal all the time including former prime minister, Madav Kumar Nepal. It would take at least 6-7 months.
Then he took help through his social media followers which got him a lot of help. People from all around the world sent emails to the Chinese government regarding Nimsdai's access to Shishapangma.
The Chinese government then had to grant access for Nims and his team to summit Sishapanga and they did. The news came through that the Chinese government was opening the mountain for the team.
No one had climbed Sishapangma after the year 2014. Nirmal Purja and his team including Mingma David, Galjen, Lakpa Dendi, and Gesman summited the last eight-thousander, Shishapangma on 29 October 2019(Project Possible: 6months 6days).
This was the finish line for "PROJECT POSSIBLE". The first thing Nimsdai does at the Sishapangma's summit was talk to his mom saying that his mission was completed.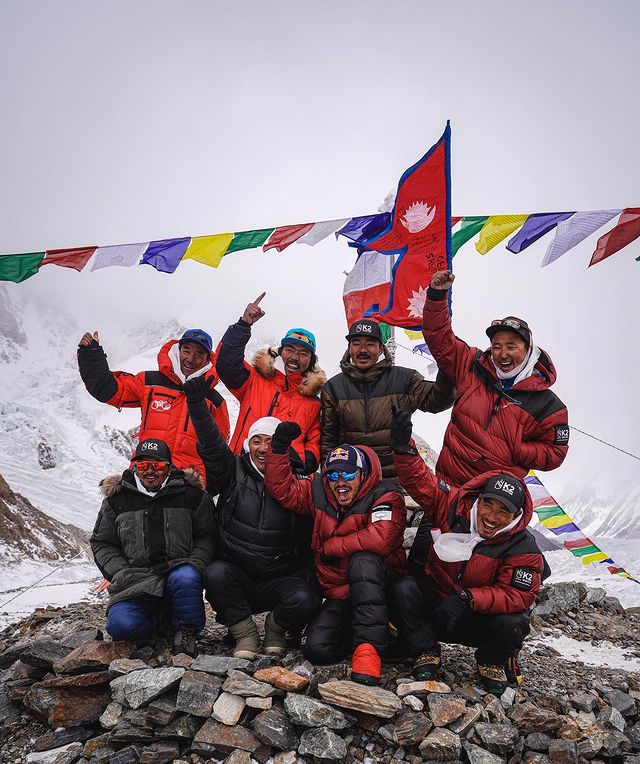 This must've been his happiest and his mother's proudest moment. Pushing through her illness Nirmal's mother came to Nims to celebrate his huge achievement. She later died due to her serious illness in 2020 after Nims had completed "PROJECT POSSIBLE"
With this Nims had completed his fourteen eight-thousanders run in 6months and 6days.
How Much Is King of The eight-thousanders worth?
Nirmal Purja's net worth is approximately $2 million. He gained most of the money from his documentary on Netflix which has become one of the most viewed Netflix documentaries.
Purja has also become the ambassador of Nepal's no.1 Internet Service Provider, Worldlink.
NimsDai's Unique Tattoo on The Back
Nims dai has got a unique piece of art inked on his back. The tattoo of all the fourteen eight-thousanders runs along Nirmal's back.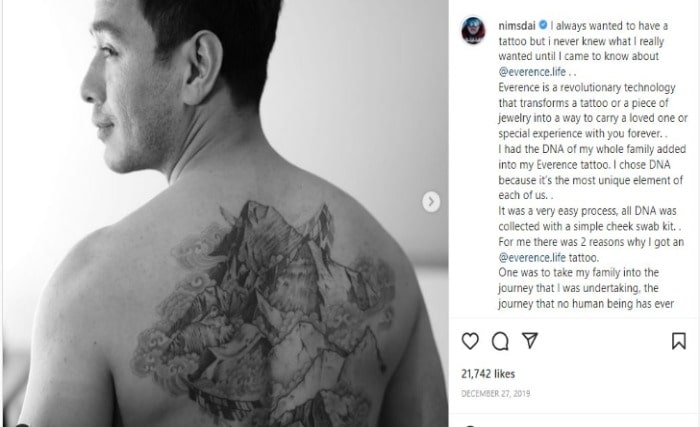 He inked the tattoo on his back before starting his expedition of conquering the fourteen eight-thousanders. The art itself is unique as he has embedded his family member's DNA in the ink used for the tattoo.
The reason for the DNA being used in the ink was to carry his loved ones on the journey that he completed.
Motive Behind The Hustle
Nims and his team climbing all of the eight-thousanders in the record-breaking time of 6 months and 6 days did not only set a record in the books but in the hearts of every Nepalese.
The team has been renowned all over the globe.
Nirmal said that this was his work not only for himself but to gain the respect of underrated Nepali climbers who have been left behind from the scene of mountain climbing.
The six mountaineering world record holder says that
"Every time I hear words from a foreign climber all they say is that my Sherpa helped me, but they have a name as Mingma David helped me, Gesman helped me. If you say that my Sherpa helped me then you are a ghost"
This was the respect that Nims wanted to gain back. With Nimsdai's massive project he inspired a lot of people including myself to never settle for less and to never give up.
"Giving up is not in the blood sir, It's not in the blood".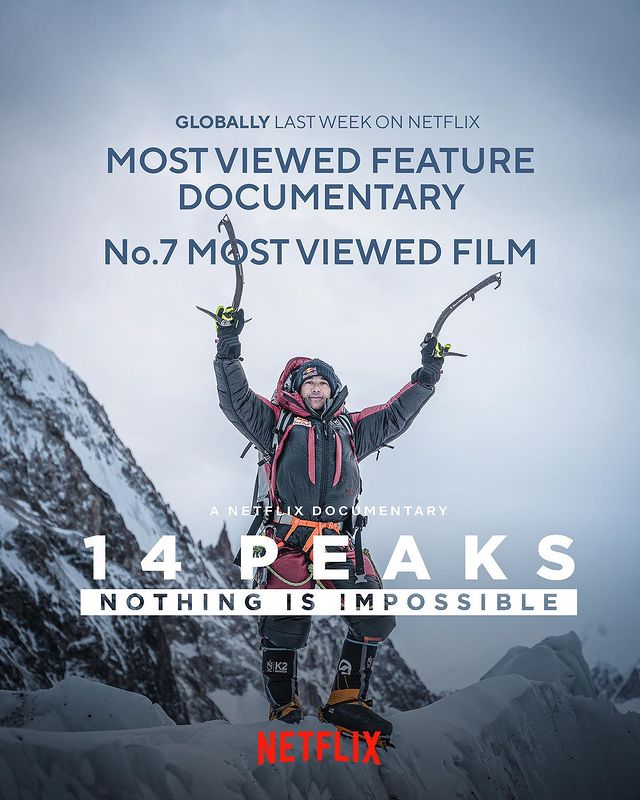 In the movie "14 PEAKS" Purja has concluded after saying that this was just the beginning and he is going to come up with even bigger things now.
-->