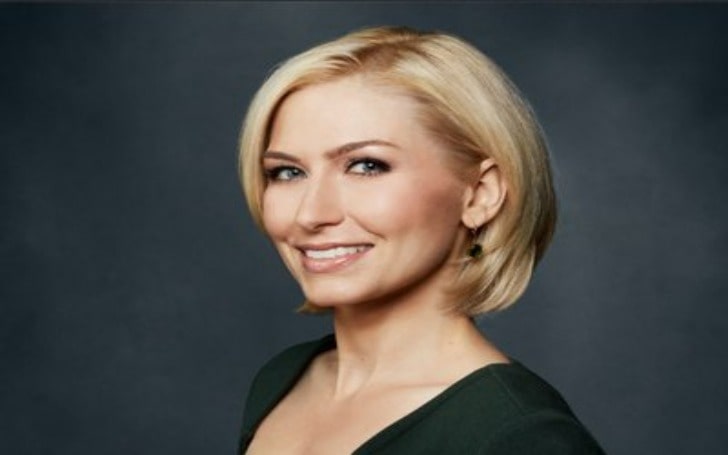 Morgan Brennan co-anchors CNBC's "Squawk on the Street" at 10 a.m. ET, which streams live from the New York Stock Exchange. She was formerly a co-anchor on CNBC's "Squawk Alley." She has questioned famous persons in the United States and covers crucial issues such as economics and finance.
Brennan previously worked as a staff writer and reporter for Forbes Media, where she covered real estate for Forbes Magazine, ForbesLife Magazine, and Forbes.com. She made her debut at Forbes in 2009 as an anchor/reporter and producer for the Forbes Video Channel, involving a broad range of banking and financial issues.
Early Life
Morgan Brennan was born in the United States on April 26th. Even though she doesn't disclose much about her personal background, she has mentioned that her parents worked in property investment. Her father is a real estate developer, and her mother was a realtor in New York.
Morgan's passion for news reporting originated when she was eight years old and she was watching TV with her family, particularly news. She attended New York University and graduated in 2009. She enrolled at the university in 2004 and graduated Summa Cum Laude, having studied Social Science with a double specialization in Anthropology and Media Studies.
Marriage and Kids
Morgan Brennan is happily married as she is the spouse of an American professional real estate agent named Matthew Cacciotti. Matt took a job as a transporter and clerk at B + C Trading in June 2002, soon after finishing college. He retained the job until May 2003, took a year off, and then started S + B Trade in June 2004 as a clerk for a year. In July 2005, he was appointed president of MMC Trading, a post he still occupies today. Matt created and became CEO of Gold Street Trading Ltd, a 'full-service introducing brokerage firm that provides clients with cost-effective clearing, price discovery, and efficient order execution,' in June 2010.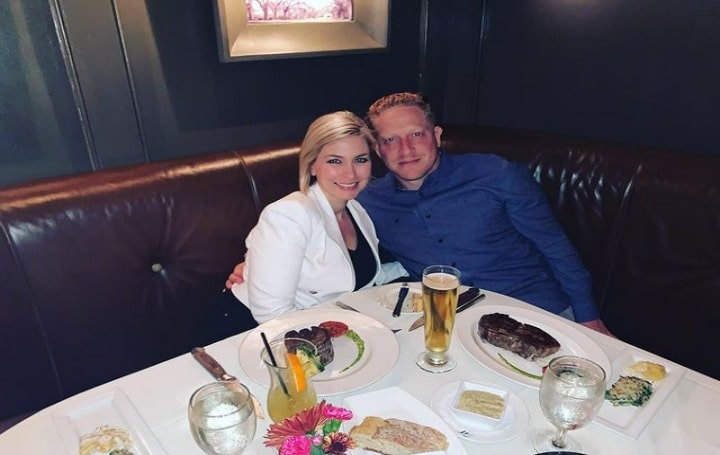 Morgan Brennan first met Mathew Cacciotti while still a student at New York University. They began dating in 2006 and decided to wait till both were satisfied with their professions before marrying on August 6, 2011. Morgan and her husband, Matt Cacciotti, have two children. Their first kid was born on March 30, 2016. She hasn't revealed anything about their identities. Brennan and her husband Matt have had a fantastic marriage with no split rumors regardless of their concealment. An American television performer currently resides in New York City with her husband and child.
Is Morgan Brennan expecting another child?
Morgan Brennan is indeed pregnant at the moment. Meanwhile, the suspicions prevail due to her photos, which show her acquiring some pounds. While wondering about another pregnancy, the audience appears deeply concerned about her wellbeing.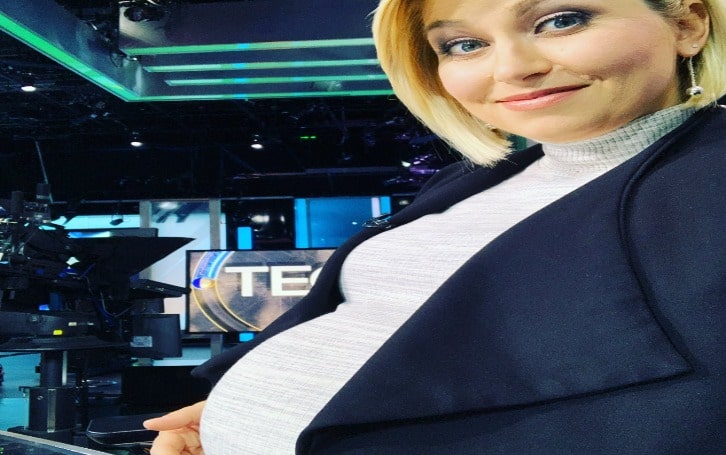 Matter of fact, she publicly acknowledged the speculations. She only confirmed such reports on Twitter on July 18, 2020. Later, on August 4, she alluded to her pregnancy by tweeting, "busy being a mom again." Now again on May 4, 2022, she confirmed her pregnancy.
Other Interest
Morgan grew up dreaming of becoming a singer, particularly a pop star, and remembers listening to artists like AC/DC and The Scorpions, for whom she had many pictures on her apartment walls as a youngster. Following high school, she signed to Sony Music Label and later worked on a record, but her singing career did not pan out and she eventually dropped out. As a result, she chose to attend college.
Throughout her adolescence, she was also fascinated by archaeology and aspired to become an archaeologist; nevertheless, her goals changed during her final year of high school. Morgan's main hobby is traveling, and she and her husband have gone all across the United States and Europe, with London, England being Morgan's ideal travel destination.
Net Worth and Real Estate
Morgan Brennan's net worth is believed to be $1 million USD. Her fortune stems from her successful work as an anchor. The annual salary of an American journalist is between $24,209 and $72,190. Journalists also receive a bonus of around $8,139 and a commission of $7,861 for their services.
Morgan also served as a senior writer and journalist for Forbes Media, where she earned more than $71,594 per year. She reportedly owns a house in New York City. The typical price of a residence in New York City exceeds $800,000.
Career
Morgan began her job as an intern at 'Newsweek International right after graduating. From September 2008 to January 2009, she was given the opportunity to produce stories for both the online and printed versions of the magazine, as well as spell check for other journalists. She subsequently went to work for 'Forbes Media,' where she spent four years as a producer and anchor for Forbes Video Network, then for 'Forbes Life Magazine' and 'Forbes Magazine,' producing articles about the real estate market for the website 'Forbes.com.'
Morgan was also an expert for the Forbes newscast on Fox News Channel in 2011, where she gave analysis for jobs, universal healthcare, and other company information. She joined CNBC in 2013, after nearly two years of covering finance and business news as well as general reporting tasks. CNBC is a pay television business news station in the United States owned by NBC Universal Broadcasting, Cable, Sports, and News, a subsidiary of Comcast, an American telecommunications corporation.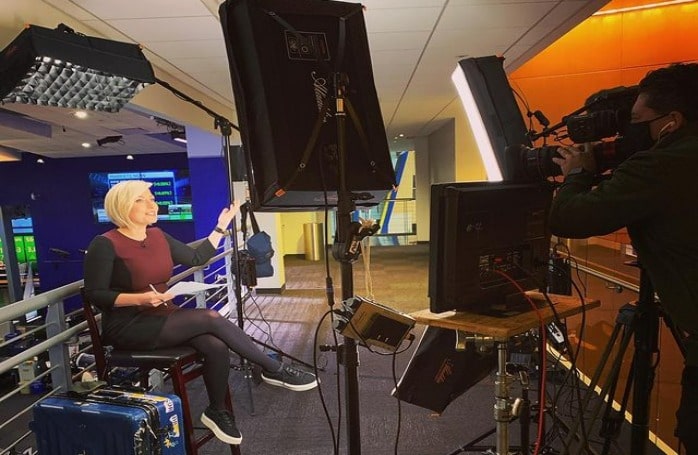 Brennan has worked as a regular guest on a variety of networks discussing business and economic issues, as well as interning at Newsweek International as a fact-checker and contributing writer. She has covered billionaires, heads of state, intellectual experts, and multimillion pound corporate CEOs, and her feature article on Equity Group Investments Chairman Sam Zell was included on one of five covers of magazines in the 2013 Forbes 400 issue. She has been co-anchoring "Squawk Alley," a daily live show that she allegedly handles with absolute confidence, since 2018.
She has had the privilege of meeting notable politicians, businessmen, and global firm leaders throughout her tenure. Sam Zell, the president of Equity Group Investments, was featured on five magazine covers in the 2013 Forbes 400 issue. Perhaps one of the most prominent and most seen issues she has worked on include "The First of the Russian Jets Departing from Syria," "The FedEx Results," and so on. Morgan featured on the TV shows "The Filthy Rich Guide" in 2014 and "On the Money" in 2016, becoming renowned as someone who covers stories about economic crises and business tales, as well as remarking on them as a contributor on other TV shows.
Appearance
Morgan is 5ft 6ins (1.67m) tall and weighs roughly 58kgs which is 128lbs. She has intermediate blonde hair and blue eyes.
Her left wrist is adorned with a tattoo. On the Squawk Alley show, she displayed her tattoo while consuming. Her body dimensions, however, are as follows: bust (34 inches), hips (35 inches), and waist (26 inches).
Social Media
Morgan Brennan's Twitter under the username of @MorganLBrennan has almost 50k fans, where she delivers CNBC headlines and remarks on news affairs.
Similarly, her Instagram profile under the username of @morgan_bren where she posts photos from her daily life has almost 15k followers.
Keep in touch with Glamour Path!
-->