Megan Fox's Plastic Surgery and Tattoos With Pictures
Published Wed Oct 16 2019 By DGM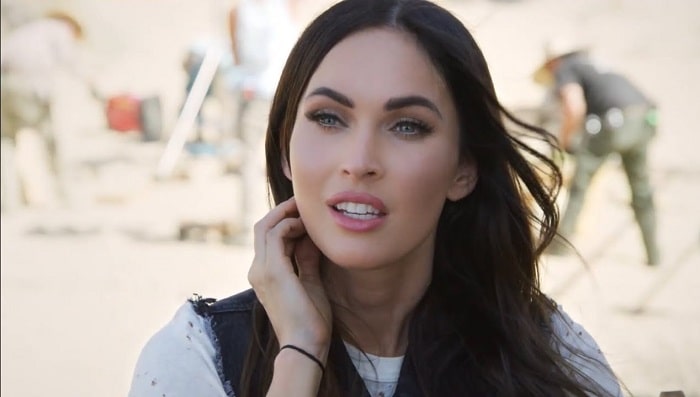 The beautiful and famous American actress, Megan Fox has been rumored to have gone under the knife and had four plastic surgeries. She has also inked a total of eight tattoos on her body with each holding a different meaning for her.
Fox has denied all the surgery rumors and says that her body is truly hers, not fake. Here is everything you need to know about her surgery rumors and the tattoos she has:
Megan Fox Before & After
Megan, whose full name is Megan Denise Fox, has been rumored to have done five different plastic surgeries as she has transformed quite a lot if we compare her from the past and present. Take a look at the picture given below: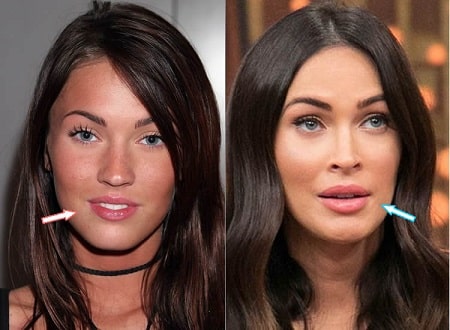 As you can very well see in the picture, Fox's body has altered at some extent. It is visible that she has experience some changes in her face whether or not it maybe because of the surgeries she is alleged to have.
Lip Fillers
The Tennessee born Fox has been mainly targeted for her lips because they have altered a lot throughout her career. In the past, she used to have her upper lip slightly thinner and slimmer than the lower one. But in the present, both of her lips look evenly filled up with the lower one being more puffy. This highly indicates that she may have her lips filled with lip injections to enhance her lips' appearance.
When asked,Megan Fox insists that her lips are hers, not fake.
Botox
It was back in 2011 when the mother of Bodhi Ransom Green and Journey River Green was rumored a lot that she had used Botox injections on her face to gain perfect and gorgeous facial skin. It is because her face experienced some sudden changes at the time which left people clueless.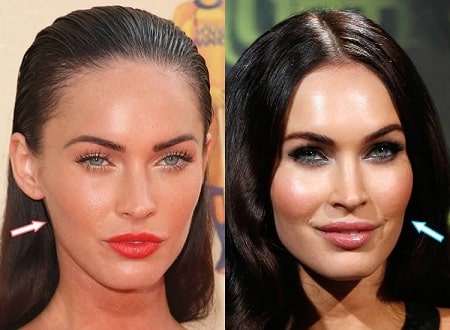 When dealing about the rumors, the actress posted several pictures of her doing different type of facial expressions saying that if she really had done any Botox surgery on face, she wouldn't be able to do those activities. She slammed the allegations and proved that she hadn't used plastic on her face.
Nose Job
Megan Fox has also been the subject of nose job because her nose also seems to have changed a lot from the past. In the past before she started her acting career, her nose used to have a wider top with a bump on the nasal bridge. But today, her nose appears to have become perfectly smooth, refined, and a lot narrower than before. There are high chances that she indeed opt for the nose job or rhinoplasty surgery.
Cheek Fillers
Megan, who has a net worth of $10 million, is also speculated to have her cheeks filled with cosmetic fillers and enhanced them perfectly. The reason behind this is the disappearing blemishes and bouncy cheeks that the star has. Her cheeks seem to have change at a small proportion if we look at them very closely.
Tattoos & Their Meaning
Talking about tattoos, Megan Fox has inked a total of eight tattoos on her body till date. Each of her tattoo has a specific meaning of its own. Here are her tattoo with their appropriate meaning:
Nietzsche's Quote on Right Back
Nietzsche, who is a German poet, philosopher, and composer has been the inspiration of the 'Teenage Mutant Ninja Turtles' star for a long time. She has inked his famous quote which reads 'And those who were seen dancing were thought to be insane by those who could not hear the music' on the right side of her back.
She inked the tattoo in order to honor Mickey Rourke, her co-star from the 2010 movie 'Passion Play.'
Marilyn Monroe on Right Forearm
Megan who has been idolizing the late American actress and model, Marilyn Monroe, since her childhood, had inked a large portrait of the Marilyn on her right forearm. She got the tattoo when she was just 18 years old.
But as Monroe had some serious personality disorders, Fox thought that the tattoo would attractive unwanted negative energies to her life. Therefore, she thought of removing the tattoo via laser treatment and today, the tattoo is no more there.
Shakespeare's Quote on the Right Back
On the right side of Denise's back, she has the quote by Shakespeare inked which reads 'We will all laugh at Gilded Butterflies'. The quote is written in Victorian font and reflects her attitude.
Quote on Left Rib Cage
On the left side of the rib cage of Fox, she has a quote inked which reads 'there was once a girl who never knew love until a boy broke her HEART'.
Symbol of Strength on Neck
Noah Shannon Green's mamma also has a Chinese symbol inked on the back of her neck. The symbol is considered to strengthen her and make her able to stay focused and centered.
Husband's Name on Hip Bone
Megan Fox's long time partner and husband, Brian Austin Green's name has been inked around right side of her hip bone. The tattoo is inked in cursive letters and symbolizes her true love for Brian.

Crescent Moon and Star
On the inner part of the right ankle, the 33 years old actress has inked a crescent moon and a star where the moon is overlapping the star. The moon is inked in yellow and red color whereas the star is inked with blue, yellow, and purple ink.
Tribal Tattoo on Left Wrist
The American beauty queen Megan grew up surfing in the ocean and has a great love for the ocean and surfing. On her left wrist, she has inked two tribal waves which honors her passion and love for surging and the sea. The tattoo also resembles to the yin yang symbol as well.
Visit Glamour Path for latest updates about celebrity surgeries and tattoos.
-->