Meet Mary Joan Martelly: The Woman Behind Boxing Legend George Foreman!
Published Mon Sep 25 2023 By prazu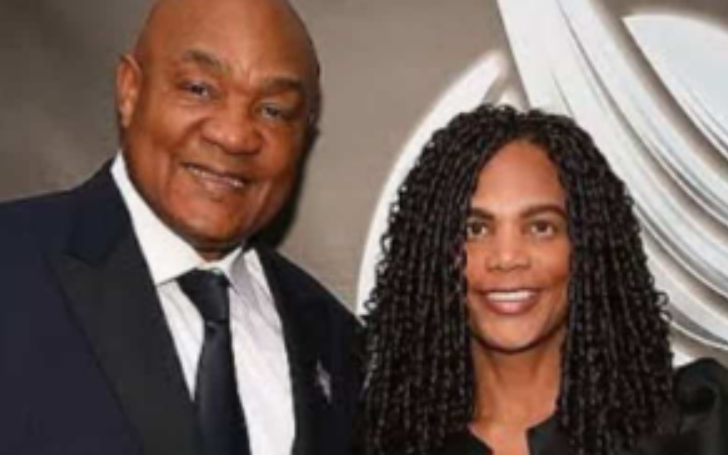 Mary Joan Martelly is the spouse of the former professional boxer and Olympic gold medalist, George Foreman. Let's delve into some details about Martelly, the woman who played a significant role in Foreman's achievements.
How Rich is Mary Joan Martelly?
Mary Joan Martelly has maintained a private life, keeping her professional career and net worth out of the public eye. According to Popular Net Worth, Martelly is speculated to have a net worth of $500 thousand.
In contrast, Martelly's husband, George Foreman, had an estimated net worth of $300 million in 2023. Foreman is a retired American boxer who became very successful in business. He was a world heavyweight boxing champion two times and won a gold medal at the Olympics.
Mary Joan Martelly Career Highlights
Mary Joan Martelly has maintained a low-key presence throughout her life, rarely making public appearances. However, she did take part in the family-oriented reality TV show "Family Foreman" alongside her husband and children on July 16, 2008.
The show provided a glimpse into George Foreman's challenges and victories as both a fighter and a father. According to a source, Martelly has played a pivotal role in her husband's path to success. As a devoted companion, she has been instrumental in assisting him in managing his business endeavors.
Mary Joan Martelly is Married to George Foreman
Mary Joan Martelly tied the knot with George Foreman, who used to be a famous boxer. They dated for a year and then got married on March 27, 1985, in a small wedding.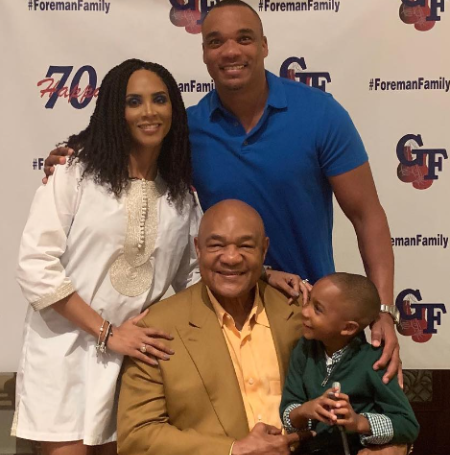 They have five kids together: three boys named George IV, George V, and George VI (these are their real names), and two girls named Leola and Natalie Foreman.
Besides these five kids, Foreman has five more kids from his previous marriages. Before he married Mary, he had been married four times.
George's first marriage was to Adrienne Calhoun from 1971 to 1974. After they divorced, he dated Cynthia Lewis and married her in 1977. They were together for three years before separating in 1979. In 1981, he married Sharon Goodson, but they divorced within a year. In 1982, George married Andrea Skeete, and their beautiful marriage lasted three years, ending in 1985 by mutual agreement.
Mary also has three stepdaughters named Georgetta, Michi, and Freeda, and two stepsons named George Jr. and George III. She is also the mother of George's two adopted children: Isabella Brenda Lilja Foreman (born in 2009) and Courtney Isaac Foreman (born in 2010).
Sadly, Freeda, their daughter, passed away on March 9, 2019. She was a female boxer like her father, and her death was ruled as suicide. Currently, the couple and their children live in Houston.
Getting Involved in Charity Work
Mary Joan Martelly and George Foreman, who usually keep a low profile in public, are actively engaged in philanthropic efforts. They've dedicated their time to various charitable organizations and initiatives, such as AIDS awareness campaigns, Stand Up 2 Cancer, initiatives to prevent pediatric AIDS, and efforts to raise awareness about children's diseases.
Mary Joan Martelly's Husband is a Legendary Boxer And Entrepreneur
Mary Joan Martelly's spouse George Foreman is a famous boxer and businessperson who has achieved incredible success in both of these fields. He was born in Marshall, Texas. Interestingly, he didn't finish school and even spent some time in street gangs until 1965 when he joined the Job Corps program.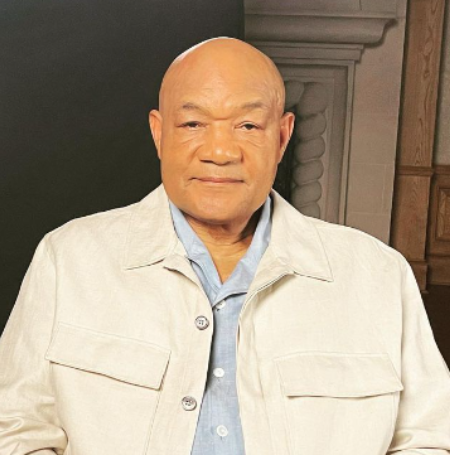 It was during this time that he met boxing trainer Doc Broadus, who saw potential in him as a fighter and encouraged him to pursue boxing. Foreman's boxing journey led to significant accomplishments. He won an Olympic gold medal in 1968 and became the world heavyweight champion in 1973.
One of George's most famous fights was the "Rumble in the Jungle" against Muhammad Ali in 1974, where he knocked down Joe Frazier six times over two rounds to become the heavyweight champion. However, he eventually lost to Muhammad Ali in that iconic match.
Ten years later, at the age of 38, Foreman made a comeback in professional boxing and even got a title shot against heavyweight champion Evander Holyfield. He didn't win, but he earned respect for going the distance with a much younger champion.
In 1994, George made history by becoming the oldest heavyweight champion when he knocked out Michael Moorer in the 10th round of their title fight. Beyond boxing, Foreman is known for his business ventures, especially the George Foreman Lean Mean Fat-Reducing Grilling Machine, which was introduced in 1994.
Foreman has also appeared in a reality show, written several books, and is the subject of a 2023 biographical drama called "Big George Foreman."
Stay tuned in Glamour Path for more celebrity articles.
-->