LAHH Star Masika Kalysha's Plastic Surgery and Tattoos – Before and After Pictures
Published Thu Aug 08 2019 By DGM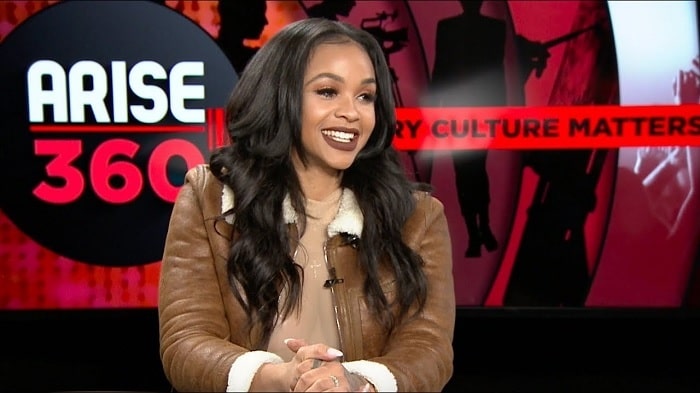 The former star of the Love & Hip Hop: Hollywood (LAHHH), Masika Kalysha has underdone two plastic surgeries and has inked four tattoos on her body.
The American model, Masika Kalysha whose net worth is $700,000 has gone under knives at times. Here are all details about his surgeries, its effects and reverse surgeries.
Before and After Plastic Surgery
The talented TV personality made some noticeable changes after surgeries. We can easily notice the difference in her appearance over the years, here is a picture of Maliska before and after surgeries.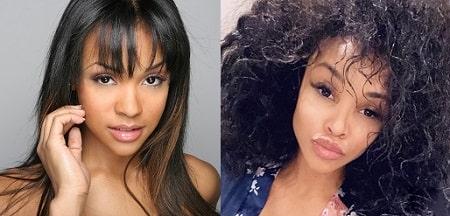 If we take above picture as a stand point for Masika's over all appearance enhancement, we can easily notice that her lips are now a bit larger than before, which means she definitely used lip fillers.
Alongside a controversial lip surgery, she also did a breast reduction surgery and reduced the size of her breasts bit in size followed by a breast lifting process where she lifted her breasts through operation.
Lip fillers
The Growing Up Hip Hop: Atlanta star admitted that she did lip augmentation in order to alter the overall appearance of her upper and lower lips using fillers.
The mother of one child, Masika, enlarged her lips using fillers and the difference is quiet visible now.
Breast Reduction and Lift
Khari Barbie Maxwell's mother also has had her breast reduced and lifted through surgery. She stated this fact to be true via her post from her official Instagram account where she even recommended all her female fans to try the surgery from her surgeon friend.
As we can see that Kalsyha's breasts are bit small in size after the surgery. Also, the image shows that her chest is a little lifted now.
In August 2019, Masika posted a picture where she had a tape under her breasts which left her fans thinking whether she underwent any surgery?
Clearing the doubts, she replied to one of her followers saying she underwent a reduction and lift procedure in order to remove the old scars she had from her previous breast surgery. Following her updates, her fellow LHHH star Hazel E has also had her breasts reduced.
Body Tattoos and Their Meaning
The former LAHHH star has 4 tattoos inked on her body that are clearly visible in the picture below: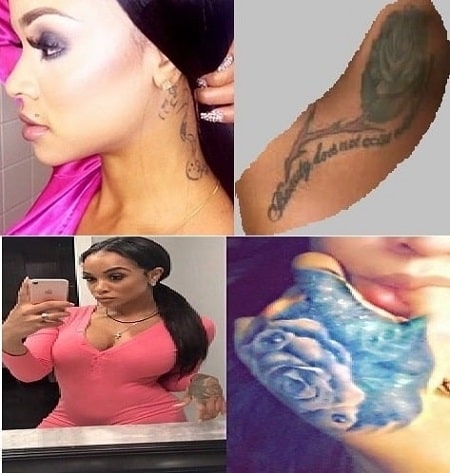 Rose On The Back of Left Hand
Masika Kalysha has a beautiful rose tattoo on the back of her left hand. The rose on her hand symbolizes promise, hope and new beginnings.
The gorgeous TV personality updated her fans about her recent tattoos via her official Instagram and one of her arms even includes a TuPac lyrics.
Angel Tattoo On Forearm
The ex-girlfriend of Fetty Wap, Kalysha has a tattoo of a fallen angel looking down on her left forearm. The tattoo on Kalysha's hand is supposed to symbolize "rising above a troublesome past or event."
Tribal Design Inked On The Back of Left Ear
Masika Kalysha also has a tattoo on the back of her left ear. The tattoo has a complex design starting from the back of her left eat that goes down on her neck. Though we cannot differentiate what sort of tattoo it is and what meaning does it hold; it sure looks meaningful.
Rose Below Left Breast
The 'Nothin on Me' singer also has inked herself on the area below her left breast which reads 'Beauty does not exist', followed with a rose and a thorny branch.
The thorns on the rose symbolize defense, lose and thoughtlessness whereas the beautiful rose on the top may symbolize hope, promise and new beginnings.
Visit Glamour Path for more Celebrity Plastic Surgeries and Tattoos.
-->