Marissa Mowry is an American social media influencer and Instagram model. However, she is best known as the wife of the American football quarterback, Trevor Lawrence. She came to the spotlight as his girlfriend and frequently posted about each other.
The couple got married in 2021; however, they were already together for quite a while. Moreover, since the couple was open about their relationship, Trevor's fans were well familiar with Marissa way before they got married. They also became a couple goals of the internet.
And like Trevor, Marissa is also an athlete who played soccer for Anderson University. So, shall we take a look at who she is?
Net Worth: What Does She Do For A Living?
The net worth of Marissa is estimated to be over $500 thousand. She is a media personality and an Instagram model. She is also a fashion enthusiast and a look creator who creates and styles clothing on LTK.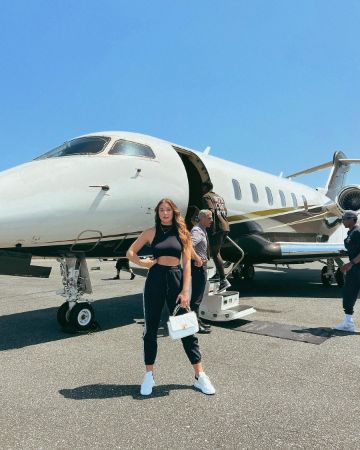 Moreover, Marissa is also an event planner who is a partner of Love Gigi Event Design. And also, her husband, Trevor Lawrence has an estimated net worth of over $3 million. He is a football quarterback who plays for the Jacksonville Jaguars.
Family Background And Education
Marissa Mowry is an American personality who hails from Georgia, United States. She was born on November 10, 1999, in Cartersville. Her parents are Steve Mowry and Kelly Mowry. She grew up with her two sisters, McKenzie Mowry, and Miranda Mowry.
According to sources, Marissa's father, Steve, is the president of American Mortgage Group while her mother, Kelly is a retired licensed realtor who worked for Atlanta Communities Real Estate Brokerage. Moreover, the couple got divorced in 2018. Despite that, they still have a good relationship.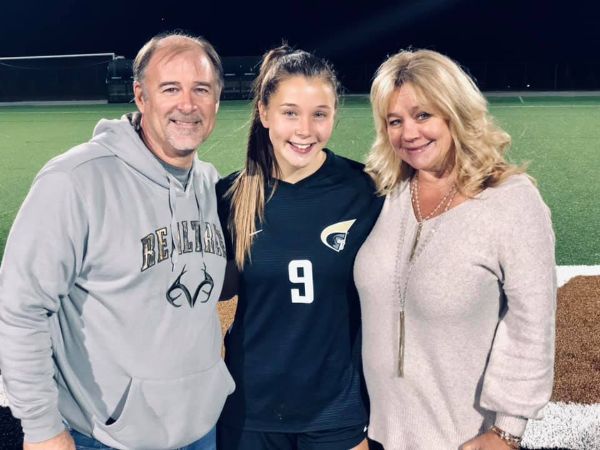 As for Marissa's education, she went to Carterville High School where she met her husband, Trevor Lawrence. She also attended Darlington School Soccer Academy. After her graduation from high school, she enrolled at Anderson University. And now, she has graduated from the university with a Public Relations degree.
Moreover, while she was in college, she played for the college's soccer team. She also revealed that she had been playing soccer since she was 5.
Marissa And Trevor's Wedding
Both the fans and friends of Marissa Mowry and Trevor Lawrence were rooting for their relationship to blossom into a wedding. And all their effort finally paid off when Trevor proposed to Marissa.
A year after the couple got engaged, they finally got married on April 10, 2021. They held a beautiful and lavish wedding ceremony in South Carolina. The bride, Marissa and her bridesmaids were wearing dresses by Grace Loves Lace. While of course, Trevor wore a black suit.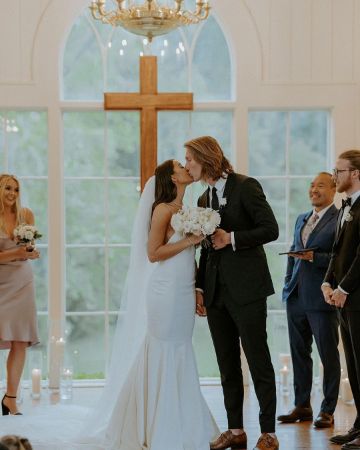 Marissa took to her Instagram and posted about her moments to share with her fans. She also said that her favorite part of the wedding was their last dance to their favorite song.
"One of my favorite parts of our wedding was at the very end Trev and I had one last dance together to our favorite song. It was the most perfect moment that'll I'll never forget. If it's not you it's not anyone🤍,"
And after a year on their one-year anniversary, Trevor surprised Marissa with a vacation in the tropics. In the couple's favor, it was also during the NFL offseason. Marissa was clearly enjoying her time with her husband and posting reels of them enjoying the beach, champagne, and atmosphere. Moreover, they also took to their Instagram and posted words of love and significance for their other halves.
High School Love
Marissa and her now husband, Trevor started dating in 2016 when they were still in high school. After completing their high school, they continued dating while they were in college years. While Marissa attended Anderson University, Trevor attended Clemson University. Despite that, they continued their relationship headstrong.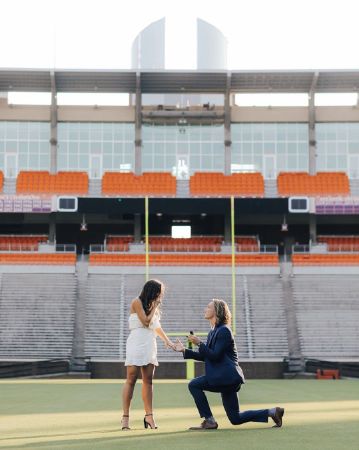 Moreover, when Trevor was promoting his partnership with Tostitos with Us Weekly, he revealed that he had met Marissa when they were in fifth grade. However, Marissa and Trevor only started dating when they were in tenth grade. He said:
"We met in fifth grade, so I won't say I knew [she was The One] in fifth grade. We started dating seriously in 10th grade. And then we were, like everyone, kind of [were] off and on for a while, and then once we got to college it got really serious."
And just like that, Trevor felt that he wanted to marry her. And fortunately, Marissa also felt the same way. He revealed that they were excited to have their person with them through all the stuff they went through. And then, Trevor finally proposed to Marissa on the grounds of Clemson University stadium. And they got engaged in 2020. And then, a year later came their wedding.
Marissa And Trevor Don't Plan On Having A Kid Anytime Soon
Well, though Marissa and Trevor's love is cute and going well, we all can say that they may be a little young to handle kids. If they were ready, it wouldn't have been the case, but it seems that they aren't.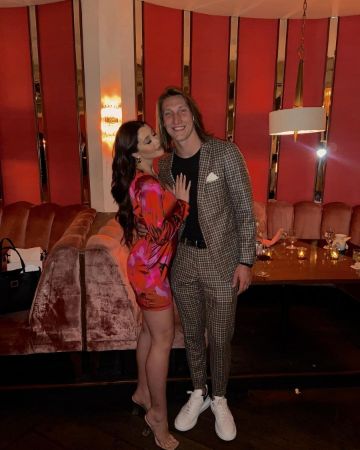 In his same interview with Us Weekly, the player revealed that they are just enjoying not having the responsibility of having kids. He revealed that they were going to wait a little while so they won't be having a kid anytime soon. However, he also revealed that they are indeed having kids, but a long time in the future, in a few years.
"I don't know when that's gonna be. I think we're gonna wait a little while," the professional football player said. "We've really just enjoyed not having the responsibility of having kids [right now]. … I wouldn't say near future, but in the future. So, probably in the next few years. We're just enjoying where we're at and we wanna travel and be able to do all that before we kind of settle down."
Well, everything's fine as long as the couple is happy, isn't it?
Height & Weight
If you all didn't know, Trevor Lawrence is 6ft 6 inches tall. That's a towering height for a person who's not an athlete. However, when we see the pictures of Trevor being together with his wife, Marissa Mowry, Trevor doesn't look that huge.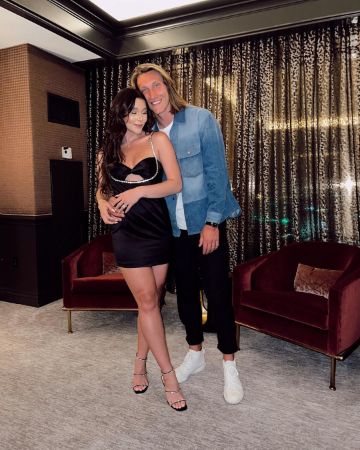 Well, the reason is that his wife, Marissa is also a tall woman who stands at a height of 5 ft 9 inches (176 cm). And thus, she seems nothing small when standing next to the player. Well, it's no surprise since she also used to play football. Even with all that height, she weighs just around 60 kg (132 lbs).
Social Media Handles
Marissa is pretty much active on social media platforms. Muchoever, she has also created a good social presence and has paved a new career platform as a social media personality.
Marissa is available as @marissa_lawrence on Instagram. Moreover, she has a good presence and has over 329k followers.
Similarly, she is active on Twitter under the same username as @melissa_mowry. However, unlike on Instagram, she hasn't been able to create much presence on the platform and has only over 3.8k followers.
You can also find her on Facebook; however, she isn't much active on the platform as on other social media platforms.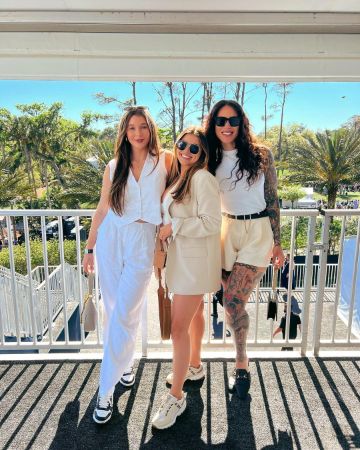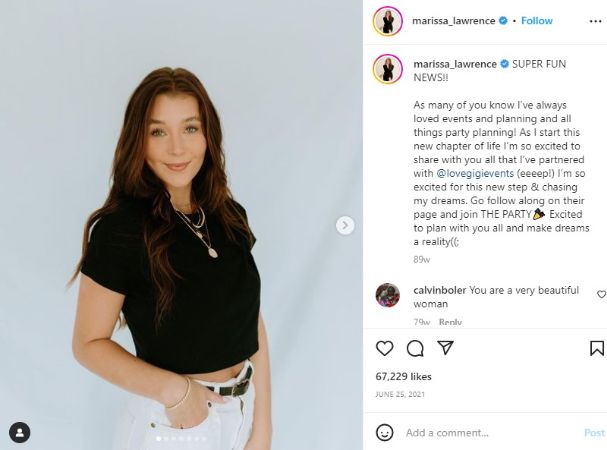 Follow Glamour Path to find more interesting articles on celebrity biographies, relationships, and riches.
-->