Mariah Carey's Net Worth - $100M Contract, House, Cars and Jewelry
Published Thu Jun 27 2019 By Akki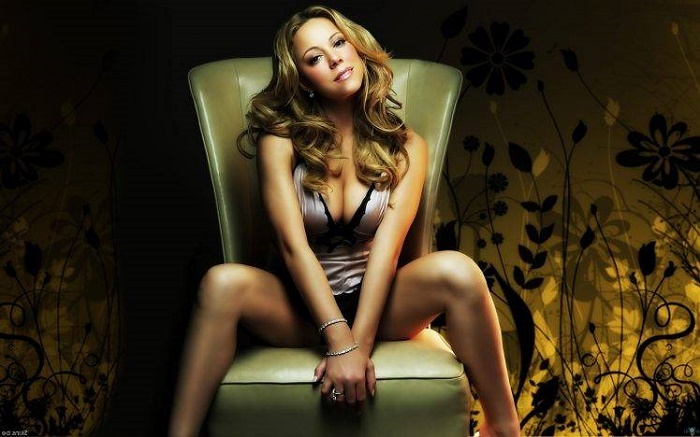 If you guys watch American Idol than you must be familiar with season 12 Judge Mariah Carey, most talent versatile singer who even has been referred by Guinness World Records as Songbird "Supreme". She is a five-time Grammy award winning American singer, songwriter, and actress, who has accumulated a huge net worth of $520 million.
Here are the 10 facts about Mariah Carey's net worth
Income as a Singer
Mariah Carey is a renowned multi-platinum record holder and best-selling female artist of all time with more than 280 million albums sold to till date. She is one of those greatest solo artists, who had 15 studio albums with 18 singles charted Number 1 in Billboard Hot 100, where she takes a bag full of cash nor less than $300,000 from every concert, shows, and tours as her appearance and performs.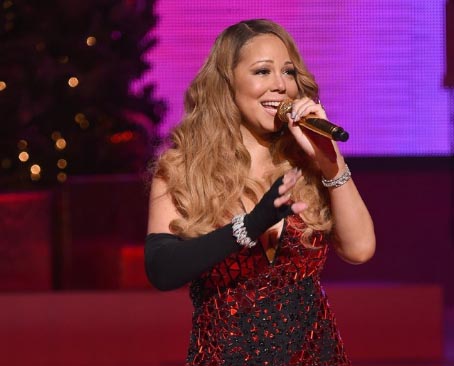 $100 million recording contract
Mariah Carey had a contract signed of $100 million with Virgin Records America after she left Columbia Records in 2000, where she has hit albums like Butterfly (1997) with the record label.
The Virgin Records had a deal of paying $23.5 million to her for each of five CDs if she records for the company. Unfortunately, she released only one album to Glitter (2001) with records label, which became the worst selling album of her career. After that, she was cut-off of deal with payment of $28 million checks.
Earned $60 million from 'All I Want for Christmas is You'
"All I Want for Christmas is You" is one of the massive hit songs of Mariah Carey, where the song was released in 1994. According to The Economist, the Christmas song helped singer earn $60 million till today date, where the song generates over $500,000 every year as royalties from the UK alone as stated in the Independent. Besides that, the songs earn from online too, where it cost around $18.18 dollars for audio CD and $16.60 dollars for Vinyl on Amazon.
American Idol Judges
when you are really good at singing American Idol is the best platform to discover yourself, even some of the top artists of today times were rose from the show. Mariah Carey was one of the Judges in the show, where she has done American Idol season 12 replacing Jennifer Lopez, a judge from the past season.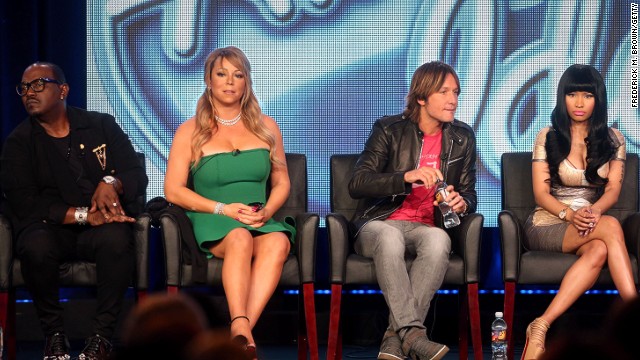 The singer has appeared over all the whole season about 37 episodes in the show, where she collected $18 million at the end of the show as reported by Reuters. Apart from being judge she also does perform on the stage of American Idol for which she charges about $450,000 per episode.
Mariah as an Actor
Mariah on screen from 'Vision Of Love' an official music video of her same name song in 1990, after that she played almost in every music video of her song. She also had her foot in Hollywood with her role as Ilana in Comedy film The Bachelor (1999). Furthermore, she has also worked as an actress in movies like Glitter (2001), WiseGirls (2002) and Lee Daniels' The Butler (2013)
Mariah's Cameo Role
Apart from singing and acting, Carey also had a cameo role in hit movies like The Star (2017), The Lego Batman Movie (2017) and I Want for Christmas Is You (2017).
Awards and Nomination
Mariah Carey has won and nominated for numerous categories in Awards show including five-time Grammy award-winning and one Nominee for Best Original Song-Motion Picture The Star (2017) in Golden Globes, USA. Some of her awards and nominee are enlisted below;
| | | | |
| --- | --- | --- | --- |
| Award | Year | Category | Result |
| American Music Awards | 2008 | Honorary Award | Winner |
| American Music Awards | 2008 | Favorite Pop/Rock Female Artist | Nominee |
| BET Awards | 2006 | Best Female R&B Artist | Nominee |
| Billboard Music Awards | 2005 | Female R&B/Hip-Hop Artist of the Year | Winner |
| Blockbuster Entertainment Awards | 2000 | Favorite Female R&B Artist | Winner |
$2 million yearly Earning from YouTube
Being a music industry, most of the artist owns their YouTube channel, where it has been the biggest platform to express themselves. Mariah Carey also owns an official YouTube Channel Mariah Carey, which has over 4.7 million subscribers and she generates a huge amount of cash from her channel.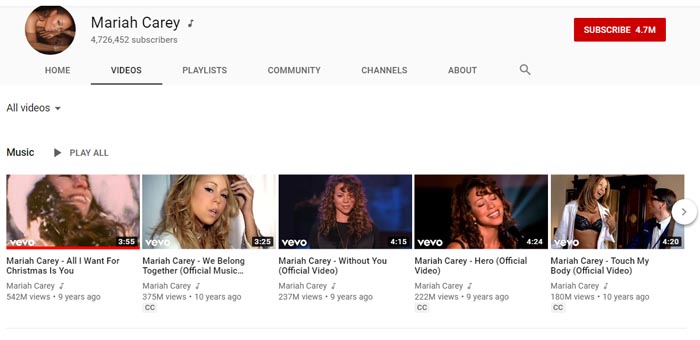 Mariah uploads videos of her songs, albums, and vlog of her actives, where she has an average views of 1.3 million per day and earns around $2 million from her channel.
Lavish House
Mariah Carey lives in a huge mansion worth $125 million in Beverly Hills, California, which was once owned by the American legendary singer Frank Sinatra. The massive house was built in 10,337 square feet, with 8 bedrooms, 4 full and 4 half bathrooms. She also owns an apartment in New York near to Central Park which cost her $9 million.

Glitter actress not only owns inside the united states but outsides too, she has luxury beachfront private homes in Windermere Island, Eleuthera, the Bahamas, which cost nor less than $2,200,000 as stated in Sotheby's Realty.
Cars and Jewelry Collection
Grammy Winner singer is very fascinated about cars, where she owns numbers of luxurious car that many people dream to have, she owns black colored Rolls Royce Drophead Coupe which price starts from $569,600.
Cars
Mariah also owns ash colored Maybach 62s costing $1 million and pink color Porsche Cayenne Suv which cost around $65700. Further, she also owns black color Mercedes Benz SLK which price starts from $87,200.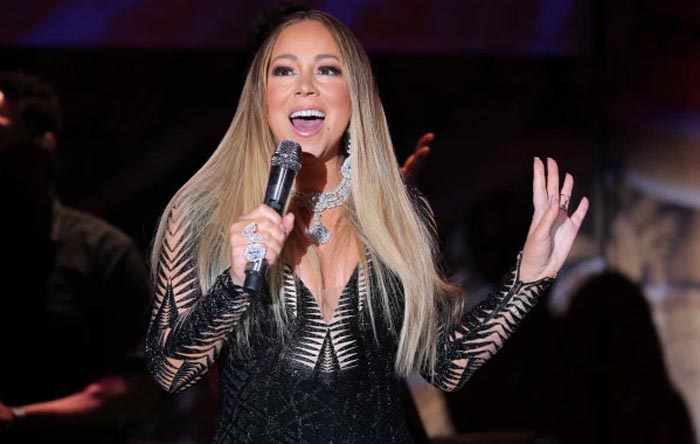 Jewelry
Like every girl, Carey is also crazy to have Jewelry accessories, where she owns a ring composed of 121 carats diamond, which worth nor less than a million. she also owns 50-carat diamonds necklace and 20-carat pinky ring, which she most wear in shoes and programs. She has a great collection of golds chains too.
Visit Glamour Path for more Celebrities Net Worth and Facts
-->