Maggie Carrie's Plastic Surgeries and Tattoos - Before and After Pictures
Published Thu Jul 04 2019 By DGM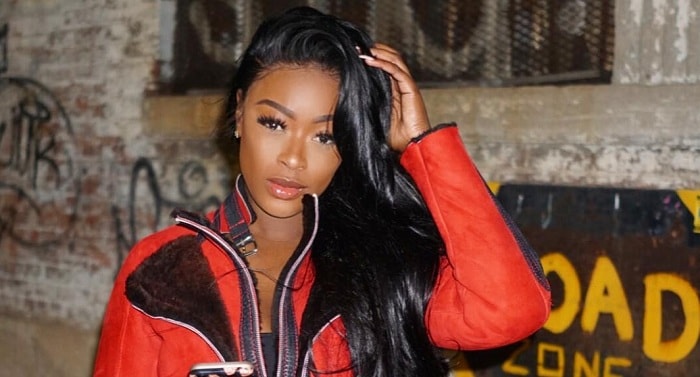 The TV actress and Love & Hip Hop: New York star, Maggie Carrie has not done any plastic surgeries and has a total of four tattoos inked on her body. There have been allegations that she has gone under the knife through which she has been able to gain such a beautiful body.
Maggie has always refused the rumors of her having plastic surgeries but doesn't hesitate to show her tattoos on her Instagram pictures by flaunting her sexy and gorgeous body.
Before and After Surgery Comparison
Though the American star has yet to reveal whether she has done any cosmetic surgery or not, we have some allegations and guesses regarding the possibilities. Take a look at the picture given below: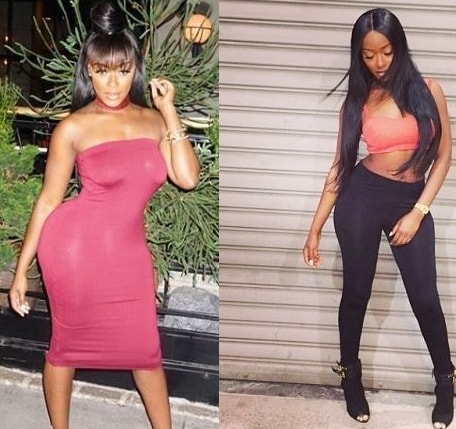 As you can clearly see in the picture, we can notice some minor changes in her breast and buttocks part. The left picture of her in the past and the one in the right is of present. Seeing a bit changes in the size and layout of her body part, we assume that she has really done some changes in her body.
Breast Implants
Rumors suggest that the Maggie Carrie, who has a net worth of $2 million has undergone the knife and had the job done on her breasts. To get clarified, you can see the picture given above that shows the change in her breast's size. It has increased slightly and become larger and attention-seeking.
Not only that her left breast even has a scar which indicates more towards surgery scar. Rest is mystery!
Butt Augmentation
Another speculation that suggest the 28 years old Carrie (as of July 2019) has done plastic surgery is the size of her buttocks. It was big but fine looking in the past but the story is totally different at present.
Not only has buttocks' size increase but they do look more unnatural now. However, it is a rumor and should not be taken seriously. Whether it is true or not, we are sure that she looks absolutely stunning and is able to steal the hearts of millions.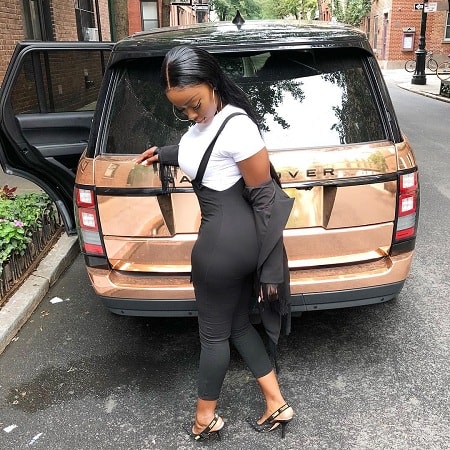 Tattoos & Their Meaning
Maggie Carrie has a total of four tattoos inked on her body which are given below: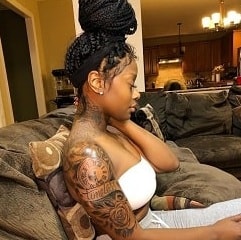 Feather on the Left Leg
Maggie has a feather drawn on her left high below the waist. The feather tattoo symbolizes different characters as found in birds such as freedom, courage, truth, bravery and travel.
Drawing on the Waist
The LAHHNY star has a beautiful drawing inked on her left waist which is spread up to her belly button. The drawing is of a person holding mike and singing and the part that goes to the belly button is of the music symbol.
Huge Drawing on the Right Neck
The gorgeous actress has a wonderful tattoo from the right side of her neck and goes up to the biceps of her right hand. The tattoo is a combination of different beautiful pictures. Starting with her hand, there she has a tattoo of a clock below which there is written timeless.
And below the writing, there is a beautiful drawing of a rose.The part near the neck seems to be some type of a radio and there are symbols of music along with a writing.
Drawing on the Waist
Carrie also has some sort of a drawing on the right side of her waist which is a bit difficult to identify. But the tattoo seems to be very beautiful.
Visit Glamour Path for more Celebrities Plastic Surgeries & Tattoos.