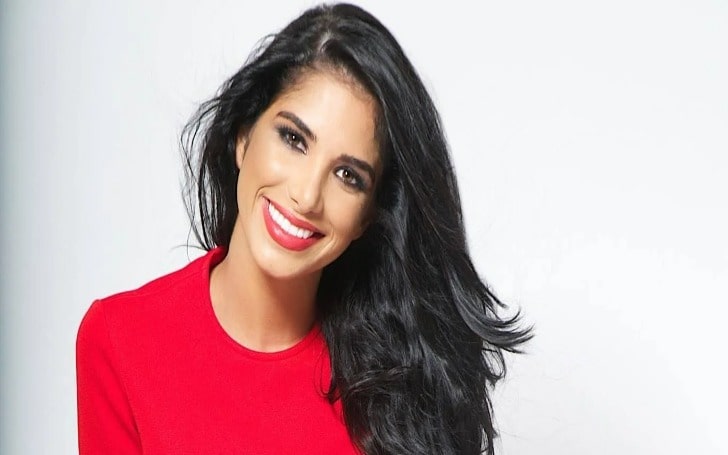 Madison Gesiotto is a perfect example of a multitalented individual as she is a model, journalist, figure skater, columnist, curator commentator, and many more.
The 30-year-old public figure has competed in many renowned beauty pageants like Miss Ohio 2014 and after successfully winning the title competed in Miss USA 2014.
As a journalist, she works for widely known media such as CNN, Fox News, and The Washington Times. Also, Miss Madison is fierce enough to jump into politics. This all-rounder woman is successful enough to maintain her name in the media industry.
Early Life
Madison Gesiotto was born in Pittsburg, Pennsylvania on the 20th of March 1992. James Gesiotto and Sherri Gesiotto are Madison's parents.
Among the three siblings, she is the oldest child in the family. Her brother's name is Jimmy and her sister's name is Alessandra. Both her parents were very supportive of her career. She went to Jackson Local School in Ohio despite being born in Pennsylvania.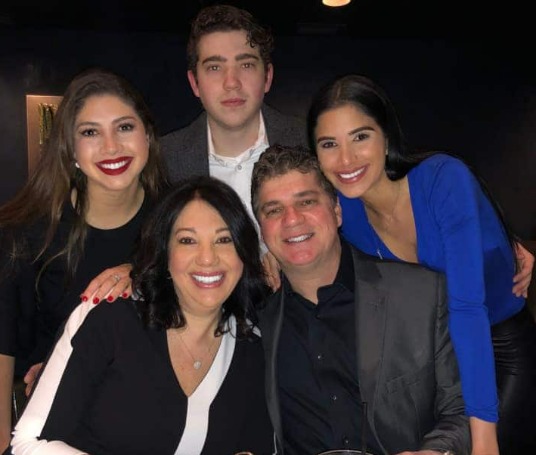 Carol Heiss is a famous Olympic figure skater who taught her how to skate. From her early childhood, she attended the Winterhurst Figure Skating Club.
After clearing her gold tests in moves-in-the-field and free skating in 2010, she achieved success in her profession. She earned a B.A. in Political Science and graduated with honors in 2014.
She earned her Doctor of Jurisprudence degree from Ohio State University Moritz College of Law in three years. She worked as a staff editor for The Ohio State Journal of Criminal Law while in Moritz. She is an animal lover and owns a goldenretriever named Rocky. It even has an Instagram account under the username of goldenretriever_rocky.
Rumor of Affair
One fact about Gesiotto's relationship is that before dating Marcus she was in an affair with an American football player, Nick Bosa.
In November 2018, Madison asked for advice on who to pick as her date for the White House Holiday Party in a tweet. Then, Nick hinted that she should choose him by responding to the post by saying it was a rather simple decision for her.
Madison responded by saying that if Nick's tweet received at least 10,000 retweets, she would go with him to the White House Holiday Party. The post received a ton of retweets after the same challenge. So, in December 2018, Madison and Nick went on a date at the White House Holiday Party.
Relationship
Even though Madison Gesiotto tried to hide, the media still managed to dig deep into her past relationships. Gesiotto was in a relationship with Marcus Gilbertian NFL player for Arizona Cardinals from 2019.
She titled the post "WE'RE ENGAGED." "I am really ready to marry Mr. Gilbert and feel so respected and favored! I cherish you, Marcus Gilbert."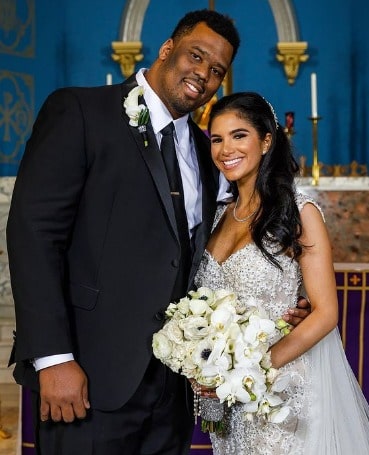 The NFL athlete raised the main issue while knelt down and holding up a gorgeous wedding band. Additionally, the couple occasionally keeps uploading each other's photos on Instagram along with messages that are heart-to-heart.
Madison recently uploaded a picture of herself wearing the dress with the caption:
"I said YES to the outfit" on October 25. Any guesses?"
In Canton, Ohio, the pair planned a private wedding and wed in July 2020. The marriage ceremony was attended by close family and friends. At present, this beautiful couple is waiting to welcome their newborn. This woman is so dedicated towards serving the public that she is running for an election campaign while pregnant.
Who is Marcus Gilbert?
Marcus, an American football tackle who was born on February 15, 1988, has been a member of the Arizona Cardinals of the National Football League (NFL) since 2019. He was a skilled American football player with the Pittsburgh Steelers of Pittsburgh from 2011 until 2018.
Gilbert, who stands 6 feet 6 inches tall, also played college football for the University of Florida and high school football for St. Thomas Aquinas. He is also a former member of the BCS National Championship squad. He was selected by the Pittsburgh Steelers in round two of the NFL Draft in 2011. He has a son from a previous partner.
Joining Media Sector
This beauty began writing the weekly Millenial Mindset column for The Washington Times as soon as she finished her studies and continued doing so until October 2017. This segment mostly addressed political and legal issues.
Madison Gesiotto worked as a correspondent for The Washington Times Exclusive Weekend Briefing and The Washington Times Exclusive Daily Briefing prior to joining FOX News, but both of these programs have since ceased production. She then had the chance to critique NBC4i, FOX28, and Fox 8 News, among other TV news outlets.
She participated in Mitt Romney's presidential campaign in 2012. Madison attended Hannity's FOX News Channel program in 2017 and introduced herself as the Regional Press Secretary for the majority of the nation.
The Washington Times columnist now occasionally appears on CNN News and FOX News Channel, particularly on the following shows: The Greg Gutfeld Show, FOX Business Network, FOX News, FOX News Alert, The Next Revolution With Steve Hilton, etc. She currently works as a weekly contributor for The Washington Times under the name Millennial Mindset.
Gesiotto's Involvement in Politics
We can see Mrs. Gesitto's keen interest in politics. In 2012 she served on Mitt Romney's Presidental Campaign and as a Regional Press Secretary for half of America during President Trump's first round of campaigns. Despite accusations being made over Trump throwing sexist remarks at beauty pageant contestants, Madison was quick enough to defend him. She was even certified by the supreme court of ohio in 2018.
Madison is a native of Ohio, an attorney, and a wife, who is tired of the same ineffective leadership in Washington that has left numerous Americans feeling ignored and misled by those who were chosen to serve as their representatives.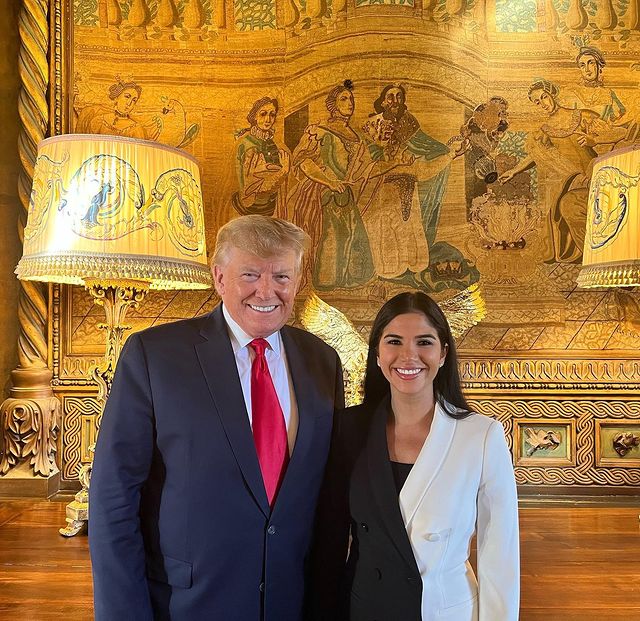 On the other hand, she also served as a member of the United States Senate Committee on small business and entrepreneurship. She is also a Co-Chair of Women for Donald Trump, the 45th President of the United States.
She is currently vying for office to represent Ohio's 13th Congressional District in the U.S. House. She is a candidate for the general election on Nov 8, 2022. She earned the Republican primary on May 3, 2022.
Also read: Patrice Failor - Former FBI Director James Comey's Wife and Advocate
Competing in Beauty Peasants
The American media personality competed in the Miss Ohio USA pageant in 2013. She came in third runner-up while representing Columbus. Madison joined the competition once more the following year, but this time she did so on behalf of Mid-Ohio. She ultimately won the Miss Ohio USA competition and was named Miss Ohio USA 2014.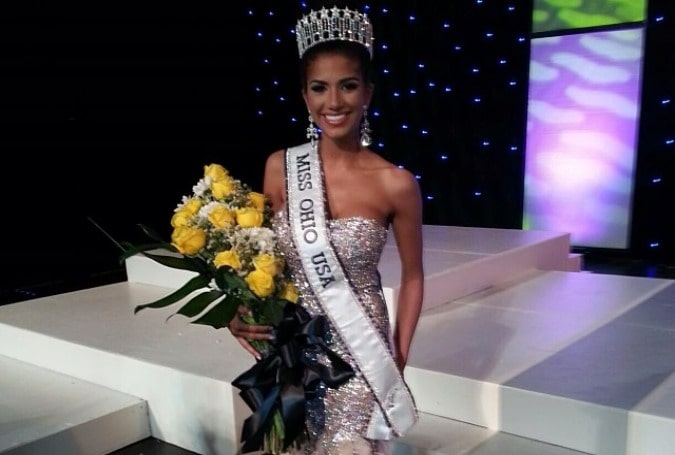 Madison has also taken part in the Miss USA pageant. At the Miss USA 2014 pageant, which was held on June 8, 2014, she competed on behalf of the state of Ohio. She later transferred her title to Miss Ohio USA 2015 in November, toward the end of 2014. The energetic and young analyst has also finished a number of other noteworthy assignments since she became well-known.
Net Worth
Madison Gesiotto Gilbert has an estimated net worth of more than $80 million. She is a perfect example of a multitalented millionaire. This sucessful lady rides a classic black Mercedes.
She was having multiple skills she earns her income as a commentator, model, journalist, columnist, and many more.
Body Features
Giotto is 5 feet 6 inches tall and she weighs around 59 kilograms. Looking at her we can tell, she has maintained her physique pretty well. Her body measurements are believed to be 37-25-37.
Madison's hair and eye color are black and brown respectively. Though she is of American Nationality she belongs from Italian and Hungarian roots.
Social Media
Instagram- @realmadisongesiotto
Twitter- @madisongesiotto
Facebook- Madison Gesiotto Gilbert
Keep following the Glamour Path!
-->