Lele Pons' $3 MIllion Net Worth - She's Got House in Hollywood and Convertible Audi
Published Mon Dec 23 2019 By DGM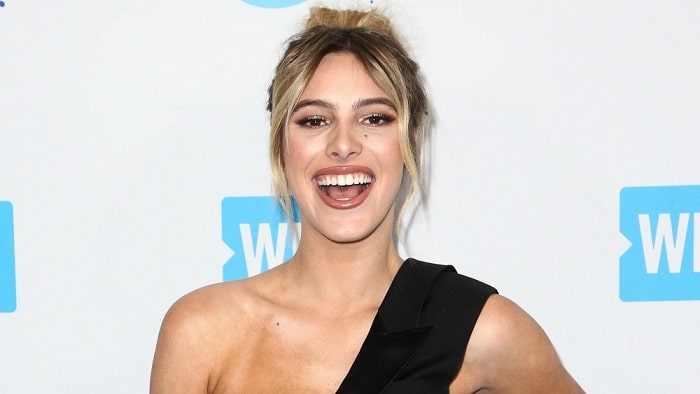 The famous American internet personality, actress, dancer, singer, YouTuber, and model Eleonora "Lele" Pons Maronese aka Lele Pons holds an amazing net worth of $3 million.
Pons managed to accumulate such an astonishing number as her fortune from her successful career as an internet influencer, singer, dancer, model, and YouTube content creator. Here are some facts about her net worth:
Makes Money From Instagram Posts
Following the extreme successful career in YouTube and Vine, Lele has been also able to make a family of 37.9 million followers on Instagram. As most of the celebrities earn a lot for posts they are sponsored. Likewise, it is estimated that Pons also makes $32,500 per every sponsored post she uploads on her account.
Singing Career
As Lele has established herself as a renown singer, she has been able to earn some of her fortune from the album sales of her songs as well. Songs of her like 'Vete Pa La', 'Celoso', and 'Señorita' have been extremely successful. She releases her songs with the help of her deal with Universal Music Group's label '10:22 pm' which she did last year.
Not only did the songs achieved a lot of views on YouTube but their DVDs were also able to achieve considerable number of sales in the market. Therefore, her singing career has also helped her build her net worth.
Earning From YouTube
Lele Pons is one of the most famous celebrities in YouTube community with over 15.4 million subscribers on her channel. She keeps uploading new videos at a regular interval which get millions of views each.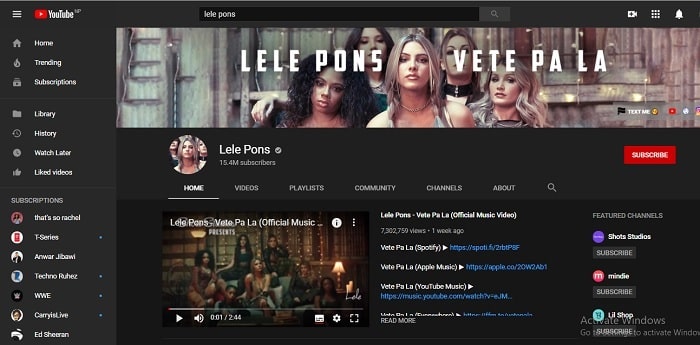 According to Social Blade, Pons' channel makes about $16.4k to $262.6k in a month and somewhere around $197k - $3.2 million on a yearly basis which kind of makes sense how she has been able to accumulate her fortune. Despite giving some major portions of her channel's earning to her studio, Shots Studio, she still earns a lot of money.
Luxurious Apartment in Hollywood
The former queen of 'Vine' lives in a luxurious apartment in Vine Street, Hollywood. The apartment features multiple bedrooms, a huge living room, a lavish balcony, and also a big swimming bold outside. A normal person can barely imagine living in such a facilitated apartment and in such a popular place which costs a lot. She has been living there for a while now. Apart from that, she also has a house in Miami, where she previously used to live with her family.
Rides Audi A5 Convertible
Lele has also spent some of her fortune in purchasing a lavish ride. She rides a black Audi A5 Convertible Top 2017 model which costs about $40,000. The money she has put into the four-wheeler is worth it considering the facilities and specs it provides. She has been riding the car for a couple of years now and is willing to change her ride soon which is not a big problem for her.
Endorsement
Though Pons doesn't involve into endorsing products of other companies that much these days, she has also earned some of her net worth from endorsement when she was just starting in 'Vine' app. At the beginning of her career, she endorsed about four clothing brands which surely marked the beginning of her earnings.
Wrote a Novel With Melissa de la Cruz
Besides singing and vine career, Twan Kuyper's best friend has also written a novel entitled 'Surviving High School: A Novel' in collaboration with fellow American author, Melissa de la Cruz. She spent some portion of her money on printing and publishing the book but opposite to her expectations, her book didn't succeed that much. This surely cost her the money she invested on making the novel.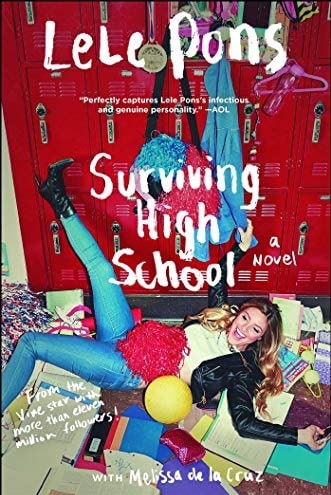 Though the book is available to buy for $12.85 (hard cover) and $11.39 (paperback), very few people have actually given positive review about it. Lele had some depletion in her worth after her failed investment in the book.
Follow Glamour Path for more latest and updated information about other celebrities' net worth.
-->