Lana Del Rey Plastic Surgeries and Tattoos
Published Fri Jul 19 2019 By DGM
The American singer-songwriter 'Lizzy Grant' aka Lana Del Rey is rumored to have done three different plastic surgeries on her body. She has inked a total of 8 tattoos on her body with each holding an appropriate meaning.
Lana denies all the plastic surgery rumors and insists that she is natural. Here is a detailed information about the rumors and the tattoos she has on her body:
Lana Del Rey - Before and After
The 34 years old (as of July 2019) singer has come a long way in her career throughout which her appearance has a changed a lot too. She was a lot different from how she is in the present days. For instance, you can check the following picture: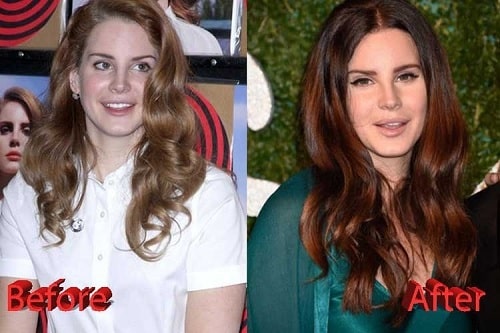 As you can notice from the picture above, the lips of the 'Summertime Sadness' singer have a different appearance in both pictures.
In addition, her nose also seem a bit different if you take a close look at the two pictures. And you'd probably won't miss to discover that her breasts seem a bit pumped up and larger in the later picture. This strongly insinuates the use of a surgeon's knife.
Nose Job
Lana Del Rey whose real name is Elizabeth Woolridge Grant is also linked with rumors of going under the knife and getting her nose layout changed.
Rey's nose in the picture before seem big sized and the picture from present represents that it has gotten a slimmer and tuned layout. Though the star has denied, the evidence show that It is indeed an outcome of a Rhinoplasty surgery.
Lip Fillers
Fuller and plumped lips of the star today are mostly alleged to be the result of using lip fillers to increase the size of her lips. Lana's lips back in the past were just normal and not so different but as we look at the picture from present, we surely find out that they look so pumped up. The chief cause of this can be the use of injections for sure.
Breast Implants of Lana Del Rey
Another strong speculation that is made on the plastic surgeries of the gorgeous star is about her breast implants. Her breasts looked average and usual-sized in the past but now, it appears to be larger and noticeable. Maybe the singer chose to have implants done on her breasts in order to keep her body flawless and stunning.
Tattoos & Their Meaning
The 'Dark Paradise' singer Lana Del Rey has inked a total of 8 tattoos on her body which are given below:
'Whitney Amy' on Right Collar Bone
Lana who has a net worth of $14 million has a writing inked on her right collar. The writing reads 'Whitney Amy' in cursive handwriting and light ink. The motive of this tattoo is to pay tribute to the inspirational legends of Lana 'Whitney Houston' and 'Amy Winehouse'.
'Nabokov Whitman' on Right Forearm
Del Rey has another tattoo inked on right forearm that reads 'Nabokov Whitman'. It is basically the names of the favorite authors of the singer; 'Vladimir Nabokov' and 'Walt Whitman' written in a cursive and light writing. According to her, whenever she looks at the writing, she remembers that life can be great.
Alphabet 'M' on Left Hand
The Ex-girlfriend of James Franco has inked an alphabet 'M' in a cursive writing on her left hand. She had the tatt in order to remember her late grandmother, Madeliene.
'Paradise' on Left Hand
Lana has the word 'Paradise' written on her left hand with the help of ink. The meaning of the tattoo is that the singer thinks that death and paradise are inked for her and expects something very calm and relaxing to happen after her death. You'd be surprised to know that Adele also has a tattoo on the same spot of her left hand that says 'Paradise' too but she didn't intend to copy Lana.
'Nina Billie' on Left Collar Bone
Patricia Ann Hill's daughter has another writing encrypted on her left collar bone that reads 'Nina Billie'. The sole motive of the tattoo is to pay tribute to two of the favorite singers; Nina Simone and Billie Holiday.
'Die Young' on Right Ring Finger
On the ring finger of the right hand, the eminent star has inked 'Die Young' in a fine cursive handwriting. The meaning of it is pretty clear, she doesn't want to die old.
'Chateau Marmont' on Left Forearm
The sister of two has also inked the words 'Chateau Marmont' on her left forearm because it is the favorite place of her in the planet located in Los Angeles and is her second home.
'Trust no one' on Right Hand
The writing 'Trust no one' is inked on the right hand of the 'Women of the Year' award winner. As she has been in a total of 12 relationships till date, she probably doesn't want to trust men and lost faith in them.
Visit Glamour Path for more Celebrity plastic surgeries and tattoos.