LAHH Star Erica Mena Plastic Surgery Removal and Tattoos - Before and After Pictures
Published Mon May 20 2019 By DGM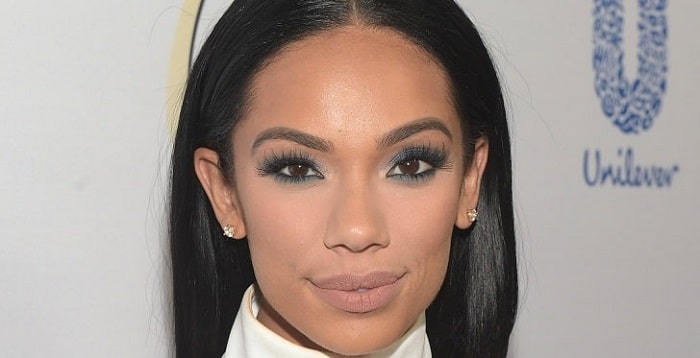 The American television personality, video vixen, recording artist, and former model Erica Mena has had two plastic surgeries and has inked a total of ten tattoos on her body.
The New York born model was reluctant in the past about her plastic surgeries but later on, she openly agreed to the fact.
Before and After Plastic Surgery
Here is a picture of the American model before and after her plastic surgeries: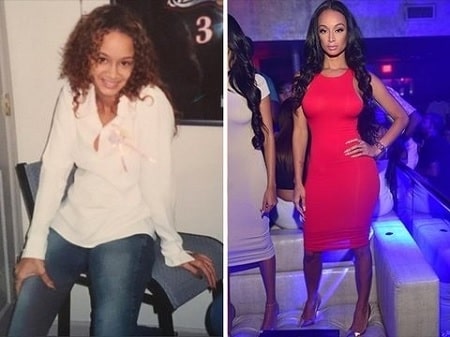 As we can clearly see in the picture above, her current picture stands out and the noticeable changes are vivid. We can see the difference in her breasts, lower region of hips and buttocks.
Breast Augmentation & Removal
$1 million worth model Erica Mena, had her breasts size increased in the past through surgery. The augmentation increased the size of her breast which was again reduced by the TV personality as it caught everyone's attention, wherever she went.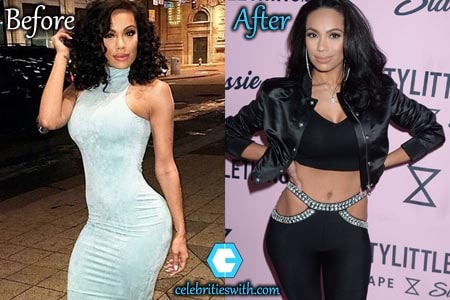 The reality television decided of removing her breast implants back in 2016. According to her, she removed the implants as they were worthless, old, and were causing her troubles.
Buttocks Implants & Implants Removal
The former LAHH star also had her buttocks increased in the past but eventually had the implants removed back in 2015. She recovered her smaller sized bottom by removing the buttocks implants.
The American model's choice of eliminating the implants had something to do with the people around her. She stated that she felt more sexier after removing the buttocks implants and chooses to be natural by all aspect.
Further, her associate Love & Hip Hop: New York (LHHNY) star Cardi B has also had her buttocks enhancement through surgery.
Tattoos and Their Meaning
Talking about tattoos, Erica's body is inked with ten different tattoos altogether:
Heart and Writing on Left Chest
Mena has a red colored tattoo in her left chest with a writing in it that says "Trent R.I.P". The tattoo looks like a condolence or tribute towards someone named 'Trent'.
Writing on Spine
The American Model also has a writing on her spine that appears to be a list of names which seems like a list of her closest family members and friends.
Writing on Right Wrist
The former LAHH star has also used needle on her right wrist that reads 'Sonia'.
Writing on Left Wrist
Erica also has inked a tattoo on her left wrist that says 'King'. King Conde is the name of her child with former boyfriend Raul Conde.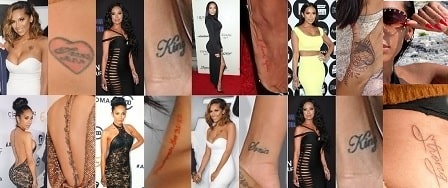 Writing Behind Right Ear
The 'Love & Hip Hop: Atlanta (LHHA) star also has a script tattoo behind her right ear.
Writing on Right Foot
The mother of a single child, Erica has a red color "I love you" tattooed on her foot. She probably should have inked this one to express her love towards someone.
Henna and a Scorpion on The Back of Right Hand
The 'Swag Inc.' star also has a tattoo on the back of her right hand. The tattoo is of a beautiful scorpion and henna pattern. The scorpion on the tattoo simply represents her zodiac sign that is 'Scorpio'.
Writing on Upper Shoulder
The writer of "Featherbone", also has a red colored tattoo on her right upper shoulder. The tattoo reads "Proverbs 31:20" which refers to a proverb of the bible.
'Strong' Tatted on her Right Hip
Safaree Samuels' newly wedded wife has inked the word 'Strong' on her right hip in February 2019.
Writing on Left Bicep
Erica, who recently released a rap feature and got trolled for doing it, also has inked 'b a gathering' in cursive form. The ink basically means enjoying life with yourself and not needing anyone else to have fun.
Visit Glamour Path for more celebrities' plastic surgeries and tattoos.
-->