Lady Gaga's 19 Tattoos With Their Meaning
Published Wed Jul 10 2019 By DGM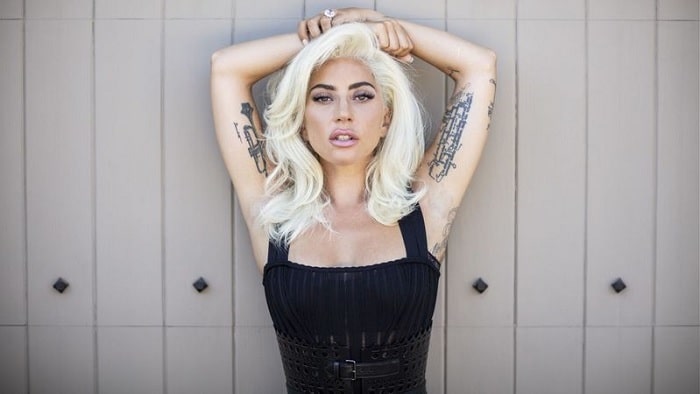 The "Bad Romance" singer Stefani Joanne Angelina Germanotta aka Lady Gaga has inked a total of 19 wonderful tattoos on her body. Each of the tattoos on her body holds a different meaning and are drawn specifically.
Lady Gaga is not afraid of needles and is in love with body ink. Here is everything you need to know about her all tattoos:
Trebel Clef on Lower Back
The first ever tattoo that the New York native got was of a Treble Clef on her lower back. She inked it when she was just 17 years old which is considered underage for having tattoos. She somehow managed to get the tattoo using a fake ID at that time.
The treble clef symbolizes relationship and connection with music. We don't know why but the eminent star later on added a rose tattoo which symbolizes promise, new beginning and hope just beside the logo of music.
Daisies on the Shoulder
Lady Gaga has has a combination of three daisy flowers tattooed on her left shoulder. She inked the tattoo back in 2008 and it symbolizes her innocence and purity.
Peace Sign Tattoo
Michael Polansky's new girlfriend got a peace sign's tattoo back in 2006. She inked the tat in the memory of late John Lennon who was one of her musical idols.
Gaga further said that the vision of equality and peace inspired her a lot and she decided to have the tattoo in order to pay John honor as he was assassinated.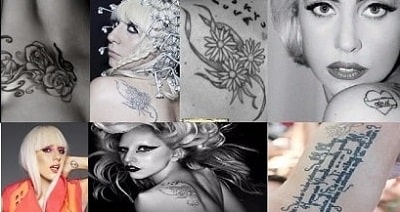 The logo is upside down for viewers but it is inked correctly from the view of Lady Gaga. The tattoo makes her remember the important things in life and give priority to peace.
Tokyo Love
Lady Gaga who is worth $320 million has tattooed a writing that says "TOKYO LOVE". She got the writing crafted on her back just beside the daisies' tattoo. She got the tattoo in order to celebrate the collaboration of 'Haus of Gaga' with the legendary Japanese photographer Nobuyoshi Araki with whom she did different photo shoot session.
Araki had signed all the photographs "TOKYO LOVE" and Gaga had the tattoo with the exact same writing as the photographer.
Dad Tattoo
Mother Monster also has a tattoo of love which contains the word "Dad" in it. The tattoo is located on the left shoulder blade of her and she inked it in October, 2009 after her dad had a successful open heart surgery.
German Tat
The 'Shallow' singer got a writing in German language inked on the inner part of her left arm. The tat is from a quote from her favorite philosopher and poet Maria Rilke. She had the tattoo in order to honor the late philosopher.

The tattoo in English translates to
"Confess to yourself in the deepest hour of the night whether you would have to die if you were forbidden to write. Dig Deeper into your heart and ask yourself, Must I write? where the answer spreads its roots in being yourself."
RIO
It isn't surprising for Lady Gag who had the wheelchair made up of gold to have a tattoo inked on her body that is inspired by her fans. She has a tattoo that says "RIO" on the back of her neck where the alphabet 'I' is a cross symbol. She credits three of her fans' signatures for the font of her ink.
David Bowie Tattoo
The eleven time Grammy winner has a portrait tattoo inked on the left side of her body, below the armpit. She was chosen to perform a tribute song to late David Bowie at the Grammy Awards 2016. So, the pop singer decided to pay honor to David in a permanent way. For this, she inked a portrait tattoo of Bowie inked on the left side of her body, below the armpit.
Lady Gaga decided to commemorate the music legend in the most permanent way which was by getting a portrait tattoo of the legend inked on her body.
Date
The 'A Star Is Born' star has inked a date in the middle of the German tattoo we mentioned previously. The date is 12/18/1974 and is the date when her aunt Joanne passed away. So, the date means a lot to her emotionally.
Mother Monster
Lady Gaga has inked her nickname 'Mother Monster' in a paisley design. The tat sprawls across the left side of the star's rib cage and extends up to her armpit.
Mouse
If you take a look at Lady Gaga's left elbow, there is a quirky little mouse that decorates her hand in a great way. The mouse features a 'X' over its one eye, carrying sewing needle and threads in its hand.
According to the star herself, the tattoo is to pay honor to her younger sister Natali Germanotta whom she used to call mouse when they were children. Natali has a passion for fashion designing and the thread that the mouse carries spell Nat, her nickname.
Monster Claw
Among the many tattoos of Lady Gaga's ink collection, she also has a huge monster paw tattoo on her back. The monster's paw has long and scary fingernails along with necklace of spikes.
Trumpet
The American songwriter has drawn a trumpet on the biceps of her right hand. She inked the trumpet to pay honor and appreciation for her music legend Tony Bennett.
Anchor Tattoo
The American singer got a anchor tattoo on her left rib cage during the European "Born This Way" Ball tour in 2012. The anchor tattoo symbolizes calmness, composure, salvation, hope and steadfastness.
ARTPOP
Germanotta has a word that reads "ARTPOP" on her left hand. It is the name of her album. So, she had the tat to celebrate her album and add a gorgeous tattoo in her ink collection.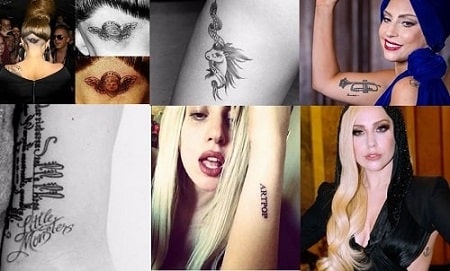 'Born This Way' & Unicorn
Christian Carino's ex-fiancee has a unicorn inked on her left thigh with a banner that reads "Born This Way" like she did with the Artpop album. The Unicorn in the tat represents uniqueness and so is Lady Gaga. And as far as the writing goes, it is the name of her highly famous album, we all know that for sure.
Little Monsters
Lady Gaga has also inked the words 'Little Monsters' on her left arm. Little Monsters is the name she has given her fanbase and we all know how much she loves her fans. It is a very cute way of showing love and respect for her fanbase.
Cherub
The 'Machete Kills' star has a cherub tattoo on the back of her head. Cherub is a representation of an angel and is a holy symbol. She got the tat live in front of her fans at her fragrance launch in 2012.
Rose on Lower Back
Lady Gaga has also inked a huge tattoo of roses that spreads from her lower back to her left waist. She got the tattoo from the famous tattoo artist Kat Von D and it was filmed for the show LA Ink back in 2008.
Stefani regretted her first tattoo of treble clef because she had with a fake ID and it had "tramp stamp" location. So, she inked the large rose tattoo on her back as a compensation for the clef tat.
Did you know that Lady Gag is rumored to have a nose job and other plastic surgeries?
Visit Glamour Path for more Celebrity Tattoos and their information.
-->