Lacey Chabert: From Stardom to Financial Powerhouse - Her Astonishing Net Worth and Wealth
Published Thu Jun 22 2023 By prazu
Lacey Chabert, 40, is an American actress who has been successful in the entertainment industry since 1992. She has acted in many movies and TV shows, such as the Fox drama Party of Five, Nickelodeon's The Wild Thornberrys, and the horror remake Black Christmas.
Chabert has also been in more than 30 films for the Hallmark Channel. In this article, learn in detail about Lacey's professional life besides her personal life.
Lacey Chabert Early Life
Lacey Chabert, born on September 30, 1982, hails from Purvis, Mississippi. Her father has Cajun roots in Louisiana.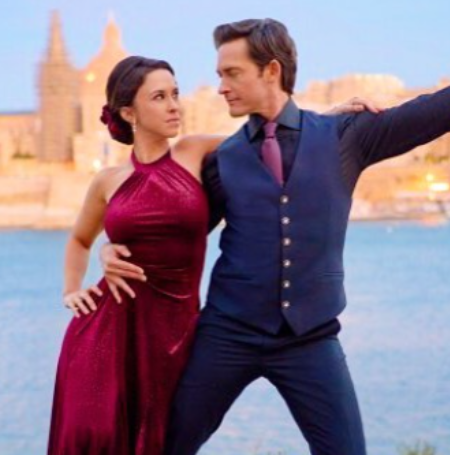 In 1985, Chabert participated in the World's Our Little Miss Scholarship Competition and won the title of World's Baby Petite. From 1992 to 1993, she showcased her talent by portraying the young Cosette in the Broadway production of Les Misérables.
How Wealthy is Lacey Chabert?
Lacey Chabert's net worth is estimated to be around $4 million as per Celebrity Net Worth. Chabert has had a diverse and accomplished career, starring in numerous films, television shows, and voice-acting roles.
Additionally, Chabert's appearances in Hallmark Channel movies have contributed to her popularity and success. In November 2019, Lacey and David Nehdar, her spouse, purchased a residence in the Tarzana suburb of Los Angeles for a price of $1.9 million. Prior to that, they had owned a penthouse condominium located in West Hollywood.
Lacey Chabert's Performance in Mean Girls and Other Notable Films
Lacey Chabert is an accomplished American actress who has had a diverse and successful career in the entertainment industry. She began her acting journey at a young age and has since made a significant impact with her talent and versatility.
Chabert gained early recognition for her portrayal of Claudia Salinger in the popular television drama series Party of Five. Her performance as an intelligent and sensitive teenager resonated with audiences and demonstrated her ability to bring depth and authenticity to her characters.
In addition to her work on television, Lacey has made notable contributions to the world of voice acting. She provided the voice for Eliza Thornberry in the animated television series The Wild Thornberrys, showcasing her ability to breathe life into animated characters.
Chabert also lent her voice to the character of Meg Griffin in the long-running animated sitcom Family Guy, further solidifying her reputation as a talented voice actress. Her talent extends beyond the small screen. She has appeared in numerous films, spanning various genres.
One of her most memorable roles came in the 2004 teen comedy film Mean Girls, where Lacey portrayed Gretchen Wieners, a loyal yet insecure member of the Plastics. Her performance in the film garnered praise and further established her as a versatile actress capable of handling both comedic and dramatic roles.
Throughout her career, Chabert has also become closely associated with the Hallmark Channel, starring in numerous romantic and holiday-themed films. Her warm and relatable on-screen presence has made her a fan favorite in the network's offerings, solidifying her status as a staple in the world of feel-good and family-friendly entertainment.
Aside from her acting endeavors, Lacey has showcased her musical abilities as well. In 2008, she released a self-titled album, demonstrating her talent as a singer and expanding her creative repertoire.
Lacey Chabert Buisness Venture
In September 2022, Lacey Chabert ventured into the world of business by introducing her own clothing line in collaboration with the home shopping television network HSN. Named the Lacey Chabert Collection, this apparel line fulfills Chabert's long-standing dream of creating her own fashion brand.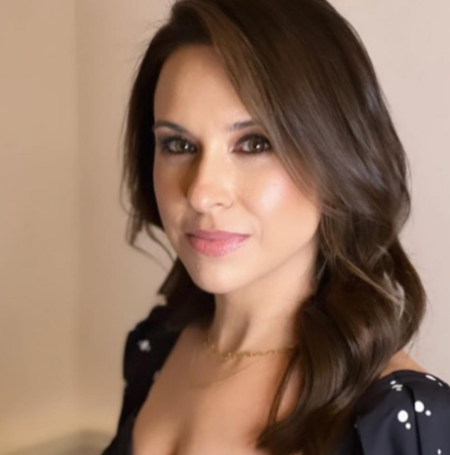 The collection offers a variety of items such as jackets, jogger pants, leggings, socks, "Mommy & Me" dresses, and cardigans. With prices ranging from $15 to $80, the line aims to provide fashionable options at affordable prices. Chabert expressed her excitement about the venture in an interview with InStyle, emphasizing her passion for the world of fashion and design.
Who is Lacey Chabert's Husband?
Lacey Chabert is married to her husband David Nehdar. The couple tied the knot on December 22, 2013, in a private ceremony. Nehdar prefers to maintain a low profile, and not much information is publicly available about his personal life or profession.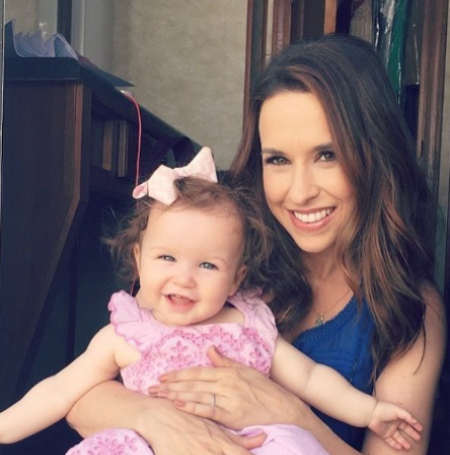 Chabert and David have kept their relationship out of the spotlight, choosing to lead a private and low-key married life. She occasionally shares glimpses of their life together on social media but generally maintains a level of privacy when it comes to their relationship. They have a daughter together.
Despite the limited information available about David, it is known that he and Chabert have been together for a significant period of time. Their enduring partnership and commitment to keeping their relationship away from the public eye have contributed to a sense of stability and happiness in their marriage.
While Lacey's successful acting career often takes center stage, she has expressed her gratitude for having a supportive and loving husband who stands by her side. Together, they have embarked on a journey of love, companionship, and shared experiences, maintaining a private and strong bond away from the glare of the public spotlight.
Stay updated in Glamour Path for more celebrity articles.
-->