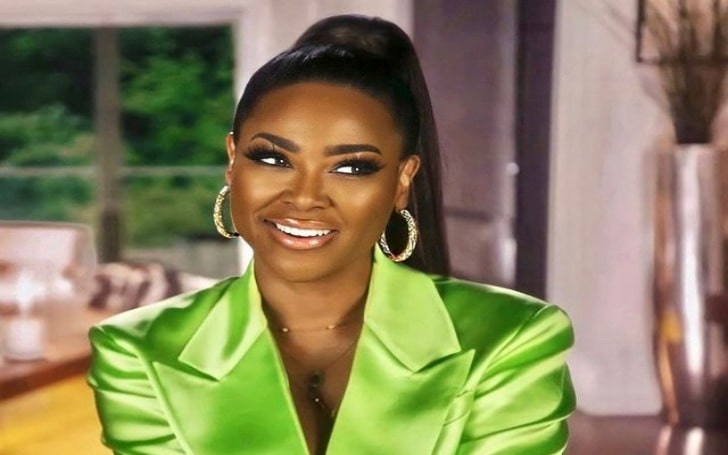 Kenya Moore is an American reality television actress and model who catapulted to fame in 1993 after winning Miss USA and placed in the top six of the Miss Universe competition that year. She has been a part of the Bravo series The Real Housewives of Atlanta since 2012, and it is one of the most consistently high-rated reality shows.
The model/ actress joined the cast of RHOA in the fifth season. After that former Miss USA beauty pageant winner has been a regular on the program, starring in nearly every narrative and drama. She was also a participant in Dancing with the Stars and a member of the cast of The Celebrity Apprentice in 2015.
Family
Kenya Moore was born on January 24, 1971, in Detroit, Michigan. Patricia Moore and Ronald Grant, her parents, were teens when she was born.
Doris Grant, her father's grandmother, and her aunt raised her when her biological mother abandoned her when she was three days old. She has never communicated with either her mother or father.
Early life
Moore began modeling at the age of 15 and was the cover girl for Johnson Publishing Company's Ebony Man magazine in January 1992. She was also a model for the cosmetic company Ebony Fashion Fair. She attended Wayne State University after graduating from Cass Technical High School in 1989, where she majored in psychology and minored in communication.
The diva began competing in beauty pageants in the early 1990s and won the Miss Michigan USA pageant in 1993 when she was 22 years old. She went on to participate in the Miss USA and Miss Universe pageants. Miss USA was only the second African-American woman to win the title. Her fifth-place finish at Miss Universe was marred by the number of people who booed her when she was revealed.
Reality TV Career
Moore may have made a fortune as a model, actor, and entrepreneur, but it's her reality TV career that has truly made her a millionaire. In 2012, she made her debut appearance on reality television when she took over for long-time cast member Sheeree Whitfield on season five of Bravo's The Real Housewives of Atlanta. She's become one of the cast's most beloved if divisive, members since entering. With no one knowing what she'll say next, she's nearly single-handedly made RHOA addictive to watch.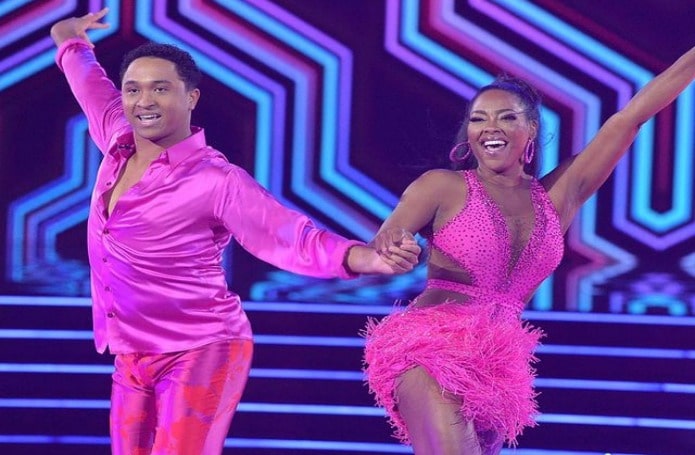 Kenya will, without a doubt, be at the heart of whatever drama or controversy that arises. In 2015, she brought the drama to Season 7 of The Celebrity Apprentice, where her feuds with the other competitors (most notably with Real Housewives of Beverly Hills cast member Brandi Glanville) made it one of the most memorable seasons ever.
Business Entities
Kenya has been producing and directing since 2007, and she founded Moore Vision Media in 2008. Her studio has only produced one feature film to date, The Confidant, an erotic thriller from 2010. She is also listed as a producer and director of the film Trapped: Haitian Nights. After the project's director was fired, she took over production and finished the picture, and also made an appearance in the film. Game, Get Some, Moore's book, was published in 2007.
Moore has launched a variety of commercial initiatives and projects using her RHOA celebrity, including Kenya Moore Haircare, her own hair care brand, and Kenya Moore: Booty Boot Camp, an exercise video. She has also appeared in Dancing with the Stars and Celebrity Apprentice.
Relationship
Kenya Moore married Marc Daly, a restaurateur, and businessman, in June 2017. Moore gave birth to her first child, Brooklyn Doris Daly, on November 4, 2018, after the couple revealed they were pregnant in April 2018. She claims that their daughter is called after the place where she met her husband Marc, Brooklyn, and Doris is named after her late grandmother.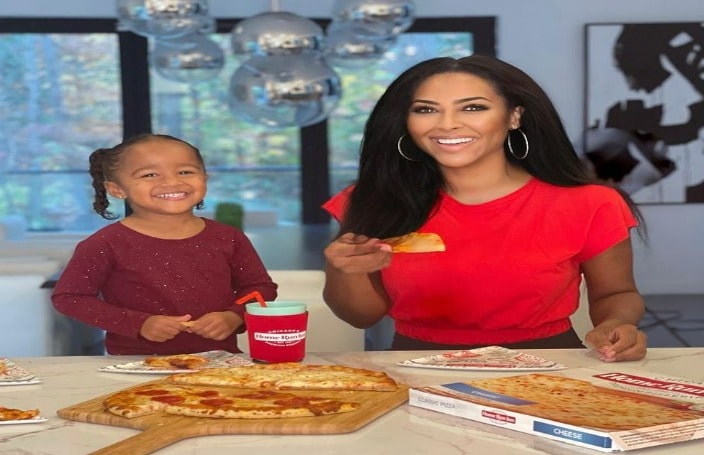 Kenya and Marc Daly ended their relationship in early 2020. In the March 9, 2020 episode of Real Housewives, she said that she had discovered "sexting" texts from Marc's ex on his phone.
Brooklyn Daly's $10,000 Birthday arty
The loving mother ensures that Brooklyn reaps the advantages of her hard work, whether it's through RHOA or other endeavors. For her daughter's third birthday in November 2021, she went all out. In an episode of RHOA, Kenya discussed the significance of making Brooklyn's big day memorable and luxurious. According to Bravo, she remarked on the show, "I'm going all out for her birthday celebration." "It will be with her for the rest of her life."
She planned a beautiful tea party for Brooklyn and her pals on a $10,000–$15,000 budget. Pink and white flowers, balloons, and fringe installations adorned the arena. She also used the area to display images of her little daughter. Kenya's visitors are said to have dined on everything from charcuterie to lobster. There was also tea for everyone and Brooklyn-themed drinks for the grownups at the gathering.
Acting Career
The actress went on to guest star on episodes including The Fresh Prince of Bel-Air, Martin, Sparks, Living Single, The Steve Harvey Show, and The Parent 'Hood, among others.
In the 1990s, she also starred in music videos for Jermaine Dupri, Nas, Shai, and Tupa. Moore has also appeared in a number of films, including Waiting to Exhale (1995), Deliver Us from Eva, Cloud 9, I Know Who Killed Me, and others.
Kenya's Net Worth
Kenya rose to prominence after winning Miss USA and then competing in the Miss Universe pageant, where she placed in the top six contenders. Kenya Moore is worth $800,000, according to Celebrity Net Worth, although other sources indicate she's worth $5-7 million, which seems more reasonable given how long she's been a part of Bravo's Real Housewives of Atlanta. On The Real Housewives of Atlanta, she is the fourth wealthiest of all the Housewives.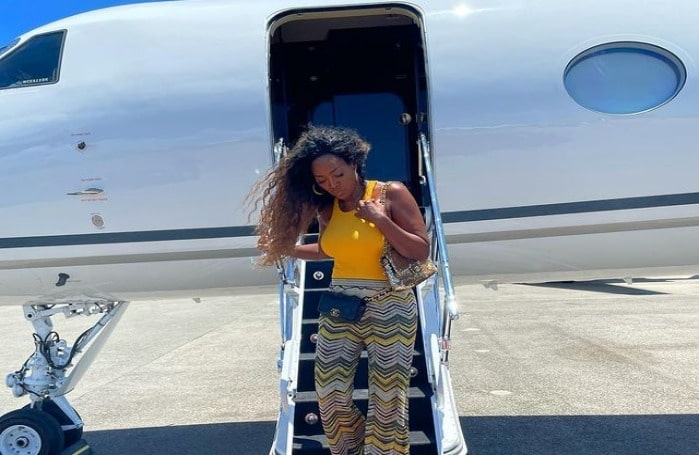 The Hollywood sensation is thought to make approximately $500,000 every season. Kenya was allegedly making up to $1.5 million at one time, but her earnings dropped after producers dismissed her for concealing details about her life including her wedding to Marc during filming for the show. Marc Dali's net worth is $35 million, which is more than Kenya's.
Property
Kenya Moore is the proud owner of a stunning Atlanta property. Her house was apparently purchased for about $500,000.
There are two showers, a spa bathroom, and a Kohler toilet in the house. The mansion is luxurious and spacious.
Financial Problems
Kenya's financial position has been the subject of a number of rumors throughout the years. On RHOA, the subject has been explored and even laughed about. Kenya's problems became clear after she was evicted from her $4000 per month Roswell, Georgia property in June 2013.
The model is said to have been behind on her rent for several months. "My previous landlady Conya Dillon Weems is the embodiment of a vengeful, cold-hearted, wicked person," Kenya said in a statement.
Social Media
The performer currently has a whopping 2.2 million Instagram followers. Moore's Twitter account has 689.6k followers as of 2022, which goes along with that.
And, thanks to her two million Instagram followers, the former actress can charge up to $10,000 for every sponsored post.
Follow Glamour Path to check out our recent post.
-->