Katie Price Admits Plastic Surgery and Tattoos – Before and After Pictures
Published Tue Nov 12 2019 By DGM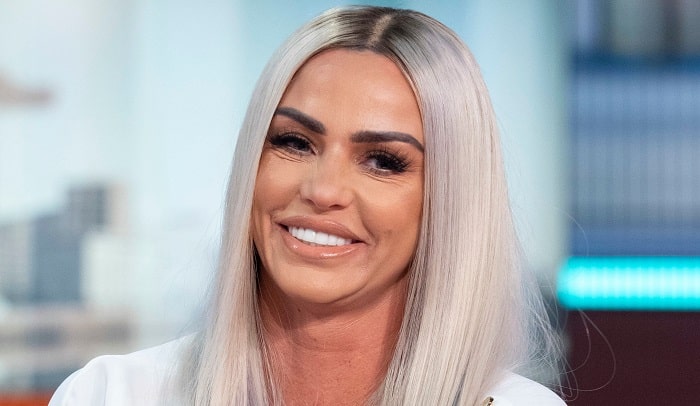 The famous English media personality, model, and singer, Katrina Amy Alexandra Alexis Price aka Katie Price, has gone under the knife several times and had changes done to her body. She has also inked a total of eleven tattoos on her body with each holding a specific meaning.
Price has openly admitted that she had plastic surgeries to enhance her body. Here are the surgeries that she had:
Katie Price Before & After
Alex Reid's ex-wife Katie Price has transformed a lot throughout her successful career as a media personality, singer, and model. She has had several surgeries that changed her appearance totally. The following picture very much reveals almost every cosmetic changes that she has had: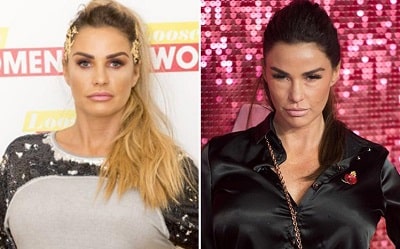 As you can see, there have been several alteration and modification on the body parts of Katie because of the plastic surgeries she opted for.
Dermal / Lip Fillers
The 'Katie' star has never felt shy to show her love for lip or dermal fillers. The star very often uploads pictures of her puffy and swollen lips after the treatments. She has her lips injected every 3-4 months because they do not last so long.
Because of her enormous love for fillers, she doesn't hesitate to pay around £700 every year for the treatment of her lips.
Multiple Breast Jobs
The 41 years old author has revealed that she has had her breasts done several times. The numbers that she went under the knife are shocking. Yes, she had breast jobs eight times, which is a lot for any woman. Her first breast surgery was done in 1998 to boost the size of her breasts to size 32C. A year later, she had another surgery done to enlarge her breasts up to 32D.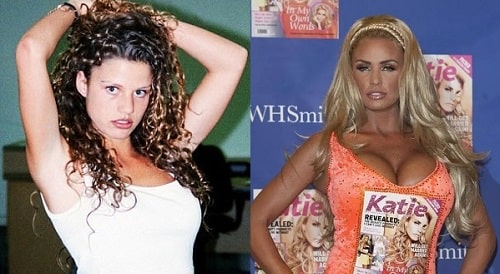 In 2000, Price again boosted up the size of her breasts to 32G. But after she met her former spouse in 2007, she decreased their size to 32F followed by a decrease to 32D in the next year. Back in 2012, she again had her breasts size increased to 32F. After all the breast implants she had became infected in 2014, she decreased her breasts to 32B removing all the implants.
Katie didn't after all those surgeries and she again opted for a breast surgery in June, 2006 in Brussels Clinic. After that surgery, she stated that she would stick on 32GG breasts.
Liposuction
Katie Price, who has a net worth of $40 million, has also had liposuction surgery done multiple times. Her first liposuction was done when she was just 20 years old. But as the surgery didn't work and she became too skinny at that time, she had another liposuction back in 2016. It was at the same day when she had lip fillers and Botox treatment done.
Botox Injection
On the day when Katie had her liposuction, she also had Botox surgery. She says that she has to have some candid shots on her face on a regular basis. She shared the details of her surgery on her social media account and says that the Botox treatment should be done from time to time as it needs to be maintain because of the treatment being temporary. Though the treatment is expensive, she is happy to use her money to maintain her beauty.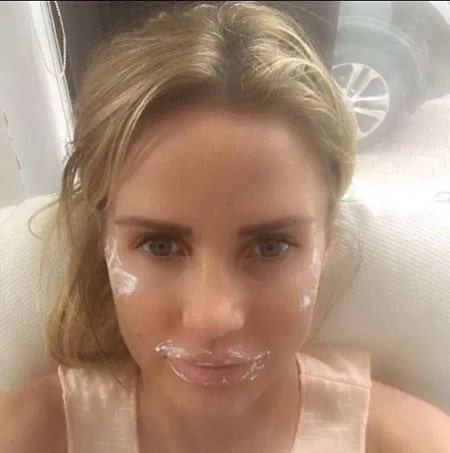 Veneers - Dental Treatment
If you think that the hot model's pearly white smile came naturally, you are wrong. She paid some price in order to achieve such a perfect smile. She admitted that she spent around $150,000 on her teeth after she visited a dentist from Extreme Makeover, U.S. She'll need to spend more £500 - £1500+ when the time comes to get her teeth veneers replaced.
Nose Job
Back in 2007, the amazing mother of five, Katie Price has also revealed that she had a nose job done to alter the appearance of her nose. She stated that she liked her nose before and still likes her old nose after the change too. She further added that she would have both her previous and correct nose to choose, she would chose her old one. Her nose job probably seems to be have gone wrong for her. Check out the picture of the model before and after the surgery: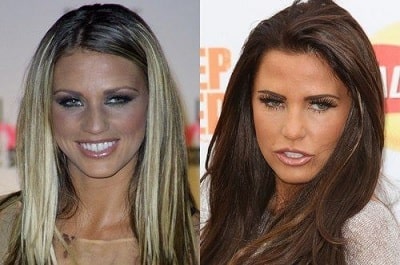 Tattoos & Their Meaning
Talking about tattoos, Katie has a total of eleven inks on her body which are given below along with their meaning:
Bow and Heart on Right Ankle and Upper Foot
Price has inked a bow on her right ankle which string goes all the way down to the upper part of her foot. The end of the strings have small red hearts which makes it even beautiful. Her tattoo symbolizes the feeling of providing love to others.
Garter with Bow on Upper Right Thigh
On the upper right thigh of Katie Price, the 'Loose Women' co-star has a beautiful garter inked with a bow tying it. She said that she loved feeling and being sexy on her underwear. Therefore, she wanted something on her leg that would make her feel sexy all the time. It is the reason why she got the tattoo on her thigh.
Bow on Lower Back
Bow which usually symbolizes beauty and charm has been inked on the lower back of her body. The bow is inked with red color and makes her lower back look awesome.

Rose and Crown on Left Wrist
On the left wrist, Katie has a crown and rose which was inked to cover up the previous tattoo of her ex-husband, Peter Andre's name. At the base of the tattoo, the name 'Princess' is also inked which is a dedication for her daughter.
Hearts and Stars on Right Wrist
Keiran Hayler's wife has another tattoo on her right wrist which consists of hearts surrounded by small stars. Hearts represent true love or courage whereas stars symbolize the strength of fighting against dark.
Date and Name on Left Ankle
The mother of Bunny Hayler previously used to have her left ankle inked with her ex-boyfriend Leandro Penna. It also had the date '27-02-11' inked below that which was the date the two met. After their split, she covered the tattoo with another one.

Pony on Left Ankle
After the split of Price with Penna, she covered the previous tattoo of Leo's name and date of their first meeting and covered it with a pony. The pony tattoo symbolizes fighting against tolerance and bullying.
Crown on the Back of Right Hand
On the back of right hand, the gorgeous businesswoman has a crown inked with a small candle outline inked from the upside down of it. Crown is usually a symbol of royalty.
Tattoo on the Back of Neck
Price has a tattoo inked on the back of her tattoo in order to honor her sons. The tattoo consists the initials of her sons; 'H' for Harvey and 'J' for Junior.

Heart Like Tattoo
On the back of right hand, Katie has a heart like formation of ink. Heart tattoos are usually representation of enormous love and care.
Heart Rate Symbol
On the back of left hand, Price has a heart rate symbol tattoo. The tattoo symbolizes strength, love, and power.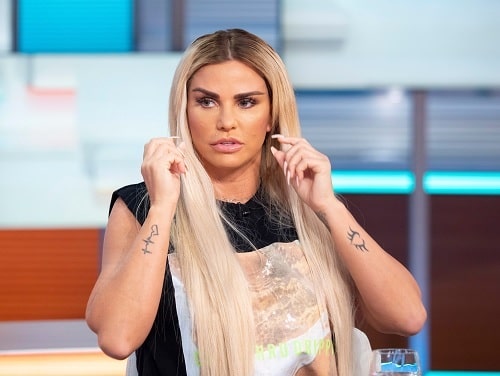 Follow Glamour Path to see more regular and updated information regarding celebrity plastic surgeries and tattoos.
-->