LAHH's Karen King Plastic Surgeries and Tattoos
Published Thu Aug 29 2019 By DGM
The 'Love & Hip Hop: Atlanta (LHHATL)' star Karen King has gone under the knife and done three plastic surgeries to have the perfect enhancements in her body. She has also inked two tattoos on her body.
Karen has always been very open about the surgeries that she has had. She even did a live video while having them which shows that she is not reluctant in opening about them. Here is a brief description of the tattoos and surgeries that she has on her body:
Karen King Before & After Surgery
The mother of two has surprisingly transformed a lot throughout these years when it comes to her body. From her top to bottom, everything has changed pretty much amazingly because they have just become so perfect than it ever was.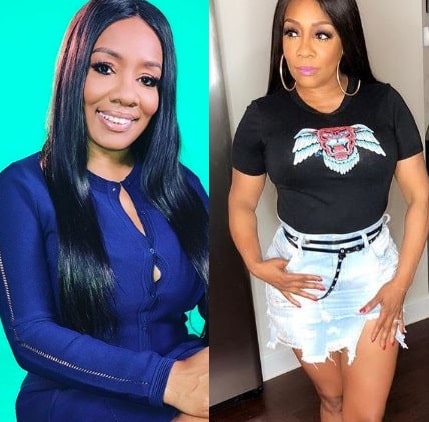 As you can see in the picture given above, there are clearly some noticeable differences in the body parts of the black American star. She has had a dental surgery, Buttocks implants, and a tummy tuck.
Dental Surgery
At the beginning of 2018, the former friend of Tommie Lee had a dental surgery to alter the appearance of her mismatched teeth. Karen thought of having new teeth in the beginning of the new year. So, she opted for the dental surgery which gave her a different look in her killer smile that has been slaying us for years.
Buttocks Implants
The reality television actress King has also been open about her buttocks implants. She had the surgery along with the dental surgery at the time of new year in 2018.
King even posted a video of herself getting buttocks shots and the magic procedure influencing her rear end. She had implants on her buttocks because she wanted them bigger and attractive for her profession following the celebrity pressure.
When you just jump up no make up no nothing and say let me take one more picture before I go home💋😂. #doyouknowme #doyouknowmethebook #thekingfamilylikeitornot

A post shared by Karen King (@iamthequeenkarenking) on Aug 5, 2019 at 5:22pm PDT
As you can see in the video, the star is getting implants on her buttocks and the post-surgery result is something that'll make you go wow! It is because her buttocks have amazing gained a lot of size with a distinct raise in its appearance. All thanks to the buttocks implants that she had.
Tummy Tuck
Karen King had a tummy tuck few years ago which everyone knows about. She visited Dr. Jones of Lexington Plastic Surgeons to have her belly fat terminated. The result from the surgery are absolutely mind-blowing because she managed to achieve a gorgeous slim body.
King used to have a bigger bump in her belly in the past which later eradicated through the liposuction procedure. The body she has now will surely make you fall for her beauty. Her belly has been a masterpiece of the knife so well that we cannot know that she indeed went under the knife for it.
Tattoos & Their Meaning
As of 2019, K. K. has inked a couple of visible tattoos on her body with each holding a different meaning of its own. They are given below:

Flower on Left Breast
The 58 years old star has inked a flower on the upper side of her left breast. The flower appears to be a rose flower which indicates new beginnings with promises and hope.
Writing on Right Breast
The LHHATL Karen King star has a writing inked on the upper side of right breast. The writing seems to be a name of some, probably of her children or something else.
Follow Glamour Path for more updates about celebrity tattoos and plastic surgeries.
-->