K. Michelle's Plastic Surgeries and Tattoos – Before and After Pictures
Published Fri Aug 23 2019 By DGM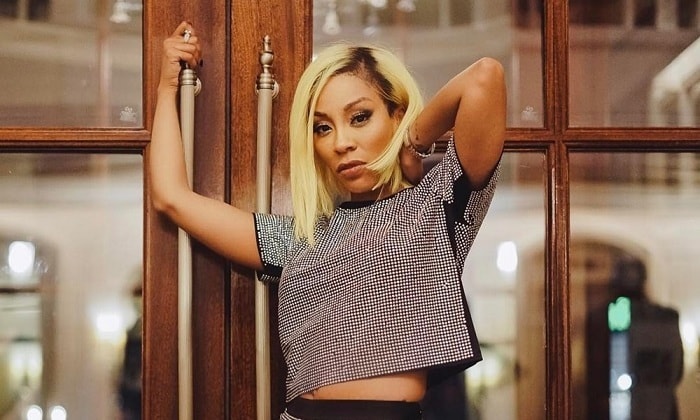 K. Michelle whose real name is Kimberly Michelle Pate has undergone the knife and had buttocks injections, dental surgery, and hip surgery previously.
Michelle is also rumored to have done a nose job to enhance her nose appearance. She has also inked a total of seven tattoos on her body.
Michelle has regretted her buttocks injections but always denies the rumors of having a nose job done. Here is a brief analysis of her plastic surgeries and tattoos:
K. Michelle Before & After Surgery
The hot songwriter has transformed a lot throughout these years following the bad results of her buttocks shots. Her rear end have changed a lot after she had the buttocks implants and then removed it after facing health risks.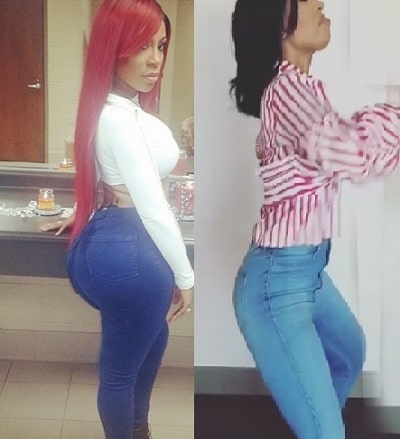 As you can see in the picture, Michelle's buttocks look a lot different because the implants on them are now gone which is great for her health. She is also rumored to have a nose job.
Buttocks Implants
The 34 years old singer indeed had her derriere implanted because of her insecurity. She said that she desired to have bigger buttocks, bigger boobs, and perfect teeth. And that's what made her to go under the knife.
K Michelle insists that she only had the buttocks implants, hip surgery, dental surgery and nothing else than that. And the only cosmetic surgery she had affected her health a lot. Therefore, she regretted that she had injections on her buttocks and had to take them out of her body.
Dental Surgery
Along with the buttocks injections, K Michelle has also revealed that she had her teeth modified through dental surgery. He didn't like her teeth used to be so she altered the way it looked.
Hip Surgery Disaster
Kimberly has also been open about her hip surgery and said that she did the procedure because she wanted a curvy body that makes her more gorgeous. Though it made her body look more appealing and sexy, the side effects started arising and trouble began regarding her health.
Nose Job Rumor
Just after recovering well from the buttocks implants disaster, Michelle posted a lovely video of herself flaunting her healthy and gorgeous body. People started speculating that she had her nose done going under the knife again as there were some minor differences in her nose from before and after.
Although many accusations came, she always denies that she had anything done on her nose. Plus, she says that she hasn't done anything to her face.
Regretting Buttocks Implants
K. Michelle who holds an amazing net worth of $10 million has openly admitted that she indeed regretted her decision of having butt injections. The reason behind this is because she started facing health problems following the post-surgery days. Her health initially started declining after the implants on her buttocks.
Not being able to recover health properly after the buttocks implantation, Michelle decided that she had to remove the implants from her body in order to be healthy. Hence, she had four major surgeries to get the plasticness out of her body and fit again.
Michelle is healthy and kicking fine after she removed the unwanted implants. She says that don't do the enhancements unless you need them as compulsion and don't do it for others.
K Michelle's Tattoos & Their Meaning
Dr. Kastan Sims' wife K Michelle has a total of 7 tattoos inked on her body which are given below:
Music Notes on Left Hand
Kimberly has a tattoo of music notes drawn on her left hand starting from her forearm. The tattoo symbolizes her love and passion for music.
Four Leaf Clover and 'Luck You' Tattoo
Pate has a tattoo below the left side of her stomach. It is located at her bikini line and consists of a four-leaf clover with two words up and down from the clover. The words read 'Lucky You' which represents her luck.
Heart-break Tattoo
The TV actress has an Angel and heartbroken tattoo drawn on the left side of her upper arm. The tattoo consists of a person holding broken parts and giving it to a crying girl and a character holding its heart saying he doesn't want it back anymore. In addition to that, there is also a cupid and person holding arrow and gun to each other where the latter says 'Do Not Touch Me'.
Despite the sadness that the tat gives, Michelle says that there will be a sunshine after every heartbreak and there is healing where there is hurt. So, the tattoo according to her gives positive message.
Writing on Right Forearm
K. Michelle has inked a writing on her right forearm which reads 'I Go Hard'. The tat probably means going aggressively when it comes to progessing.
Writing on the Right Middle Finger
The mother of one has a simple letter inked on the middle finger of her right hand. The letter isn't specified as her finger is covered by her ring most of the time.
Writing on Neck
In December 2012, the 'Love & Hip Hop: New York (LHHNY)' star inked the back side of her neck with a writing that says 'Leave Me Alone'.
Treble Clef Tattoo
The R&B singer has inked a treble clef tattoo on her right thigh. The writing includes 'Born To Sing' on the upper part and 'Keep Pushing' on the lower part of the treble clef symbol.
Check Glamour Path for more celebrity plastic surgeries and tattoos.
-->