Justin Bieber All 60 Tattoos
Published Sun Dec 12 2021 By aayush
Justin Bieber, a Canadian song artist, and singer are known for his music and his love for art which includes tattoo which covers his body. He loves to express himself through tattoos. The pop star got his first ink at the age of 16 and has not stopped yet.
So far the artist has 60 tattoo designs covering up both arms as well as his entire torso and most of his legs. Most of Bieber's tattoos are significant to his spiritual belief and his family.
Religious Tattoos
His love for tattoos even made Bieber get a face tattoo, The artist has got a small cross inked at the side of his right eye which shows his faith in god. The artist also has a big cross at the middle of his chest which directly shows that he is a theist.
Other religious tattoos that the artist has are a picture of Jesus Christ on the back of his right calf which is placed above 2 praying hands holding a rose at the same place and the Hebrew name of Jesus, "Yeshua" on the ribs which match with the artist's father.
The artist has a "chi" symbol which is represented by "X" on his forearm which is significant to Christ. But he also mentioned that it could hold a deeper different meaning, the "X" may be defined as unknown he told, "They might know the shell of me or the artist but not necessarily me".
The Canadian artist has a great piece of art across his stomach which is a scene of two angels defeating evil for which he had to hire celebrity tattoo artist, Big Bang. The tattoo includes lots of things going on in the background with clouds of thunderstorms that the tattoo itself almost looks like a scene from a fiction movie.
Tattoos of Album Names
Justin Bieber also has tattooed the name of his albums including "PURPOSE" which is tattooed above his belly button, "BELIEVE" on his forearm which is his first album.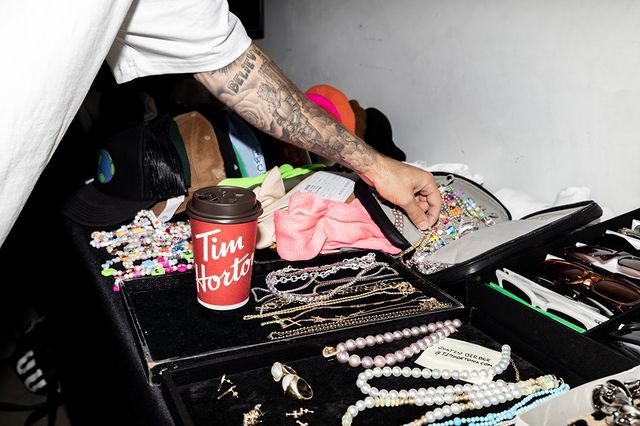 Family and Relationships
The eye tattoo on his forearm is made to match Justin Bieber's mother's eyes, he talked that it was his mother who supported him from the very beginning and also said that he loved him very much. This is directly shown by the eye tattoo that the artist inked.
This symbolizes that his mother is always watching every step that he takes in life.
The other tattoo that the pop artist inked himself with as a tribute to his mom is her birth date in roman numbers on his chest.
Bieber who has four siblings has a tattoo of the Canadian junior ice hockey team logo on his shoulder blade which is a tribute to his grandfather who used to take him to their games.
With the bird outline tattoo on the belly, which is also one of his first tattoos the Canadian says that "The book is about a seagull who wanted to be more than just a seagull. I'm trying to be more than just a regular person. I'm trying to be extravagant." As the tattoo symbolizes the seagull from "Jonathan Livingston Seagull" which is a fable in a novella written by American author Richard Bach.
The American model, Hailey Bieber's husband has a face tattoo with the word "grace" inked by Big Bang (celebrity tattoo artist) just above his eyebrows but is barely visible. Big Bang also said that Justin's wife Hailey also has the same "style" matching tattoo in an undisclosed location.
The 2 times Grammy winner also has a sparrow tattoo just above the "forever" tattoo that he matched with his wife, Hailey's "lover" tattoo.
During the on and off-going relationship with Selena Gomez, the artist tattooed "Patience" down his neck.
Then comes the tattoo which most of Justin Bieber's fans know about, the Selena Gomez portrait tattoo. It is inked on the artist's wrist it was inspired by Selena Gomez's 2012 Elle photoshoot which he adapted into an angel by adding the wings. After the end of their relationship, the singer has tried to alter the face many times but the fans still know the tattoo's originality.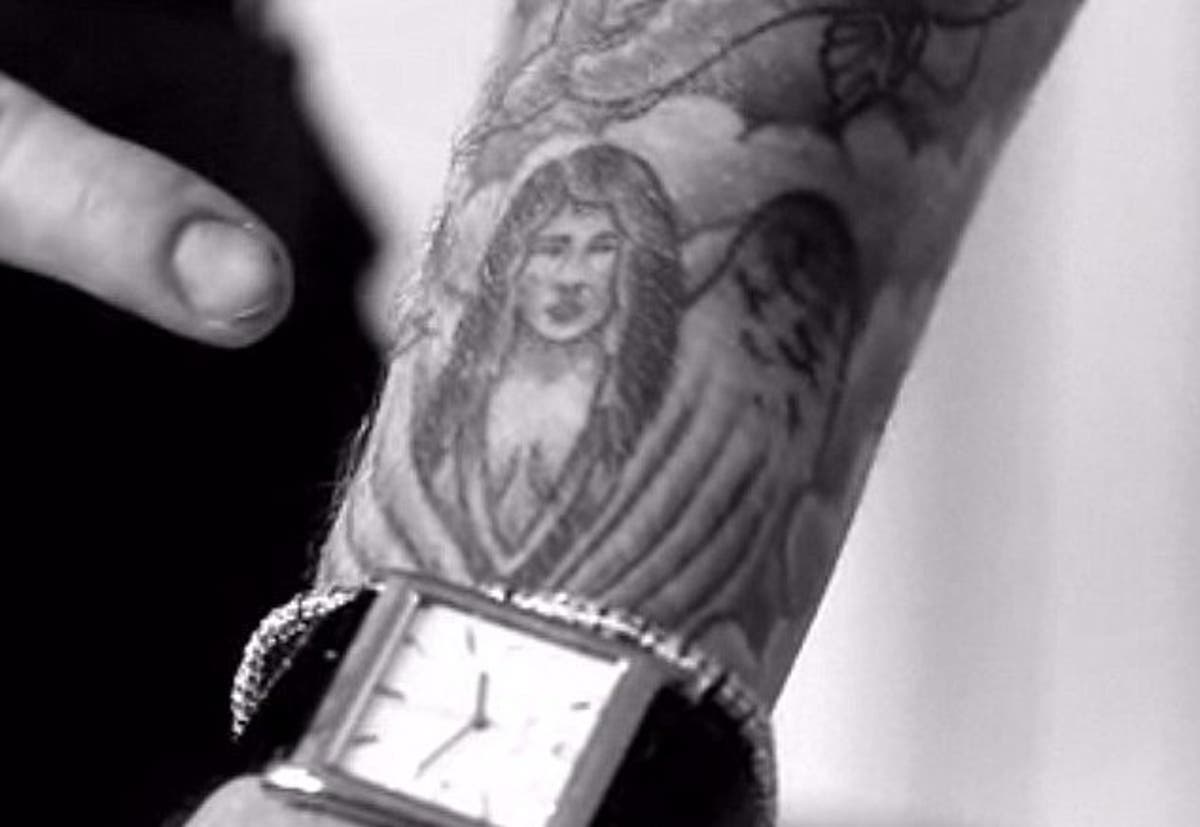 Miscellaneous Tattoos
Justin Bieber tattooed the letter "forgive" on the right side of his belly button to send the message to his fans to forgive him back in 2014. As the artist was struggling with DUI and other scandals in the tabloids.
The word "TRUST" is tattooed on Bieber's forearm which is just above the boombox tattoo which shows his respect towards old-school music.
Along with the boombox, the tattoo is a Japanese kanji character for music, this shows his love for music in different languages. The "LL" on his arm stands there as a reminder to lift your head when it's getting low.
One of his most recent tattoos is a huge rose on his neck from Dr.Woo. He talks about the tattoo saying that "The rose on my neck from Dr. Woo reminds me that even though I'm flawed, beauty shines even through our rough edges".
He has a bear, lion and an eagle needled on his torso. This is one of his biggest single-shot tattoos. The pop artist told that "As tough and resilient as a bear is, it always hibernates, which is so important," he said. "We as humans go, go and go without resting and it can leave us exhausted and drained."
The lion is a reminder to be bold, courageous, and strong. With the eagle tattoo at the center, he finishes his jungle kingdom.
One of his separate tattoos which stays at a different place from other tattoos is his thigh tattoo. The tattoo says "Better at 70" this is to motivate himself to work hard at his prime so that he can live a happy life at his old age.
The 18 American Music Awards winner artist has also got a lot of miscellaneous tattoos that do not have any definite meaning for inking them on his body some of his miscellaneous tattoos are:
eagle tiger and koi fish on his left upper arm
castle and knight on his sleeve
8 pool ball on his right forearm
jester joker tattoo on his right forearm
compass inked oh his left arm
mismatched sleeves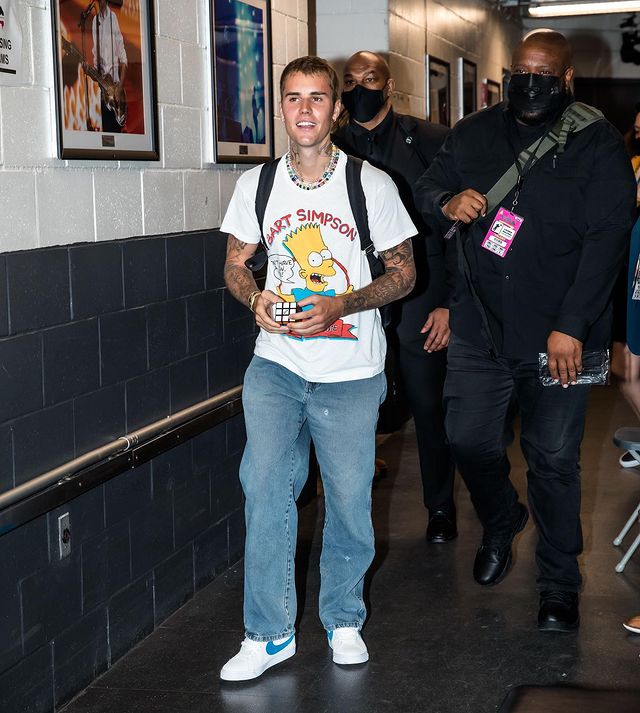 Out of all his tattoos, Bieber has different tattoos on his arms and sleeves which include tattoos with meanings as well as other miscellaneous tattoos which are not symmetrical and might look like a mess sometimes.
Glamour Path for more content on celebrities' tattoos.
-->