Jocelyn Wildenstein Plastic Surgery Was A Disaster | Surgery Fails
Published Fri Sep 20 2019 By DGM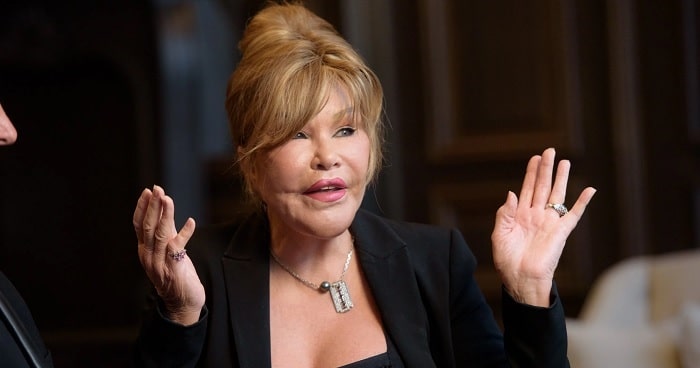 The American socialite and ex-wife of the billionaire businessman, Jocelyn Wildenstein is one of those people who suffered from negative results of plastic surgeries they opt for.
Jocelyn has openly admitted that she went under the knife and had multiple plastic surgeries done. She also opened about having spent £5m to look more beautiful and win back her husband. Here are the plastic surgeries that she has had and is speculated to had:
Jocelyn Wildenstein Before & After
Jocelyn Wildenstein aka the 'Lion Woman of New York' has transformed a lot after all the surgeries that she had spending a huge amount of money but the surgery was clearly a failure. Following is a picture of the beautiful lady in the past and at present.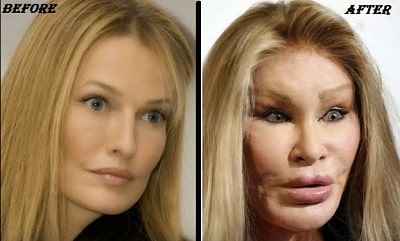 There are clearly a lot of changes that the billionaire's former wife has on her face in comparison to her face. Here are the surgeries that she has had:
Chin Augmentation
Jocelyn also had her chin augmented by having the help of a professional plastic surgeon. She had some of the tissues removed or reduced from her chin and in exchange, added some artificial materials which would bring a better balance to her chin. There is a tight appearance at the end of the socialite's chin which is the outcome of the surgery.
Eyelids Surgery
The highest paid woman in the history of divorce settlement up to date also had her eyelids done with the help of a surgeon's knife. She had surgery on her upper as well as lower eyelids and modified in the way so that her eyes would look sharp as a cat's. She had the eyelids surgery with her then hubby Alec and also followed with a canthopexy after some years.
Cheeks Implants
Lloyd Klein's fiance has also had her cheeks implanted in desire of chubby and bulky cheeks. But opposite to her expectation, it went totally wrong and resulted in a terrific face disaster. Take a look at the picture given below for an instance: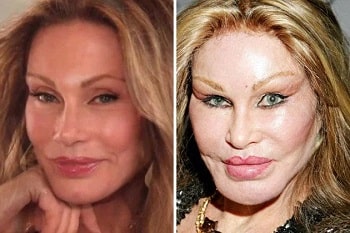 As you can see, Jocelyn's cheeks doesn't suit well with her eyes, nose, and lips. They are just way too big giving her a monstrous and scary look.
Though the surgery seem to didn't work right, she says that she doesn't regret her plastic surgeries and loves getting them done.
Lip Fillers
The another surgery that the millionaire who is worth $10 million has had is injecting her lips with fillers or simply injections. The treatment is normally done in desire of more fuller and thicker lips but what she got was totally humongous pair of lips. The following is a clear evidence how awkward her lips appear.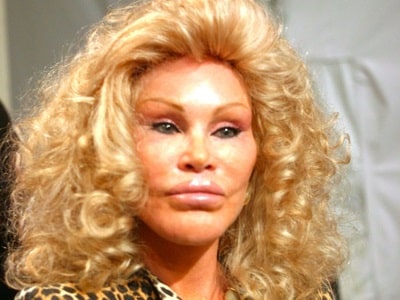 Canthopexy
The 79 years old socialite has also had canthopexy procedure to enhance the appearance of her eyes. If you don't know about it, it is a kind of cosmetic surgery that tightens the lower eyelid of the person and gives a catlike appearance. She opted for the surgery because she needed her likes to look like a beautiful cat's.
Following the surgery, her eyes look so small just like a cat. So, now you know how and why she got her nickname woman.
Face Lift
Alec Wildenstein's ex-wife also went under the knife and had a face lift because of the all the aging symptoms that she faced. We all know that she is nearly about 80 years old, so it is pretty obvious that she faced several signs of getting old such as wrinkles, folds, dark circles, and fine lines.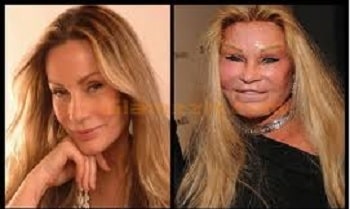 After having a face lift to correct the aging problems and tightening her facial skin, Jocelyn's face is totally unrecognizable at the present. Though the surgery went quite well, her face looks ridiculously odd.
People troll her for having the surgery saying that the work she had on her face made her look more uglier than before. Her face lift is a perfect example of plastic disaster.
Visit Glamour Path for more celebrity plastic surgeries and disasters.
-->