Get to Know Joaquin Antonio Consuelos - Kelly Ripa's Son With Mark Consuelos
Published Sat Jan 16 2021 By Samana
Joaquin Antonio Consuelos is the celebrity baby born to Kelly Ripa and Mark Consuelos in February 24, 2003.
The name "Joaquin" is a Spanish name and in the language means "Raised By Yahweh". If you're wondering how "Joaquin" is pronounced, it is spoken out as "Wa-Keen".
The name "Antonio" means "Priceless", "Inestimable" and "Praiseworthy".
Parents Net Worth
Joaquin's mother, Kelly Ripa has a massive net worth of $120 million which she accumulated from her successful career as an actress.
Joaquin's father, Mark Consuelos has a net worth of $40 million which he also accumulated from his career as an actor.
Parents Relationship
Joaquin Antonio Consuelos's parents, Mark and Kelly have one of the most amazing relationships in the history of Hollywood.
From their flirty comments on each other's Instagrams to their actual love and affection, they are clearly made from each other. The stunning couple met on the set of the movie they were both working on. They fell in love and eventually on May 1, 1996, they eloped.
They did not have big and fancy weddings but are one of the most strong couples in Hollywood.
Siblings
Joaquin Antonio has two siblings: Michael Joseph Consuelos and Lola Grace Consuelos. Michael is Joaquin's eldest brother and he was born on June 2, 1997.
Lola is the middle child and Joaquin's elder sister who was born on June 16, 2001. The three siblings are very close and since Joaquin is the youngest among them, the two love and adores him.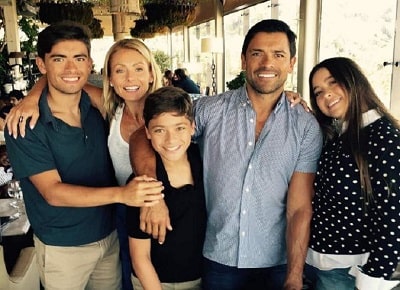 Already Featured in Top Magazines
Joaquin is treasured by both of his parents, specially his mother and they are like a friend to each other. Because they are very comfortable and close with each other, Kelly does not hesitate to post him on her social media platform. This caused many people to actually like Joaquin.
Joaquin along with Kelly and Mark has appeared on different magazines like E! Online and US Magazine. Thanks to the popularity he achieved through his mother's socials, we will not be surprised if he follows his parents footsteps and joins the movie industry.
Alma Mater- Education
Joaquin Antonio Consuelo is a proud graduate of the Center School. He graduated on June 16, 2017, making all his family members proud of him. On the day of his middle school graduation, it was also his sister's birthday. So it was wonderful for him to be able to share his happiness with his sister Lola.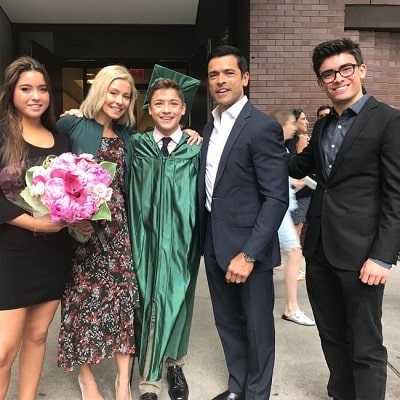 Has Dyslexia
Joaquin's life may seems easy but he had to struggle a lot. As a child born with Dyslexia, he had to put in extra efforts in his academics. He went to the school for kids with dyslexia whose primary focus was to teach how to read. d the art of reading because he had worked so hard
Glamour Path For More Celebrity Babies.
-->