Jessica Alba Plastic Surgery and Tattoos With Pictures
Published Sun Oct 20 2019 By DGM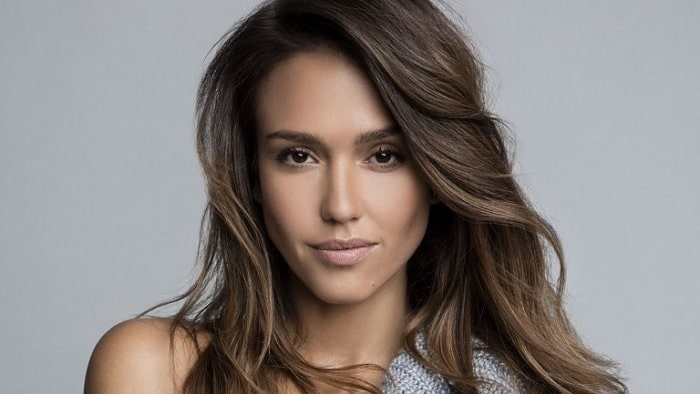 The beautiful American actress and businesswoman, Jessica Alba, has been linked with rumors that she has gone under the knife and got the job done on her body. She has also inked a total of four tattoos on her body.
Alba has denied the rumors and said that she has vowed that she would never go under the knife in order to preserve her celebrated good looks. Following is the information regarding her surgery rumor and tattoos with their appropriate meaning:
Jessica Alba Before & After
Jessica Alba, who holds an amazing net worth of $340 million, has transformed a little bit when it comes to her face. Take a very close look at the before and after picture of her given below: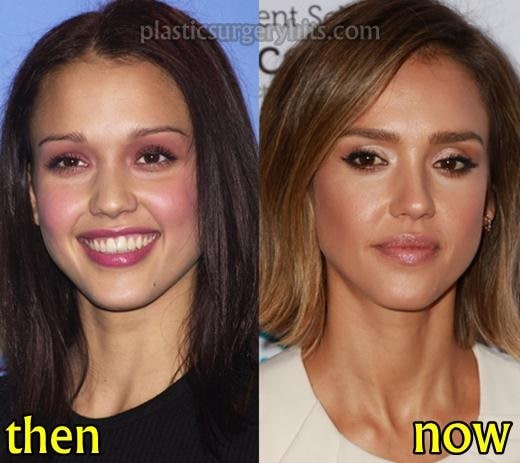 As you can see in the above picture, there has been a slight alteration on the nose of the beautiful businesswoman.
Nose Job Rumor
Cash Warren's wife Alba has been rumored to have her nose done by going through a rhinoplasty surgery. The noticeable difference in her nose from the past and present is its size.
She used to have a thicker nose if compared to the slimmer and sharper one from the present. The change in her nose has made people speculate that she indeed went under the knife.
When asked, the actress has totally denied the fake allegation saying that she wants to age naturally. She gave an example of her grandmother saying that she aged very gracefully and looked better without any cosmetic surgeries.
Tattoos & Their Meaning
When it comes to tattoos, Jessica Alba has inked four tattoos on her body which are given as follows with their appropriate meaning:
Removed Flower Tattoo on The Back of Neck
The 38 years old actress previously had a flower tattoo inked on the back of her neck. She had it inked long time back together with her mother and aunt. The tattoo was a resemblance to the goddess, Aphrodite, of the Greek mythology who is the goddess of love.
The tattoo also represented good spirits and aspiration. However, it didn't seem that Jessica liked her ink that much because she removed them via laser tattoo removal procedure back in 2009.
Bow Tattoo on Her Lower Back
Alba also has a bow tattoo inked on her lower back of her body. The tattoo is located just above the center of her buttocks and represents female power, sharing and giving is inked on the lower back of Alba's body.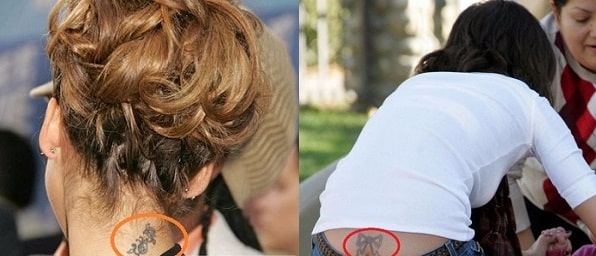 Sanskrit Word on Wrist
On the right wrist, the mother of Honor Marie Warren has a Sanskrit word inked that reads 'Padma'. The word 'Padma', according to Sanskrit literature symbolizes lotus flower.
Rose on Left Upper Arm
Jessica Alba has another tattoo which is of a rose inked on her upper left arm. The huge rose flower tattoo tattoo covers her bicep and is inked in a sketch outline form.
The flower represents equity and balance assuring hope and happiness in a person's life. The thorns present in the flower symbolizes trouble and problems. Hence, the tattoo is a symbolism of overcoming the odds and succeeding in life.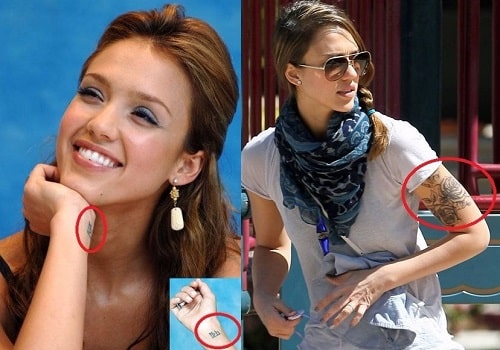 Follow Glamour Path for more information about latest celebrity surgeries and tattoos.
-->