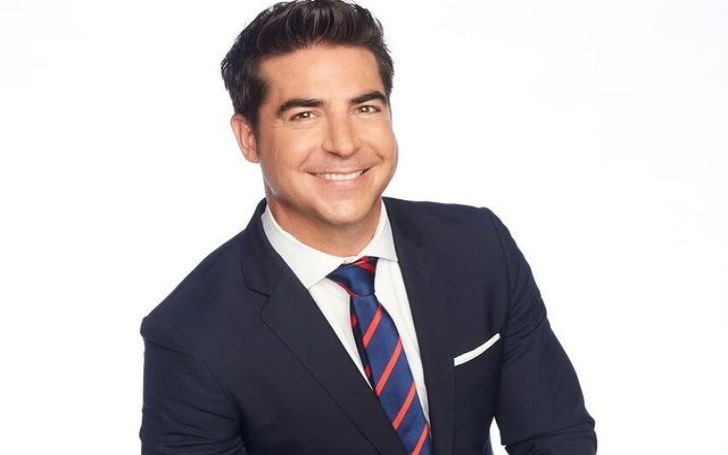 Jesse Watters is a conservative political commentator on Fox News who is most recognized for his work on the network. He rose to prominence on The O'Reilly Factor, where he was recognized for his interview segment Watters' World, which ultimately grew into its own show. He has a net worth of more than $2 million as a result of presenting several political broadcasts throughout the years.
The media sensation takes on interesting guests and prominent newsmakers with his unique approach and engaging personality on Jesse Watters Primetime. He broadcast an exclusive interview with President Donald Trump on board Air Force One in March 2017. He is also a member of The Five, a roundtable of FNC personalities that discuss, debate, and even debunk the day's top news topics, scandals, and concerns.
Early Life
Jesse Watters was born in Philadelphia, Pennsylvania, on July 9, 1978. Stephen Watters, his father, is a teacher, and Anne Watters, his mother, is a child psychologist. On his father's side, Jesse has some Irish heritage.
Jesse Andrew Burnett, assistant chief judge of the Kansas Supreme Court, was his mother's great-grandfather. He grew up in the East Falls and Germantown neighborhoods of Philadelphia.
Education
For his studies, the young guy enrolled in William Penn Charter School. After finishing his junior year, he relocated to Long Island, New York, with his parents.
Jesse moved on to Trinity College, where he earned a history degree in 2001. His professors thought he was a bright student.
Earning from Media Lane
Watters began working as a production assistant at Fox News Channel after graduating from college. He joined the production team of the talk show "The O'Reilly Factor" in 2003, and the following year, he began hosting his own section, "Watters' World," on the show. He began on the daytime discussion program "Outnumbered" in June 2014, which has four female panelists and one male guest panelist. He continued to come on the show as a guest co-host on occasion over the years.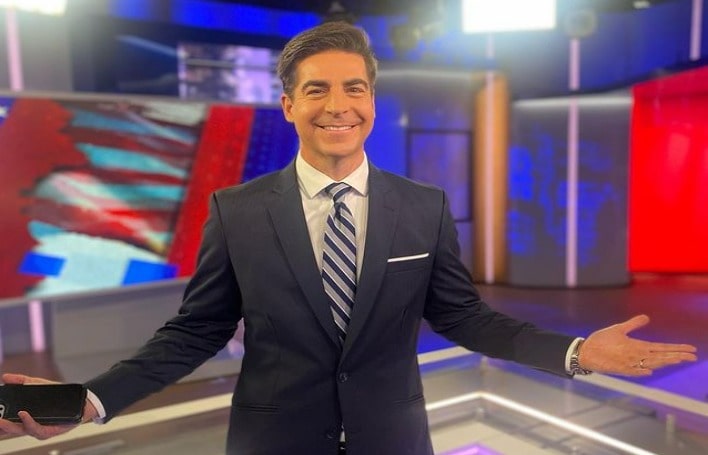 The commentator went on to host his own Fox News show, "Watters' World," in November of 2015. The show premiered on Saturdays at 8 p.m. ET in early 2017. He joined the roundtable chat program series "The Five" as a cohost later that year. Five commentators analyze current events, popular culture, and numerous political issues throughout the one-hour daily program. Greg Gutfeld and Dana Perino, as well as a rotating array of additional guest co-hosts, join Watters on the show.
Earning from his Book
Watters's debut book as a novelist, "How I Saved the World," was published by HarperCollins in July 2021. On the New York Times nonfiction bestseller list, the book debuted at number one. Hundreds of copies were sold in the first week of publication, according to Publishers Weekly's NPD BookScan.
The book takes readers on a journey through his life, from Fox intern to pampered advocate of right-wing Americans. While wandering across beaches asking ignorant college students simple political questions and falling out of Air Force One with the President, he has divined tremendous truths about the character of our democracy.
Net Worth and Salary
As of the 2022 update, we discovered that Jesse Watters, a well-known American conservative political pundit on Fox News, has an estimated net worth of more than $2 million. It also includes his $600,000 worth of property.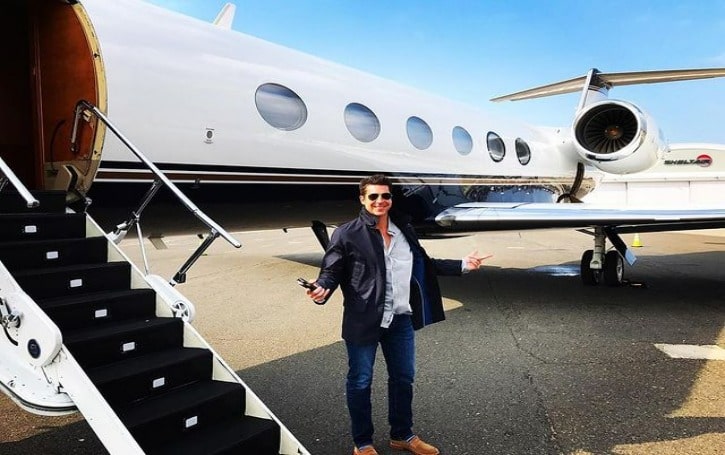 The guy is said to make $30K - $50K each live event, according to All American Speakers. He is a creative individual that appreciates and enjoys his work and has quickly established himself as one of Fox News' most visible figures. This indicates that during the next five years, Jesse Watters' net worth is predicted to increase by 200%.
Car Collection
Jesse Watters just paid $120,000 for a brand-new Tesla Model X.
In addition, the millionaire owns a Mercedes-Benz G-Class valued at more than $370,000.
Controversies
Jesse has been involved in several conflicts over the years, but he doesn't seem to care. He has been chastised throughout his career for a slew of incorrect, provocative, and racist statements. He erroneously stated in early 2017 that John Podesta, Hillary Clinton's campaign manager, supplied his password to a hacker and that his password was "password."
Watters later stated that climate change is "not such a significant concern." He also spoke out in support of Donald Trump's policy of separating children from their families.
Amanda Terkel "ambush"
Watters and his cameraman approached writer Amanda Terkel while she was on vacation in 2009, on assignment for The O'Reilly Factor, to ask her questions about an article she wrote that was critical of Bill O'Reilly.
The Huffington Post's Ryan Grim approached Watters with his phone camera going at a journalists' reception seven years later and urged him to come over to Terkel and apologize. Watters first stated that he would apologize, but then clarified that he would not, adding, "I ambushed her because O'Reilly wanted me to grab her because she said some awful shit."
Jesse then grabs Grim's phone and throws it on the floor, before snatching it again and putting it in his pocket, according to a video of the event. As Grim sought to reclaim his phone, the two engaged in a pushing struggle. "I was at this party trying to enjoy myself," Watters later said on The O'Reilly Factor about the event. This guy approached me and begins to shove it in my face."
"Watters' style of addressing his targets is to push cameras in their faces abruptly and barrage them with hostile questions," Tekel wrote, and Watters' answer was "surprising."
Relationship
Jesse Watters has had two marriages. In 2009, he married Noelle K. Inguagiato for the first time. He divorced her after nine years of marriage in 2018. His wife, Noelle, was having an affair with a 25-year-old producer who worked on his program.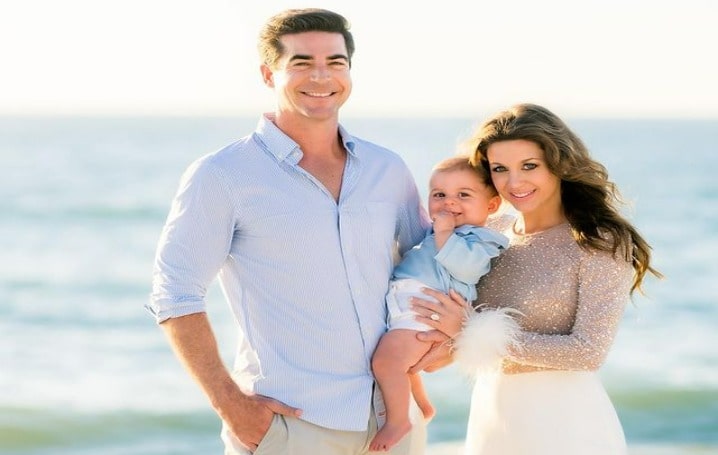 So, on August 25, 2019, he announced his engagement to Emma DiGiovine. The pair has been blissfully married since then. With the first woman he married, Noelle, he had two daughters, Ellie and Sophie Watters, and a son, Jesse Bailey Watters Jr, with the second.
Chinatown Segment
Jesse Watters was chastised in October 2016 for a section of Watters' World deemed discriminatory toward Asian Americans. He questioned Chinese Americans in New York City's Chinatown whether they understood karate (which originated in Japan, not China) if he should kneel before greeting them and if their watches had been stolen. Throughout the presentation, the 1974 song "Kung Fu Fighting" plays in the background, while references to martial arts and a video of Watters getting a foot massage and playing with nunchucks are intermingled.
Watters' piece was slammed by New York Community Mayor Bill de Blasio as "vile, bigoted conduct" that "has no place in our city." He was also denounced by a number of other senators and journalists, including Asian Americans Mazie Hirono and Judy Chu. The Asian American Journalists Association also attacked the episode, saying, We should go well beyond outdated, racist tropes and targeting one ethnic group for humiliation and objectification on the basis of their ethnicity.
Social Media
The Fox News Commentator is quite active on the internet. We've listed his social media handles for you:
Instagram - @jessewatters
Twitter- @JesseBWatters
Facebook- @Jesse Watters
For more updates, follow Glamour Path!
-->