Cute: Jaymes Vaughan and Jonathan Bennett Relationship
Published Thu Feb 09 2023 By sush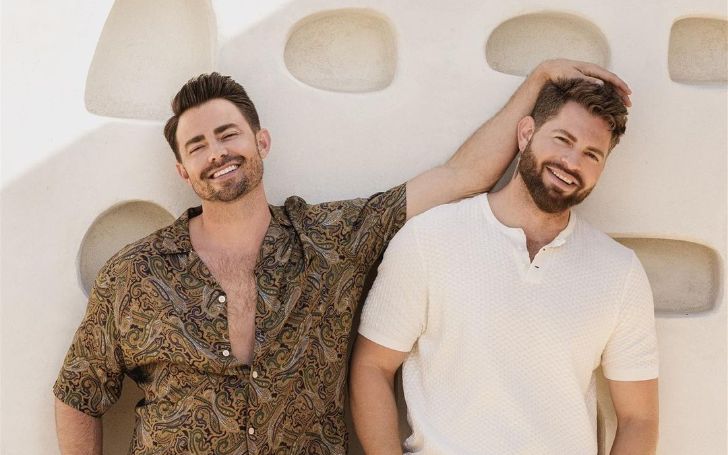 Did you know that Celebrity Page host, Jaymes Vaughan is now married? Well, if you didn't, he married the Aaron Samuels actor, Jonathan Bennett, from Mean Girls, in March 2022. The news shook the internet as Jaymes hadn't even come out as gay publicly.
And now, Jaymes Vaughan and his husband, Jonathan Bennett have become one of the hottest gay couples in the industry. Aside from being the heartthrob couple, they also well-represented the LGBTQ+ community and gave out their message on behalf of the community.
Moreover, they became the first couple to appear on the cover of The Knot, magazine.
How They Met: Love At First Sight?
Jaymes And Jonathan met during the promotion of Halloween Wars. At the time, Jonathan was on a press tour for the show and was set to do an interview with Celebrity Page.
In Jaymes' interview with The Knot, he said that he did his interview with Jonathan and was ready to get on with the day. However, when they were taking the picture at the end of the interview, he felt electricity when Jonathan leaned into him for the picture.
I was just ready to do my interview, get it done, and get on with the day. So the producer is counting down 5,4,3, and I'm like, let's take a picture for social. The minute he leans into me, it's like electricity. And then the producer calls, 2, 1, go.

-Jaymes Vaughan
As for Jonathan, he says that it was love at first sight for him. According to him, he knew that he was meeting his future husband right after he saw Jaymes for the first time. He also described Jaymes as the most beautiful man he has ever seen.
Then, fast forward to 2017, the couple made their relationship official through their social media. And three years later, Jaymes popped up the question and they got engaged. And they announced their engagement on the Thanksgiving weekend of 2020.
Jaymes And Jonathan's Wedding Became A Representation Of The LGBTQ+ Community
Jaymes Vaughan and Jonathan Bennett got married on 19 March 2022. They got wed in a romantic beachside wedding held at the Unico Riviera Maya Hotel in Mexico. They made sure to hold their wedding as loud as possible to represent the community.
Moreover, Jaymes revealed that the reason he and his husband went with the UNICO Hotel was that the hotel showed that they were welcome there.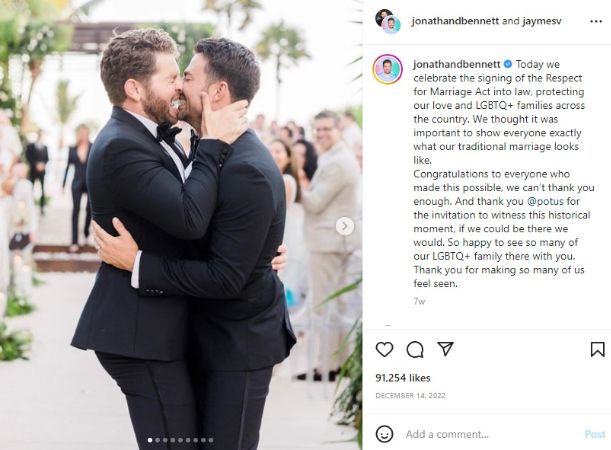 After Jaymes and Jonathan were rejected by the Palace Resorts, they made their celebration even grander to be a presentation of the LGBTQ+ community.
"We decided in that moment that our wedding was bigger than us. It's our wedding, but it isn't just about us. It's about the LGBTQ+ community. We're really making a point to make this wedding very loud on purpose,"

-Jonathan Bennett
Jaymes also posted his wedding picture and captioned it with:
"We highly recommend standing next to the person you love and declaring that love loudly and boldly, in front of your chosen family and as unapologetically emotional as you want,"
Through this, he sent a message to all those who belong to the LGBTQ+ community to not be afraid to marry whoever they loved and wanted by their side.
Jaymes' And Jonathan's Dream Wedding Venue Rejected Them
In this wholesome atmosphere created by the union of Jaymes and Jonathan's marriage, let us tell you an infuriating fun fact. Jaymes and Jonathan were rejected by their dream wedding venue to hold the ceremony.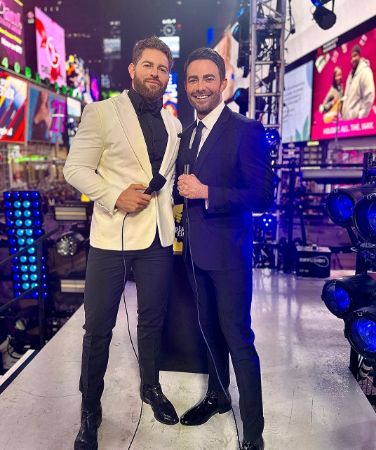 In the interview with The Knot, Jaymes' husband, Jonathan revealed that they wanted to hold their wedding at the Palace Resorts in Mexico. However, the place denied the couple stating that it was against their morals to marry two people of the same sex.
The actor also revealed that being told such was a punch to the gut. He said:
"When we got engaged, the owner said he couldn't marry us because we're two men and it goes against his morals,"
Well, this incident made them realize that they should have a louder wedding to represent the LGBTQ+ community.
"We want to make sure that there's never a moment during the engagement or wedding planning journey that LGBTQ+ people aren't excited,"We want to make sure that they are celebrated every moment and don't feel a sense of otherness. The otherness needs to be removed from gay weddings."

-Jonathan Bennett
Follow Glamour Path for more interesting articles about celebrity's biographies, relationships, and riches.
-->