Jaymes Vaughan is a famous American actor and television host best known for hosting the Celebrity Page. However, he became popular after he went to the 21st season of the show, The Amazing Race. Moreover so, he gained more exposure after becoming the runner-up of the show.
Moreover, Jaymes broke the internet after his wedding to Jonathan Bennett. They represented the whole LGBTQ+ community with their wedding. And now, Jaymes and his husband, Jonathan are one of the favorite couples on the internet. So, let's know who he is.
Family Background And Education
Jaymes was born on April 15, 1983, in Chesterfield, Virginia. He was born to his parents, Ed Vaughan and Elsie Vaughan. As per Jaymes' social media, his father, Ed used to serve in the United States Marine Corps. And the sources state that his mother was the director of Shaklee Corporation and that she is from Lancaster, Virginia.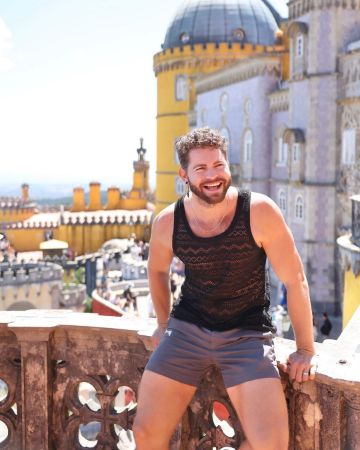 Moreover, Jaymes was born in a household of five, with two siblings. He has a brother named Jason Vaughan and a sister named Receta Vaughan. And according to sources, they all attended Manchester High School that's located in their town.
Jaymes Married The Star Of Mean Girls
As mentioned above, Jaymes Vaughan is married to Jonathan Bennett. However, did you know that Jonathan was the actor that played the character of Aaron Samuels on Mean Girls?
Jaymes and Jonathan made their relationship official, back in 2017, through a post on their social media. Later on, after being together for three years, they got engaged on the Thanksgiving of 2020.
And now, nearly two years later, the couple got married on 19 March 2022. The couple exchanged their vows in a romantic beachside wedding at the UNICO Riviera Maya Hotel in Mexico. Moreover, their wedding ceremony was officiated by the YouTuber Brian Tyler Cohen.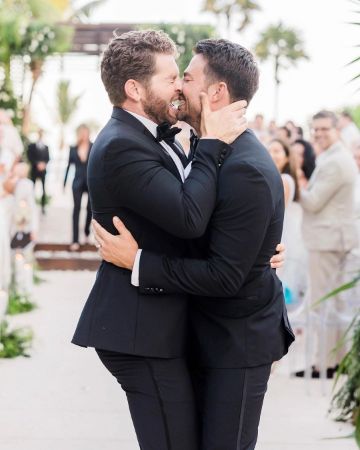 Jaymes' and Jonathan's wedding followed the color theme of black tuxedos and white tuxedos. While the black tuxes were from Express, the white ones were from Robert Staley Bespoke. And they made sure to make their wedding hella loud to represent the LGBT!+ community.
Jaymes Felt The Electricity With Jonathan When They Met
Jaymes and Jonathan met during the promotion of Jonathan's Halloween Wars. While Jaymes was the interviewer of Celebrity Page, Jonathan was on a press tour of the show. So, basically, their first meeting was on the work environment. However, the couple was too obvious and lovey-dovey throughout the interview.
And as per Jaymes's interview with The Knot, he said that he wasn't really feeling that love attachment with Jonathan until the end despite looking so invested. However, when they were about to end the interview with a picture, he felt the electricity strike when Jonathan was leaning into him.
And that is mates how the love story of a beloved couple on the internet began.
Jaymes' Career
Now, after having most figured out about Jaymes, shall we take a look at his career? Well, Jaymes started his career in the industry with the movie The Amazing Race in 2012. Then, he made his debut in acting career with the Chocolate City: Vegas. He played the role of Adonis.
Later on, Jaymes also made an appearance in Baby Daddy (2014) as an officer. Then, he started making appearances on television shows like Reality Relapse (2016), The Wendy Williams Show (2019), and Lorraine (2020).
Then, he started hosting the Celebrity Page in 2016. After that, he also became the host of the shows like Access Hollywood (2017), and The Talk (2018). Afterward, he was also the one to host Billboard Music Awards Red Carpet Live in 2018 and then on, American Music Awards Red Carpet Live in 2019.
Jaymes Participated In The Amazing Race For The Million Dollar Prize To Aid His Father's Medicine
We all know that Jaymes' got to the limelight after he participated and won 2nd place on the show The Amazing Race. However, according to his interview with Equality365, he only participated in The Amazing Race to win the prize. In his interview, he revealed that his dad was sick with cancer and that he wanted to get his father into the experimental cancer program.
However, the program was worth a million and a half dollars. And to get the required money, he wanted to give a shot at the show. So he could win the prize of $1 million. He also revealed that it was also his "fuel" for the entire show. However, as we saw, unfortunately, he was very close to winning the race but didn't win. And sadly, his father also passed away.
Jaymes Opened An LGBTQ+ Cruise Company Named OUTbound
Did you know that Jaymes opened an LGBTQ+ cruise company? Well, the company is named OUTbound and he opened the company together with his husband somewhere around 2019. And now he travels around having amazing tours with many others who belong to the community.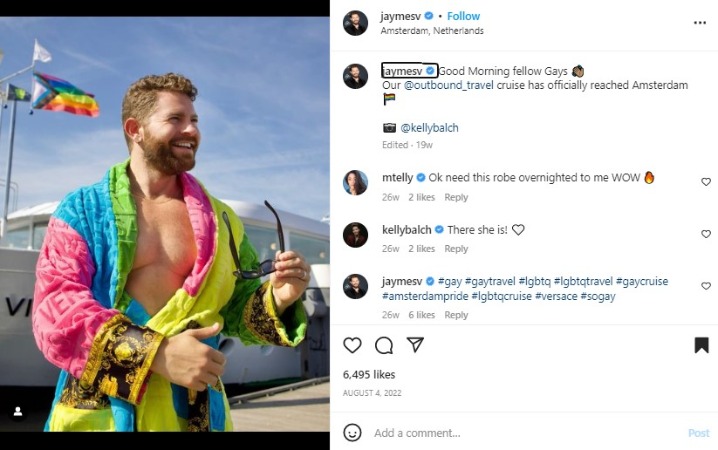 Jaymes opened the cruise company to help people belonging to the community experience a unique and exciting LGBTQ+ adventure. Moreover, all the entertainment and creational activities are customized for the people to let them be whoever they want to be.
He Owns A Dog Regardless Of Not Being A Dog Person
Even if you take a sneak peek at Jaymes Vaughan or his husband, Jonathan's social media, you'll know that the couple is dog dads. Jaymes has a dog named Brad. And they very much love their dog. He, along with his husband, takes Brad on tours and walks to various places.
However, Jaymes revealed on his social media that he has never been a dog person. He also wrote that he never liked people stepping on the carpet with shoes on. However, that changed after the arrival of Jonathan and Brad. They helped him transform completely.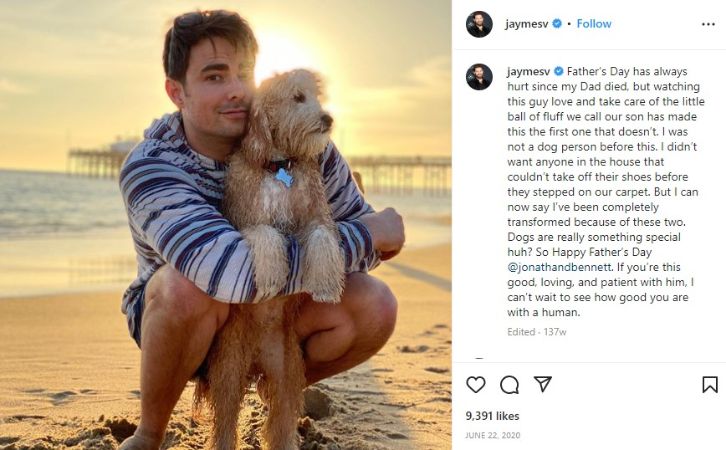 Net Worth
As known, Vaughan is the host of the news magazine, Celebrity Page. Along with that, he also co-hosts iHeartRadio's Pridecast. Moreover, he has also starred in several movies and series. So, it's apparent that he has made quite a money, right?
The net worth of the Celebrity Page host, Jaymes Vaughan is estimated to be over $1 million. He made this fortune with his career in the film industry as well as the television industry. Aside from his career, he also does brand endorsements; he and his husband, Jonathan, are also the brand partners of Nissan Automobiles.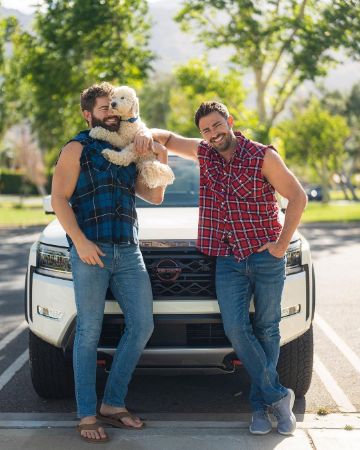 Also, Jaymes designed the rings for his wedding himself along with Kay Jewellers. However, since it was a same-sex wedding ring design, other people also wanted it. So made the ring he designed available to the public. So, he must also make money off the royalties from the Kay Jewellers.
Social Media Handles: Jaymes Deleted His Twitter
Up until recently, Jaymes was active on both Twitter and Instagram. However, it seems the host deleted his Twitter account which was under @jaymesv. However, he hasn't revealed the reason why he did that.
Nonetheless, Jaymes is available on Instagram under @jaymesv with over 196k followers. Though he hasn't deactivated his account yet, he hasn't posted anything since September 2022. So, his fans are showing concern for him and if anything has been going on with the actor.
Similarly, he also has his official Facebook page. However, he doesn't have much presence on the platform and has over 5.8k followers.
Follow Glamour Path for more interesting articles on celebrity biographies, relationships, and riches.
-->