Jasmine Washington Plastic Surgeries and Tattoos – Before and After Pictures
Published Wed Aug 28 2019 By DGM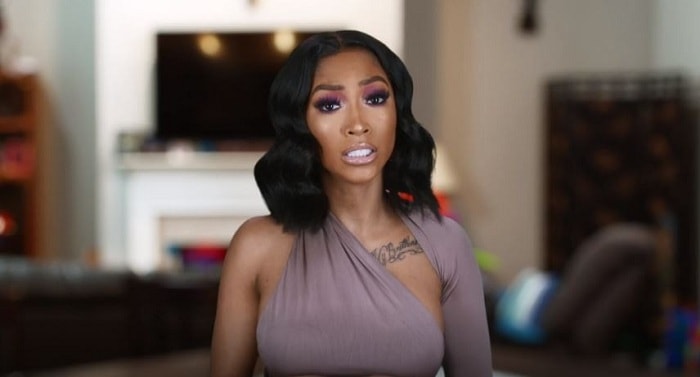 Jasmine Washington who is also known as Jasmine Blue is a 'Love & Hip Hop: New York (LHHNY)' star rumored to have gone under the knife and having a major breasts augmentation surgery.
Washington hasn't addressed the rumors whether he did or didn't have any plastic surgeries. Here is a brief description of the possibility that she had her breasts implanted:
Jasmine Washington Before & After
The stripper-turned actress has transformed a lot throughout her days a stripper to becoming one of the famous reality stars. As she earns $7000 per episode from the VH1 show, people insinuate that she may have had a breasts implants procedure done.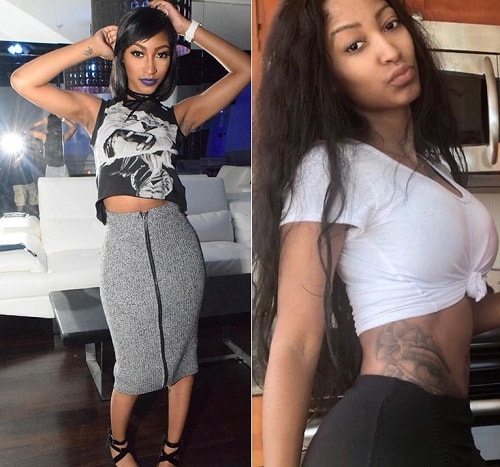 Jasmine Washington Before (left) and After(right).
As you can see in the picture, there are been some major changes that ten us in thinking that the star actually opted for a makeover of her breasts.
Breast Implants Rumors
It was last year in March when the 29 years old actress Jasmine Washington posted a gorgeous picture of herself flaunting a better and gorgeous body. People started speculating moments after the picture was posted that she had breast implants done to enhance the appearance of her breasts.
The picture included Jasmine wearing a beautiful dress where her breasts appeared more bigger and raised than ever.
It was quite the fact that Washington said nothing about the rumors that had been circulating about her new breasts. They have become so bigger that you cannot stay without unseeing them if you look at her picture.
The huge breasts that she has can only be achieved worked by a professional surgeon. So, the rumor seem to be more like true.
Tattoos & Their Meaning
Jasmine has inked a total of six tattoos till date with holding a different meaning. All of her tattoos are given below: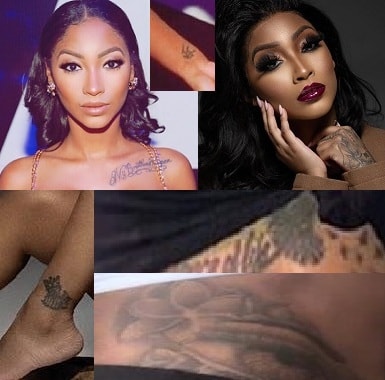 Jasmine Washington's All Tattoos Picture Compilation.
Drawing on Left Hand
The beautiful actress has some sort of drawing drawn on her left hand and it looks like a huge flower or a drawing of something.
Flower on Center of Abdomen
Flower which often is considered as the representation of a person's purity has been inked on the center of the abdomen of the reality star. The tat is located below the center point of her breasts where a flower is spreading its petals. It also has a writing that reads 'Increase of Life'.
Crown on Right Hand
Blue has inked a queen\s crown on her right arm which represents royalty and queen like attitude.
Writing on Left Side of Chest
The former stripper has another ink on the left side of her chest. It is a writing which is located above the breast of the star and appears to be some kind of proverb or name.
Flower Design on Right Waist
Jennifer Washington has a huge tattoo which seems more like a floral design inked on the right side of Jasmine's waist. The flowers on her tat represents purity and freedom.
Rose on Left Ankle
Rose tattoo which symbolizes new beginnings along with promises and hopes is inked on the left ankle of Kirk Frost's baby mama.
Check Glamour Path for more information regarding celebrity plastic surgeries and tattoos.
-->