Inside Larry Elder's Personal Life: Wife, Family, Love, and More
Published Thu Jul 27 2023 By prazu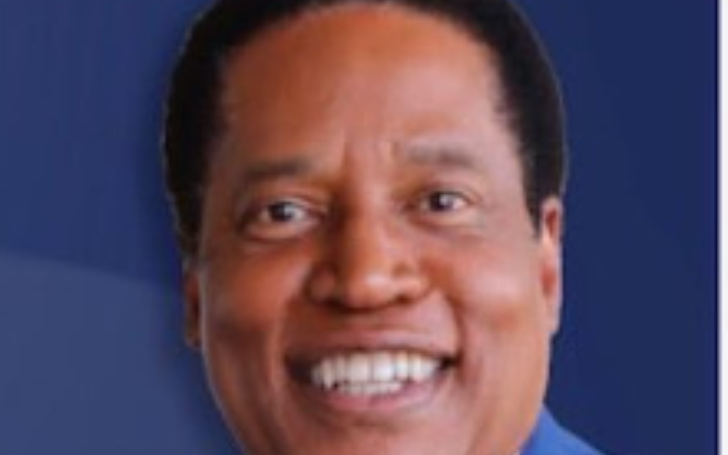 Laurence Allen Elder, also known as Larry Elder, is an American conservative talk radio host and political commentator. He is best known for hosting "The Larry Elder Show," a nationally syndicated program based in California. Additionally, Elder is a writer and author of non-fiction books, with a syndicated column through Creators Syndicate.
Larry Elder Early Life
On April 27, 1952, Larry Elder was born in Los Angeles, California. Elder was the middle child among three brothers. His father, Randolph, was a former United States Marine Corps sergeant who later opened a café in LA's Pico-Union neighborhood. His mother, Viola, worked as a former clerk for the United States Department of War.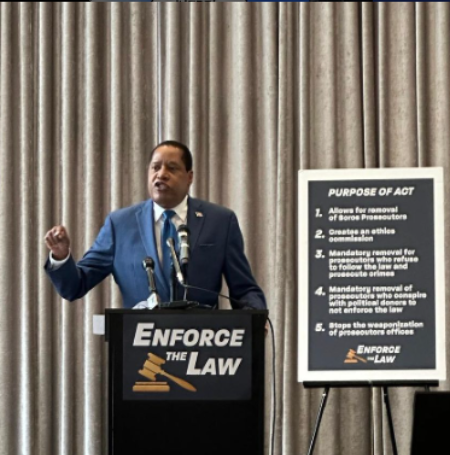 During his teenage years, Elder attended both Crenshaw High School and Fairfax High School. He excelled in his studies and took advanced honors courses. After graduating from Crenshaw High School in 1970, he furthered his education at Brown University. There, Larry earned a Bachelor's degree in political science. Subsequently, in 1977, he obtained his JD from the University of Michigan Law School.
In addition to his career achievements, Larry ventured into politics. He ran as a Republican candidate in the 2021 California gubernatorial recall election against Gavin Newsom. Unfortunately, his campaign was not successful.
Who is Larry Elder's Wife?
Larry Elder, a conservative talk show host and a leading candidate for the Republican Party in the California Governor race, has had a long and diverse career in the public eye. However, he has kept his romantic relationships private.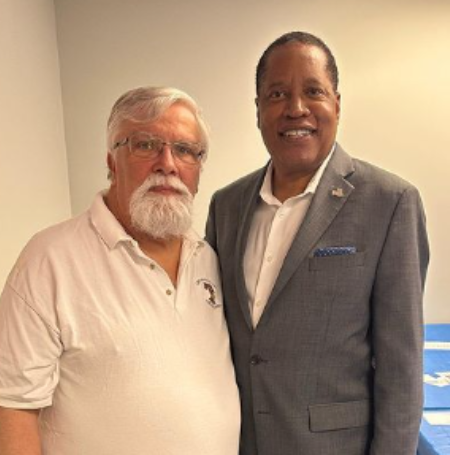 It's been said that Elder was previously married to a physician, but we don't know her name. Their marriage lasted two years before they divorced in 1994. According to an article on articles.latimes.com, Elder and his wife had different views on starting a family; he wasn't keen on having children while she wanted to have them.
In 2018, there were reports that Larry was engaged to a political commentator named Alexandra Datig. However, there haven't been any public appearances of them together at events. On social media, Elder has mentioned having a girlfriend but hasn't revealed her identity, hinting at a potentially intimate relationship.
Elder hasn't confirmed any of these reports, so it's uncertain if he is currently married or in a relationship. As of 2023, it is believed that Elder is single.
Larry Elder Controversies
Larry Elder is the top candidate for the Republican Party in the California recall election, and his popularity has been increasing as the race gets more intense. However, Elder has faced several controversies that have brought him negative attention.
Accusations of Gun Incident
In 2021, Larry Elder's former fiancee accused him of pointing a gun at her during an argument. This incident reportedly took place in the late 1990s when they were living together in Los Angeles. Elder denied these accusations, and the case was eventually dismissed.
Derogatory Remarks about Women
Larry Elder has come under fire for making disrespectful remarks about women. In a 1997 episode of his radio show, he expressed harsh opinions, suggesting that women who have abortions should be jailed and that unwed mothers should be socially rejected. These comments have been met with criticism.
Use of Offensive Language
There is also a decades-old recording where Larry Elder repeatedly uses a derogatory racial slur, known as the N-word. He defended the usage, claiming it is just a word with a history of being used by both Black people and white people. Nevertheless, the recording has faced backlash for its offensive language.
Controversial Views on Abortion, Climate Change, and COVID-19
Larry Elder's views on abortion, climate change, and COVID-19 have sparked controversy. He advocates for making abortion illegal, denies the seriousness of climate change, referring to it as a "hoax," and downplays the severity of the COVID-19 pandemic, claiming it has been exaggerated.
Investigation into Income Disclosure
California regulators are investigating whether Larry Elder properly disclosed his sources of income. Specifically, they are looking into whether he failed to report payments received from a political action committee and a media company as required by the law.
How Rich is Larry Elder?
Larry Elder's net worth is estimated to be $6 million. He has made a name for himself as a conservative talk show host, an author, and a former attorney.
Through his writing, Elder has authored several non-fiction books and has a column distributed by Creators Syndicate. Additionally, in 2021, he ran as a Republican candidate in the California gubernatorial recall election against Gavin Newsom, although his campaign was ultimately unsuccessful.
Larry Elder's Journey from Attorney to Radio Personality
Larry Elder started his career as a lawyer in Los Angeles but later shifted to radio in 1993. His show, The Larry Elder Show, was first on KABC in Los Angeles until 2008, and then again from 2010 to 2014. It became nationally syndicated through different networks over the years. He has also written books and columns for Creators Syndicate.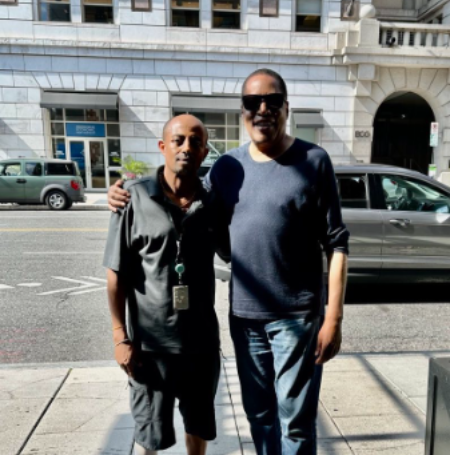 Elder is known for criticizing left-wing media and claims that his views are based on common sense and Economics 101. He believes in a less intrusive government and supports getting rid of the minimum wage, letting workplace pregnancy discrimination be handled by the market, and legalizing recreational drugs.
Larry also thinks that public welfare programs should not be provided by the government and supports using school vouchers instead of public schools. Elder has chosen not to participate in three campaign debates because he believes his lead in the polls is the reason his Republican rivals want him to debate.
Elder has connections to The Epoch Times, a far-right newspaper associated with the Falun Gong movement. He strongly supports originalist judges like Clarence Thomas and the late Antonin Scalia. In 2021, he ran for elected office for the first time as a Republican candidate in California's recall election against Democratic Governor Gavin Newsom.
The recall was not successful, but Larry came first among the replacement candidates. On April 20, 2023, he announced his candidacy for the Republican nomination in the 2024 presidential election.
Stay tuned in Glamour Path for more celebrity updates.
-->