Joey Logano's Son Hudson Joseph Logano With Wife Brittany Baca – Pictures and Facts
Published Fri Jun 14 2019 By DGM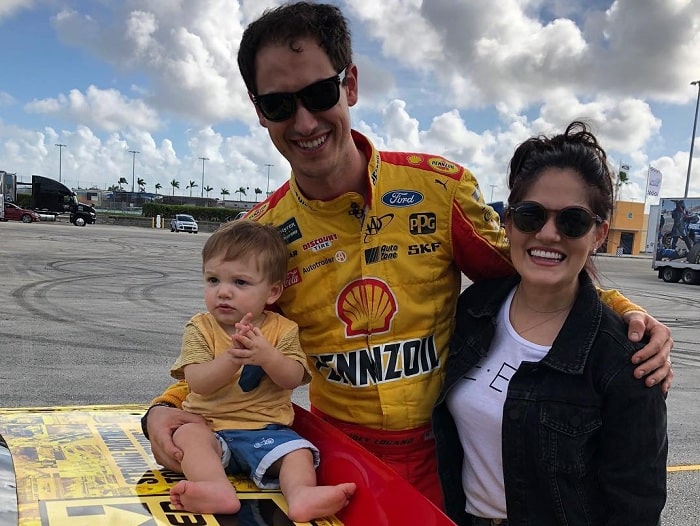 Hudson Joseph Logano is the firstborn child of the American professional stock car racing driver, Joey Logano with his wife, Brittany Baca. The only child of the Logano was born on the 4th of January, 2018.
According to the English origin, the name 'Hudson' is a baby boy' name which means "Hugh's son" and the name also belongs to the list of names meaning water. And as for the name 'Joseph' it belongs to the Hebrew origin and is a boy's name that means "Jehovah increases". Jehovah is the form of Hebrew god. So, the name symbolizes that god will increase happiness.
Joey and Brittany Welcomed Their First Child - Hudson Joseph Logano
Last year in January, Joey Logano welcomed the new member of his family Hudson Joseph by posting a lovely picture of the neonatal with his mom Brittany in the hospital. The native American car racer announced the birth of his first child a few days later after the child was born. He also tweeted,
"God gave us a little miracle last night!!!"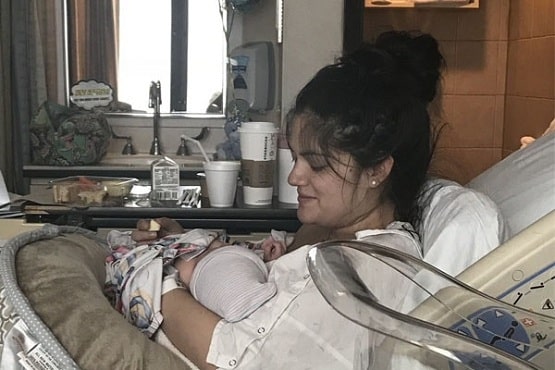 Hudson was born in winter, however, the NASCAR racer along with his wife already revealed the gender of their baby in summer in a thrilling way. The couple got into an engine-blasting, adrenaline-fueled, loud and thrill ride into a car which later on revealed the gender of the baby by producing blue dust which represents a boy.
The NASCAR driver had some fun time on Instagram and shared some adorable photos of the baby and his wife and one of all their feet cuddling together.
Hudson's First Birthday was Legit Awesome
Past January, Joey and his wife celebrated their son's first birthday and the celebration was lit. The proud parents celebrated their child's birthday in a car workshop where Logano's team cars and modified and assembled. Of course, it is not unusual to hear that a car racer celebrated his offspring's birthday in his workshop.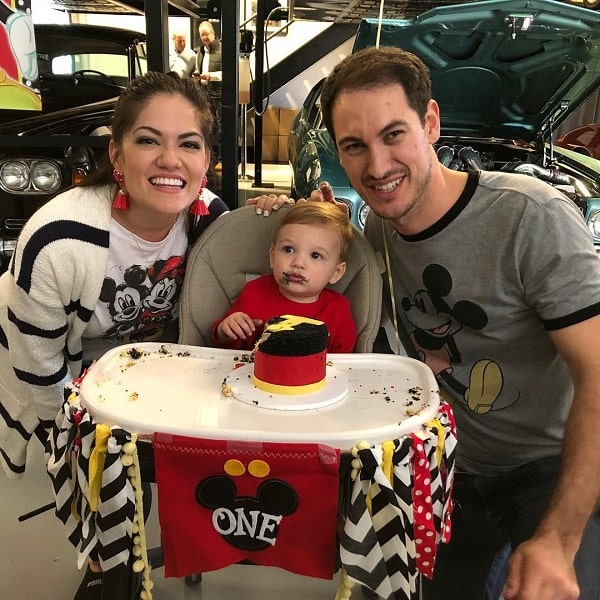 The 29 years old (as of June 2019) car racer even took it to Instagram to wish his baby a Happy Birthday posting an adorable picture of his family on Hudson's 1st birthday of his life. In the picture, we can see that Joey and Brittany cut a wonderful cake on their son's birthday. Jospeh is a cute little guy and it's quite amazing to see how he grows up next.The post got showered with positive comments and wishes for the infant.
Hudson Joseph is a Car Lover Already!
Like father Joey, Hudson has already started showing his interest and love for cars. Why wouldn't he? After all, he is the son of the 22 time cup winning NASCAR racer. The little boy has many toy cars which he loves riding all the time.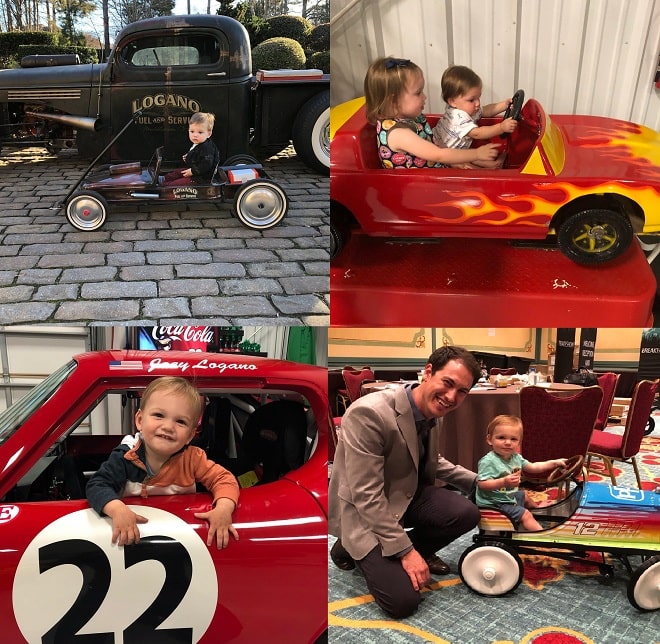 In the above picture, we can clearly see that Hudson loves riding cars just like his dad. If Joey's son chooses to pursue a career in stock car racing, then he will probably get a lot of help from his lovely father who is a pro in it. And who knows if we get to see Joseph competing against his dad in a race in the future? Well, it would be very interesting to see the father-son duo clash with each other.
Victory Lane was Blessed with Hudson's first visit
The NASCAR star racer Joey Logano snapped a 36-race winless streak by winning the Monster Energy NASCAR Cup Series race at Talladega Superspeedway in April last year. It was a very special moment but there was one thing that made the feat extra special. The arrival of Joey's on, yes you read it right! Hudson attended the event with his mom and became the sweetest reason of Logano's victory. So, at the age of 3 months, Joseph proved to become a lucky charm for his daddy.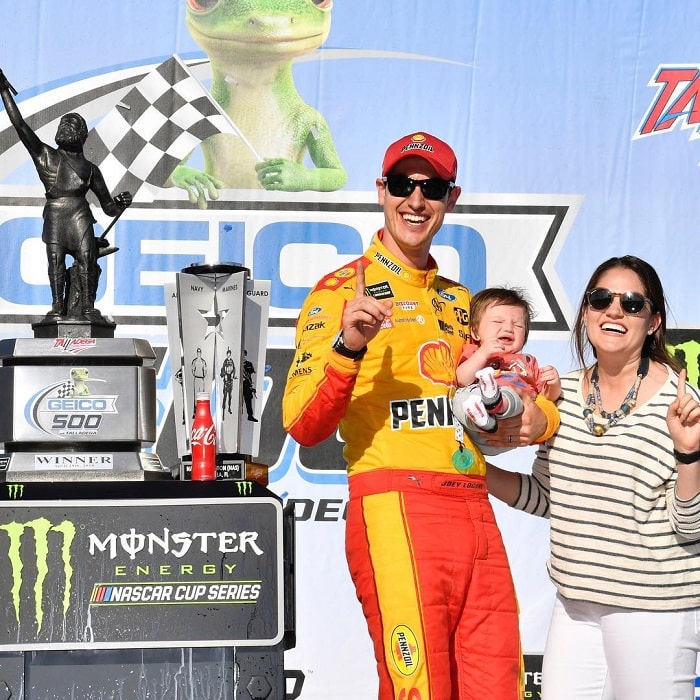 Net Worth of Hudson Logano's Parents
Hudson's father is a professional car racer who has an estimated net worth of $24 million through his valuable and successful career in stock car racing. Likewise, the mother of Joseph, Brittany Baca has a net worth of around $500,000.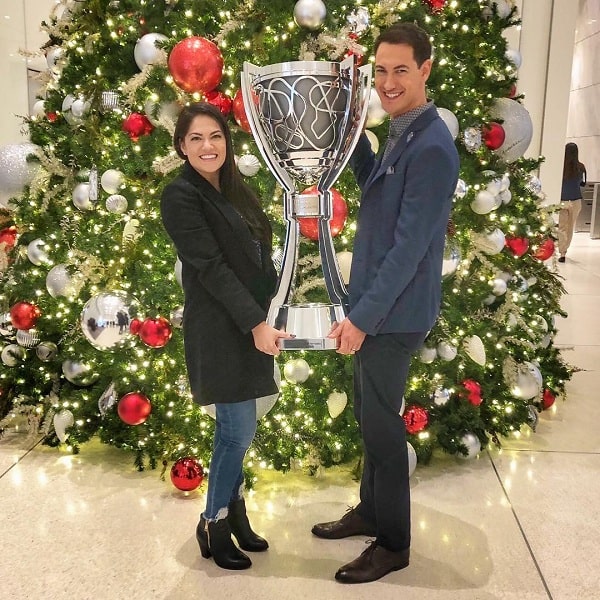 Joey is a successful NASCAR race car driver and earns an annual salary of $4 million. And professional life of Logano's wife is under the radar but she shares a great net worth of her husband.
Visit Glamour Path for more Celebrities babies, News and Information.
-->