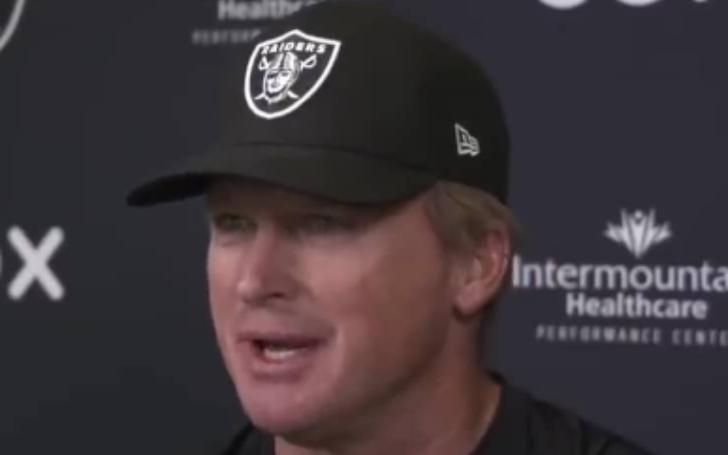 Jon Gruden is a retired football coach who spent 15 seasons as a head coach in the NFL. He started his coaching career with the Oakland Raiders from 1998 to 2001. During that time, he led the team to two division titles and they even made it to the AFC Championship Game.
In this article, learn in detail about Gruden's personal and professional life.
Jon Gruden Early Life
Jon Gruden was born in Sandusky, Ohio on August 17, 1963. His father, Jim, had a career in football as a scout, coach, and director of player personnel for the Tampa Bay Buccaneers.
Gruden's younger brother, Jay, also played and coached in the Arena Football League and was recently the head coach of the Washington Redskins. His other brother, James, is a radiologist at the UNC School of Medicine.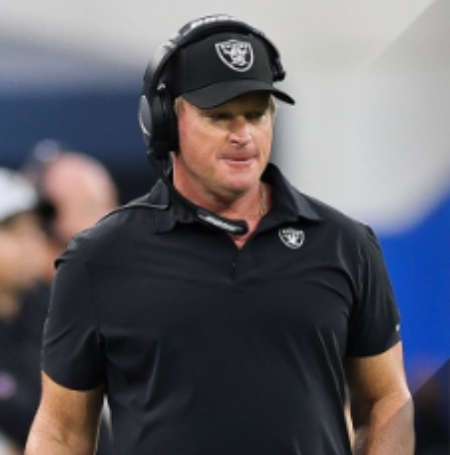 Gruden grew up as a Catholic and was a fan of the Cleveland Browns. Jon attended Clay High School in South Bend, Indiana, where his father worked as an assistant coach at the University of Notre Dame.
After finishing high school in 1982, Jon enrolled at Muskingum College in Ohio but transferred to the University of Dayton a year later. In 1986, Gruden graduated with a degree in communications.
How Wealthy is Jon Gruden?
Jon Gruden is an American football coach who also works as an analyst for ESPN. The 59-year-old coach has a net worth of around $30 million. As an ESPN commentator, he earned $6.5 million per year, making him the highest-paid personality at ESPN.
In 2018, when Gruden returned to the Raiders as a head coach, he signed a 10-year contract worth $100 million. This was the largest coaching contract in NFL history at that time, paying him $10 million per year. Before his return, his highest coaching salary in the NFL was $4 million per year from Tampa Bay.
However, Jon resigned from the Raiders in October 2021 after some of his emails containing racist and homophobic comments were leaked to the media. It has been reported that he will not receive the remaining $60 million on his contract at the time of his resignation.
Jon Gruden's Coaching Legacy And Influence on The NFL
Jon Gruden had a notable career in American football, serving as both a coach and a commentator. Known for his passion, football knowledge, and intense coaching style, Gruden made a significant impact in the National Football League (NFL).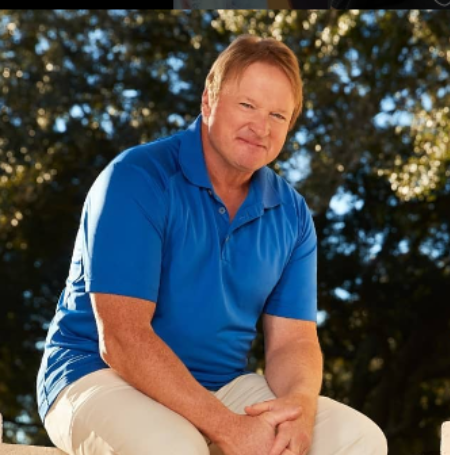 Gruden began his coaching journey in the NFL as an assistant coach for various teams, honing his skills and gaining valuable experience. In 1998, he landed his first head coaching position with the Oakland Raiders. During his tenure with the Raiders from 1998 to 2001, Gruden led the team to success, winning two consecutive division titles and guiding them to the AFC Championship Game.
After leaving the Raiders, Jon transitioned to the role of a football analyst and commentator. He joined ESPN as a color commentator for Monday Night Football, where his charismatic personality, in-depth analysis, and entertaining style made him a popular figure among fans. Gruden's ability to break down plays and provide insight into the game endeared him to viewers, establishing him as one of the most respected voices in football media.
In 2018, Gruden made a highly anticipated return to coaching when he was appointed head coach of the Oakland Raiders (now located in Las Vegas). This return marked a new chapter in his coaching career, and he signed a 10-year contract worth $100 million, the largest coaching contract in NFL history. Jon's coaching style emphasized attention to detail and his knack for developing quarterbacks and designing innovative offensive strategies.
However, Gruden's coaching career with the Raiders was cut short due to a controversy in 2021. He had sent emails containing offensive and derogatory language targeting various individuals and groups that were leaked to the media. The content of these emails led to significant backlash and ultimately resulted in Jon's resignation as head coach.
Despite the controversy, Jon's career has left a lasting impact on the sport. His success as a head coach, his contributions as a commentator, and his reputation as a football guru has made him a prominent figure in the football world. While his career took a negative turn towards the end, it is important to acknowledge the positive aspects of his coaching and analysis, which have influenced and inspired many individuals within the sport.
Who is Jon Gruden Married to?
Jon Gruden is happily married to his wife, Cindy Gruden. They have been together for over 30 years, since 1991. They have three children together named Michael Gruden, Jayson Gruden, and Deuce Gruden.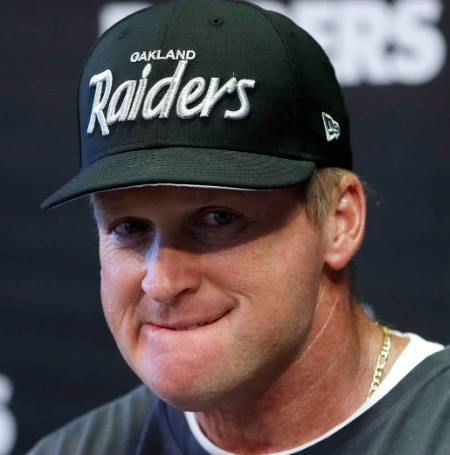 Gruden and Cindy first met in 1985 while both were at the University of Tennessee in Knoxville. At that time, Jon was a graduate assistant, and Cindy was a student and cheerleader. They tied the knot in July 1991 and have remained a strong couple ever since.
Cindy is an American philanthropist and a former teacher at the National Cheerleader Association. She studied classical piano and music education and holds a degree in educational administration from the University of Tennessee. Cindy is actively involved with various charitable organizations and even created an online course for the University of Tennessee during the coronavirus pandemic in 2020.
Stay tuned in Glamour Path for more celebrity articles.
-->