LAHH Star Hazel-E's Plastic Surgery and Tattoos – Before and After Pictures
Published Wed May 22 2019 By DGM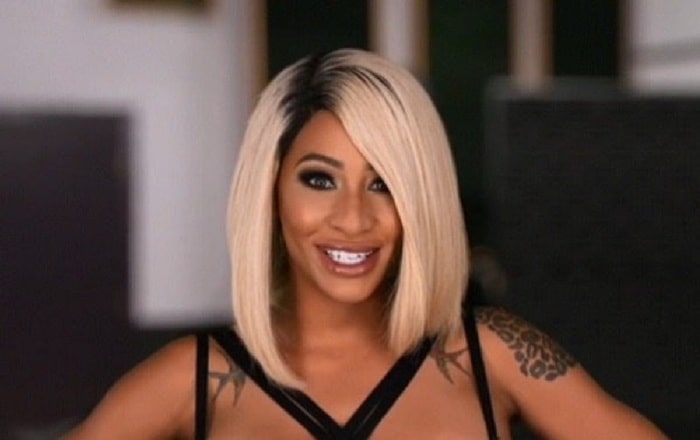 The former Love & Hip Hop: Hollywood main cast, Arica Tiffany Adams aka Hazel-E has done four plastic surgeries and her body hosts a total of 12 tattoos. The American rapper seems to have made changes to her body in order to look more glamorous.
The 39 years old TV personality whose net worth is $1 million went under the knife and has needled her body for beauty enhancement.
Before and After Plastic Surgery
The above picture, we can clearly find out the difference in the nose of Hazel-E from before and after the plastic surgery she went through. She had a terrible bike accident in Dubai in 2015 and according to her, she did rhinoplasty to correct the damage done to her face during the accident.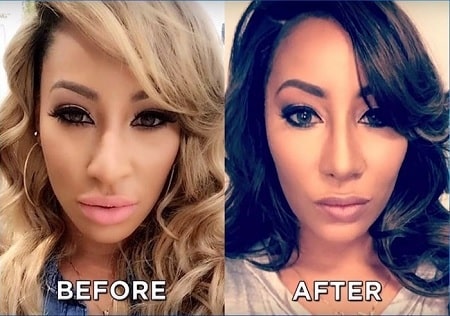 Nose Job (Rhinoplasty)
Hazel-E had a dune bike accident back in 2015 due to which she had to do a plastic surgery of her nose. She did a rhinoplasty in order to correct the damage occurred to her face during the accident.
While critics said that she used accident as a excuse to have her nose job done, she proved them wrong by letting them know of the accident with the help of the surgeon Dr. Ashkan Ghavami who operated her.
Veneer on Four Teeth
The '#girlcode' rapper also had her front four teeth covered with dental veneers. The sole reason behind this is that she lost one of her front four teeth during the bike accident in Dubai. After implanting a fake tooth in the place of the lost tooth, she had veneers done to her front teeth to ensure that the artificial tooth would stay in the position.
Breast Reduction
The former LHHH star has also had her breasts done after doing a breast reduction surgery. She revealed that she had the treatment for her birthday back in 2015.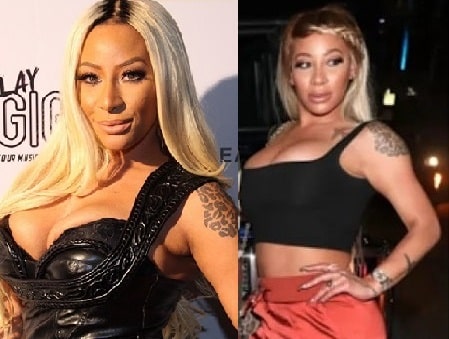 Hazel-E wasn't happy with her big breasts because she used to be the subject of unnecessary attention in public. Therefore, she decided of reducing her breasts marking the special occasion of her 35th birthday.
Skin Tightening and Laser Treatments
De'von Waller's fiancee and to-be baby mamma has also been alleged that she has been maintaining her tummy via plastic surgery which is not the case actually. She revealed that she undergoes skin tightening and laser treatment procedures to control her fluctuating weight.
Tattoos and Their Meaning
The ex-girlfriend of Katt Williams has a total of 12 tattoos inked on her body which are as follows: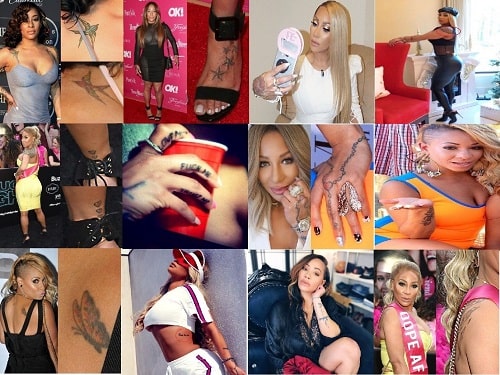 Stars and Dots on foot
The beautiful rapper Hazel-E has a tattoo of dual colored stars on her left foot. And those stars are enclosed by a series of dots. The stars on her foot symbolizes achievements and accomplishments.
Leopard Tattoo on shoulder
Hazel-E also has inked her left shoulder with a leopard print. The Leopard Tattoo represents ferocity, power and passion.
Heart Shape on Ankles
The ex-Love & Hip Hop: Hollywood star also has a tattoo of 3 hearts, one below the other on the both of her ankles. The tattoo is a symbol of true love, passion or courage.
Rosary, Treble Clef and Heart on Left Hand
Hazel-E has tattooed the upper side of her left hand with a bracelet of rosary beads. The bracelet has a pendant of a red colored heart hanging and alongside, there is a treble clef on the upper part of the middle finger of the rapper.
Writings on the forearm
The rapper/singer of "Hasta La Vista" has tattooed her right forearm with a writing in a calligraphic fashion. The writing in her tattoo reads Hazel's Eyes.
Colorful butterfly on the back
The American model has inked her back of right shoulder with a colorful butterfly. The tattoo on her back symbolizes freedom, change and beauty representing a period of transformation in Hazel's life.
Rib Cage Tattoo
Hazel-E has a tattoo on her left rib cage that states "C'est la vie" which translates to "It is Life" in English.
Writing on the side of forearm
The left forearm of Hazel-E has been tattooed with a writing of "Arica Kane". The most amazing thing about this tattoo is that the letter 'A' is actually a pyramid shape and 'K' is represented by a AK-47 gun.
Scratches on Shoulder
The right shoulder blade of the American actress is inked with a tattoo of scratches. We exactly don't know what the scratches refer to. Maybe it is a symbol of painful past?
Birds on Both Shoulder
Hazel-E has tattoos of a sparrow on both the sides of her shoulder. The birds have a color combination of red, green and yellow. The aspiring actress got this tattoo as it represents freedom.
Red Rose and Cross on Hand
The Native American rapper has inked the upper part of her right hand with a red rose. Also, a black colored cross symbol between the petals is also drawn.
Writing on Side of Fingers
The sensational actress, Hazel E has tattoos of writings on her right hand's fingers with 3 messages written on them. The messages are "Love Me", "F**k Me" and "Trust Me."
Visit Glamour Path for more Celebrity Plastic Surgery Transformation and Tattoos.
-->