From Rap to Hollywood: Vanilla Ice's Career in Movies, TV Shows, and Music
Published Tue Apr 25 2023 By sush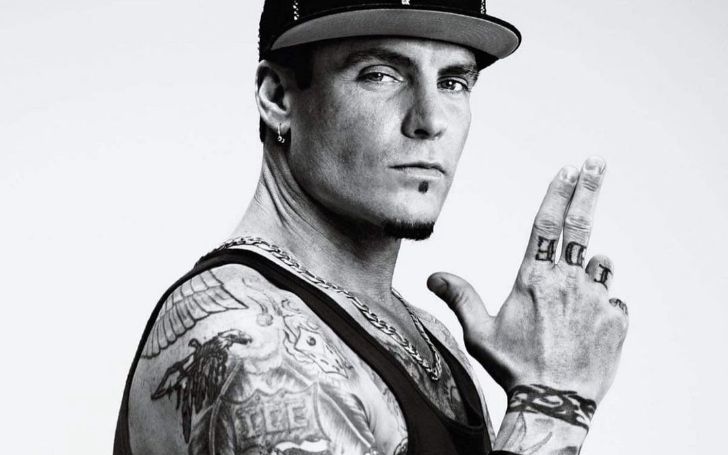 Vanilla Ice is an American rapper, actor, and television personality. Ice rose to fame in the early 1990s with his hit single "Ice Ice Baby," which topped the charts in several countries, including the United States, the United Kingdom, and Australia.
Following the success of his debut single, Ice released his first album, "To the Extreme," which also reached number one on the Billboard 200 chart. In addition to his music career, Vanilla Ice has also ventured into acting and television. He has appeared in several films, including "Teenage Mutant Ninja Turtles II: The Secret of the Ooze," "Cool as Ice," and "That's My Boy."
However, despite being one of the major stars of the 90s, he had his downfall after getting involved in numerous crimes and controversies. Let's find out more about what he did, and what controversies surrounded him.
Net Worth
The net worth of the pop singer, Vanilla Ice is estimated to be around $18 million. Moreover, it was reported that Ice made around $5 million just from the initial release of his hit single "Ice Ice Baby." and also with subsequent album sales. The song was a massive success in the early 1990s and helped propel Ice to fame and fortune.
Moreover, Ice has appeared on several reality television shows, including "Dancing With the Stars," "Celebrity Boxing," and "The Vanilla Ice Project." These appearances helped increase his public profile and net worth. He has also made money through various business ventures, including his own line of lighting products and a home automation system. He has also invested in a number of other companies over the years.
Early Life And Education: Ice Is A High School Dropout
Vanilla Ice, born Robert Van Winkle, was born on October 31, 1967, in South Dallas, Texas. His parents are Camilla Beth (Dickerson) and William Basil Van Winkle. However, he was raised by his mother, Camilla as a single parent. As reported, his father left when he was four years old, and he had many stepfathers throughout his childhood. He has German and English ancestry on his mother's side.
Ice was a poor student in his teenage years, and he dropped out of school without graduating. Determined to make a name for himself in the music industry, Ice formed his group called the Vanilla Ice Posse and started performing on the streets and in clubs. Additionally, he had a keen interest in motor racing and even won three consecutive titles at the National Grand Championship. However, he ultimately decided to pursue music instead.
Early Career: Discovered In The Club
Ice's early career began in the late 1980s when he started performing at clubs in Dallas, Texas, and releasing his own music. And then, he was discovered by the executive and founder of SBK Records. And so, in 1989, he signed a record deal with SBK Records, a division of EMI, and released his debut album, "Hooked," which did not achieve much commercial success.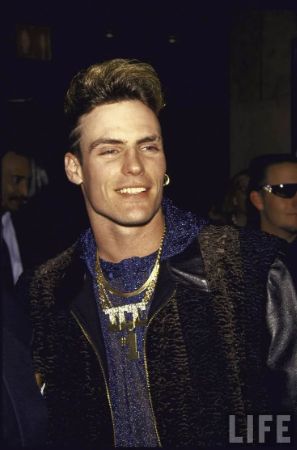 However, his big break came in 1990 when he released his second album, "To the Extreme," which featured the hit single "Ice Ice Baby." The song became an overnight sensation, and Ice quickly rose to fame as a pop-rap icon. "To the Extreme" went on to become one of the best-selling rap albums of all time, and Vanilla Ice became a household name.
Relationship Handles: Ice Hasn't Married Again Since His Marriage With Laura Giaritta
If you are a fan of Vanilla Ice, you know that his first marriage was to Laura Giaritta, whom he met in the mid-1990s. They got married in 1997 and have two children together - a daughter named Dusti Rain and a son named Keelee Breeze. The couple had their fair share of ups and downs and eventually divorced in 2019 after more than two decades together.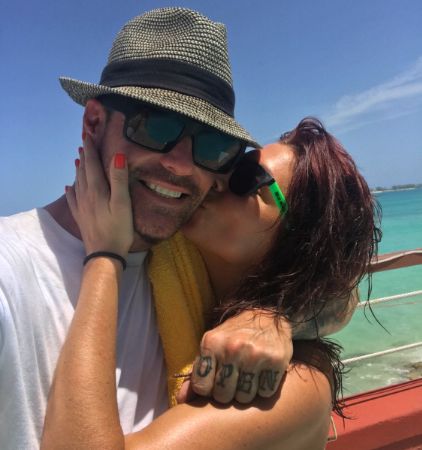 And now, if you look at Ice's social media, you can see that he is in a relationship. He keeps posting pictures along with a woman and captioning the pictures as "my girl" or "love". However, Ice has never once mentioned the name of his girlfriend.
How Many Kids Does Ice Have?
Ice has two children: a daughter named Dusti Rain Van Winkle and a son named Keelee Breeze Van Winkle from his first marriage with Laura Giaritta. Moreover, Ice has another daughter named Priscilla Love Winkle from his relationship with his girlfriend.
Ice and his ex-wife Giaritta welcomed their daughter, Dusti Rain Van Winkle, on June 8, 1998. Dusti has actively appeared on her father's reality television show, "The Vanilla Ice Project," which aired on DIY Network from 2010 to 2017. Furthermore, Dusti has pursued a career in music and has actively released several singles, including "Love Me Hard" and "Thinking About You."
Ice and Giaritta also had a son named Keelee Breeze Van Winkle, born on September 30, 2000. Keelee has actively appeared on "The Vanilla Ice Project" alongside his sister and father. Unlike his sister, Keelee has actively pursued a career in mixed martial arts and has competed in several matches.
Founder Of Vanilla Ice Real Estate
If you didn't know, Ice is the founder and CEO of a real estate development and construction company called Vanilla Ice Real Estate. His company is based in Palm Beach, Florida, and specializes in renovating and flipping homes in the area.
Ice has been involved in the real estate business for over 20 years and has a wealth of knowledge and experience in the field. He has a keen eye for design and has renovated and sold many homes throughout his career.
In addition to flipping homes, Vanilla Ice Real Estate also offers a range of other services, including home inspections, property management, and real estate investing. The company aims to provide high-quality services to its clients and help them achieve their real estate goals.
Ice has also hosted several home renovation shows, including "The Vanilla Ice Project" on DIY Network, which showcases his skills in home renovation and design. Through his real estate company and television shows, Ice has proven himself to be a successful entrepreneur and expert in the real estate industry.
Pleaded Guilty With Domestic Violence: Charged With Disorderly Conduct
The popular singer of Ice Ice Baby, Vanilla Ice was arrested for domestic violence in 2001, following an incident in which he allegedly pushed and hit his wife. He was subsequently released on bail and later pleaded guilty to the charge of disorderly conduct.
According to reports, the incident occurred on April 10, 2001, at the couple's home in Wellington, Florida. Ice's wife, Laura Van Winkle, called the police and reported that he had hit and pushed her during an argument. When police arrived at the scene, they observed marks and bruises on Laura's body consistent with the allegations. Ice was subsequently arrested on charges of domestic violence.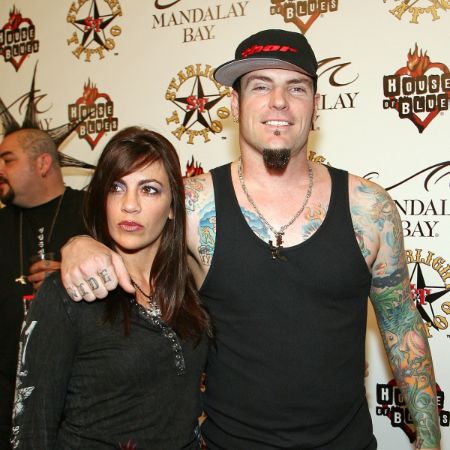 In a statement to the media, Ice denied the allegations, claiming that he had merely been trying to protect himself from Laura's physical attacks. However, he later pleaded guilty to a reduced charge of disorderly conduct and was sentenced to probation, community service, and anger management classes.
Controversy With Suge Knight: Ice Claimed To Be Held At Gunpoint By Knight
In 1996, Ice was involved in a highly publicized altercation with the rap mogul Suge Knight, who was the CEO of Death Row Records at the time. According to reports, Knight and several associates confronted Vanilla Ice in a hotel room, where they allegedly threatened him with bodily harm and forced him to sign over the publishing rights to "Ice Ice Baby" to Knight and his label.
Ice later claimed that Knight and his associates had held him at gunpoint and threatened to throw him off the balcony of the hotel room. He also alleged that they had taken his jewelry and other personal belongings.
The incident resulted in a legal dispute between Ice and Knight, with Ice eventually winning back the publishing rights to "Ice Ice Baby" in court. The altercation and subsequent legal battle further damaged Ice's reputation and contributed to the perception that he was a one-hit wonder who had fallen out of the public eye.
Ice's "Ice Ice Baby" Faced Plagiarism Lawsuit
If you're a person from the early 90s, you probably remember the iconic song Ice Ice Baby by Vanilla Ice, right? It was released in 1990 and became a massive hit, reaching number one on the Billboard Hot 100 chart in several countries. But did you know that the song faced a plagiarism lawsuit?
The plagiarism lawsuit against Ice was filed in 1990 by the estate of Queen and David Bowie, who claimed that Ice had used a sample from their song "Under Pressure" without permission for his hit single "Ice Ice Baby." Specifically, the lawsuit alleged that the bassline in "Ice Ice Baby" was lifted from "Under Pressure."
Though Ice initially denied the accusations, he later admitted that he indeed added an additional note, as they were too identical. The case eventually settled out of court, with Ice agreeing to pay an undisclosed sum to the plaintiffs and give them credit as co-writers of "Ice Ice Baby." The controversy over the plagiarism allegations tarnished Ice's reputation and led to accusations that he was a one-hit wonder who had stolen someone else's work.
Despite the controversy, "Ice Ice Baby" remains one of the most recognizable songs of the early 1990s and is often cited as a classic of the rap genre.
Many Other Criminal Charges Including Theft And Controversies
In 2015, Ice was arrested and charged with burglary and grand theft for allegedly stealing items from a home next door to a property he was renovating for his reality TV show "The Vanilla Ice Project." He eventually reached a plea deal and was sentenced to community service and probation.
Moreover, Ice also had a controversy in the mids of COVID. In 2020, Ice faced backlash for performing at a concert in Texas during the COVID-19 pandemic. The concert violated social distancing guidelines and drew criticism from health officials and the public.
Hobby Of Collecting Antiques: Owns A Vintage Store
Vanilla Ice has been known to have a passion for collecting antiques. He has been collecting antiques since he was a teenager and has been actively buying and selling them ever since. His interest in antiques started when he would go with his grandfather to auctions and flea markets in search of unique and valuable items.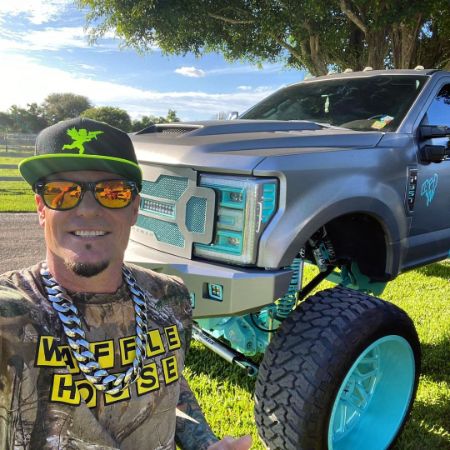 Over the years, Ice has amassed a large collection of antiques, including vintage cars, motorcycles, and furniture. He is particularly interested in mid-century modern design and has even opened his own store, Vanilla Ice Vintage, where he sells his finds to other collectors and enthusiasts.
In addition to collecting antiques, Ice has also been involved in home renovation and design. He has hosted several home renovation shows, including "The Vanilla Ice Project" on DIY Network, where he puts his design skills to work and transforms homes into stunning works of art.
Social Media Handles
On Instagram, Ice is available as @vanillaiceofficial. Moreover, he has a good presence and a big enough community of over 502k followers. However, if it wasn't for his controversies and criminal history, he would have already reached millions.
Similarly, he is also available on Twitter as @vanillaice. Also, his community and followers are relatively smaller with just 329.6k followers, as compared to Instagram. You can also find him officially on Facebook.
Follow Glamour Path to find out more interesting articles about celebrity biographies, relationships, and riches.
-->