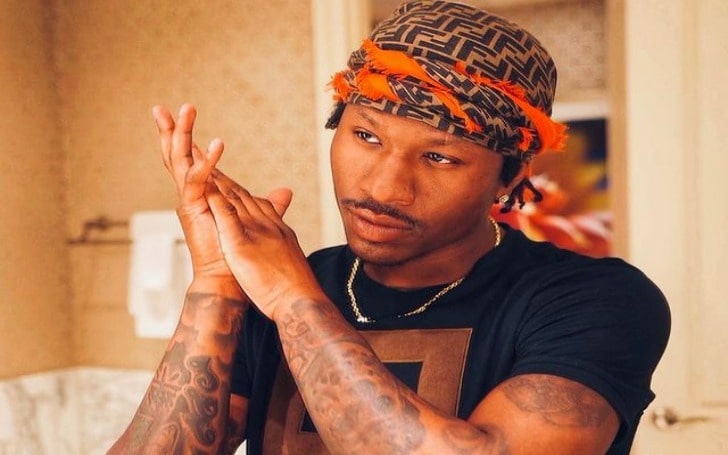 Duke Dennis is a renouned American YouTuber, gamer, social media influencer, and video producer. He is well recognized for creating videos for the NBA 2K basketball simulation game franchise.
Despite the fact that he started his YouTube channel in 2013, Duke didn't post his first video - "NBA 2K17 DROPPED 19 ON SUPERSTAR HEAD - BEST JUMPSHOT IN NBA 2K17" - until October 29, 2016. Duke was also a member of the United States Army and is a basketball player as well.
Early Life
Duke was born in the United States on February 26, 1994. The Influencer is of mixed heritage and holds American citizenship. Duke enjoys piercing and engraving so, has a diamond grill and tattoos all over his body. He hasn't revealed much about his family. His father is supposed to have been a postman and his mother a nurse. While nothing is known about his family and parents, we do know that he has a brother named Darius Dennis.
He told us in one of his tweets that he never had a father, so he couldn't say "Happy Father's Day." It implies that he was raised by his mother as a single parent. His educational background includes enrolling and receiving a high school graduate credential from a Catholic school in the United States, but details about his higher schooling are lacking.
Duke Dennis' Net Worth
Duke Dennis is a well-known gaming YouTuber from the United States with his own channel and is reported to be worth $5 million. He does not identify the precise location of his residence but has frequently referred to it as The AMP HOUSE.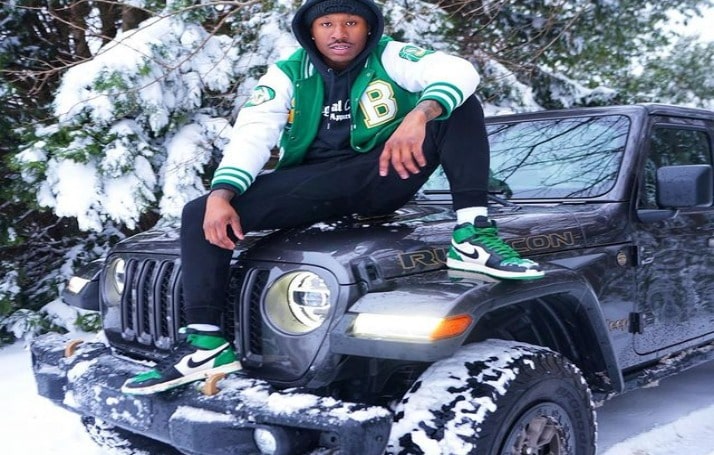 The gamer is an active participant in the real estate and stock sectors; he likes fast automobiles and owns a Mustang; and after previously owning a Hummer, he now owns a luxurious JEEP WRANGLER. On social media, he routinely posts photographs of himself driving the jeep. Similarly, he has a $30,000 Sneaker Collection.
Earning From Youtube
Duke's content primarily consists of NBA 2k gameplay videos and partnering with other Youtube stars. Before launching his YouTube channel, he served in the United States Army. He joined YouTube on February 16, 2013, but did not begin uploading gaming content until 2016. "Duke Dennis Gaming" is the name of his first channel. It's largely about NBA 2k, a genre of basketball simulation video games developed by Visual Concepts. The channel has 1.85 million subscribers as of April 2022. "Duke Dennis", his second YouTube endeavor, debuted on May 1, 2020. It is primarily concerned with vlogging, challenges, comments, and some game content. In some of his videos, he impersonated professional basketball player Carmelo Anthony. This channel now has 1.35 million subscribers. On July 8, 2021, the gamer started "DukeDennis Live", his third channel. It has 145 thousand followers and is geared for live broadcasting.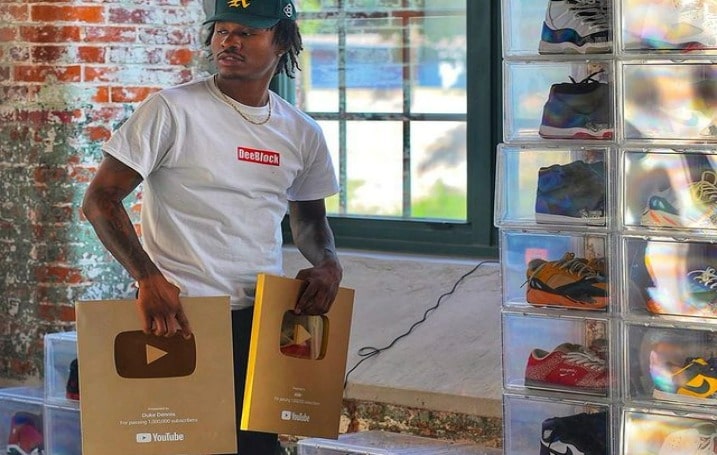 A YouTuber can make money in a variety of methods on the platform. A significant proportion of Duke Dennis' videos have an estimated 200,000 views every day. YouTubers are paid $2-$7 every 1000 views, with the amount varying based on the country. His YouTube account earns him about $900 every day and as of 2022, he has a youtube net worth of $89,000 USD. He also participates in the AMP collaboration effort. Their shows include aspects of humor, blogging, debating, and competitions. It has 1.81 million customers as of 2022. "Duke Dennis 99 Overall Montage!" is one of his most popular videos. 2K19's Best Build goes from 60 to 99 overall! "The Road to 99 2K19," "The Unbeatable Duo!" Duke Dennis and ImDavvis are never defeated in NBA 2K19! Best 2K19 Build! "Kevin Durant Build in NBA 2K20 is a DemiGod!" and "2K19 Demigod!" NBA 2K20 Best Build! To mention a few, "Demigod Build 2K20! Best Build!"
Money from Gaming and Selling Merch
This guy earns a decent living from his gaming career and his presence on famous social media sites. His main business is his Channel on youtube and actual game streaming, which have over 100,000 views. Furthermore, reports stated that video game streamers earn a median of $3,000 to $5,000 every month. It varies depending on their fame and endorsements.
Thehigh-paid gaming YouTuber also earns money from paid advertisements. Advertising must bid at least $0.01 for each view. Aside from that, he makes a lot of money through goods sales and Donations/Super conversations. Because he has a large number of true fans, he also sells his stuff. Hoodies, t-shirts, and bottoms are among his goods.
Bagging Salary as an Army
Dennis is a retired army veteran from the United States. After passing down collegiate football scholarship offers, he enlisted directly out of high school. Nevertheless, he went with a friend who was seeking a way out of their difficult area after their college plans fell through. Following basic training, he was assigned to Germany, where he largely performed administrative duties.
On his first day at the US Army post, he was allocated to the reception battalion for indoctrination. The concept was simple: documentation, immunizations, outfits, grooming, and entrance into army life. He constantly chose to leave or be fired and return to his mother. He was occasionally enraged by the army issue, haircut, and uniform. He fulfilled his four-year contract and quit the army in 2017, after discussing with his sergeant. He also had a gunshot mishap in his special forces training period.
Savings from Social Media
The gamer is present on social media platforms such as Instagram, Twitter, Facebook, and YouTube from which he earns a decent amount. He started his Twitter handle in May 2014 and has already gained over 200,000 followers, tweeting approximately 40,000 times. He primarily writes to give his ideas on numerous topics, but he also announces the release of new YouTube videos. On Instagram, he is now followed by nearly 1.5 million people, while uploading over 20 photos to the network most of which were captured in his daily life and thus give significant information regarding himself.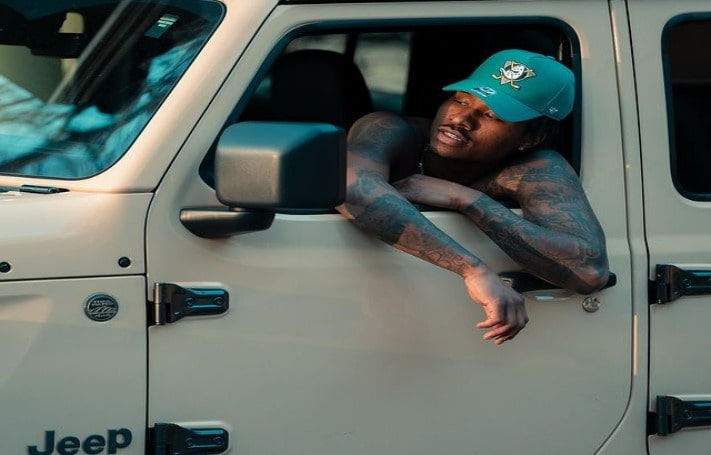 Duke is a TikTok star who is now followed by about 1.3 million people on the network, with over 12 million likes on all of his videos, the majority of which feature him delivering jokes, undertaking challenges, and committing pranks. He has a Facebook account, but it appears that he only uses it to communicate with his nearest relatives.
Losing Dollars in Robbery
In 2020, he was robbed whilst still gaming NBA 2K21. Two men burst into his residence with firearms and demanded precious stuff as he was live-streaming the game. Robbers also threw a couple of punches at him.
The videotape was out on social media for the audience to see. Yet, some others suspected a fake heist. Afterward, he expressed his opinions on this terrifying encounter with his fans.
Is this Millionaire in a Relationship or Gay?
This is why there are various rumors circulating the internet, concerning his sexual orientation, as well as his current relationship status.Some of his fans believe that the popular YouTuber is gay and that this is why he hasn't spoken of the girls whom he has dated.
An admirer also alleged to have spotted Duke and an unnamed male enjoying time together and that the two were maybe in an affair, but no proof has been offered to back up these accusations, and Duke has not responded to this.
More the latest updates on your favorite celeb, keep following our page Glamour Path!
-->